You may have read a thing or two about the health benefits of the old Indian spice, and relative of ginger, Turmeric. But what do you know about the Curcumin, the main active ingredient in turmeric? Here's what we know, this bioactive compound has powerful anti-inflammatory effects and is a very strong antioxidant. This makes Curcumin just as powerful some anti-inflammatory drugs, without the horrible side effects. Studies show consuming this powerful spice can significantly reduce your risk of type 2 diabetes, some forms of cancer, and Parkinson's disease. Curcumin also helps burn fat while building lean muscle and acts as a natural detox to help cleanse and purify your body from the inside out. So adding it to your diet is essential to your health. The thing is, the amount of Curcumin found in turmeric is not that high, so to experience the full benefits, you need products that have significant amounts of it. A wonderful way to get the amount of Curcumin you need is with the following ARYA Curcumin+ products.  Their delicious Drink Blends, and Daily Antioxidant Gummy Chews (you won't find the bitter taste of Turmeric here) contain 27x more Curcumin than regular turmeric.
ARYA Curcumin+ Drink Blends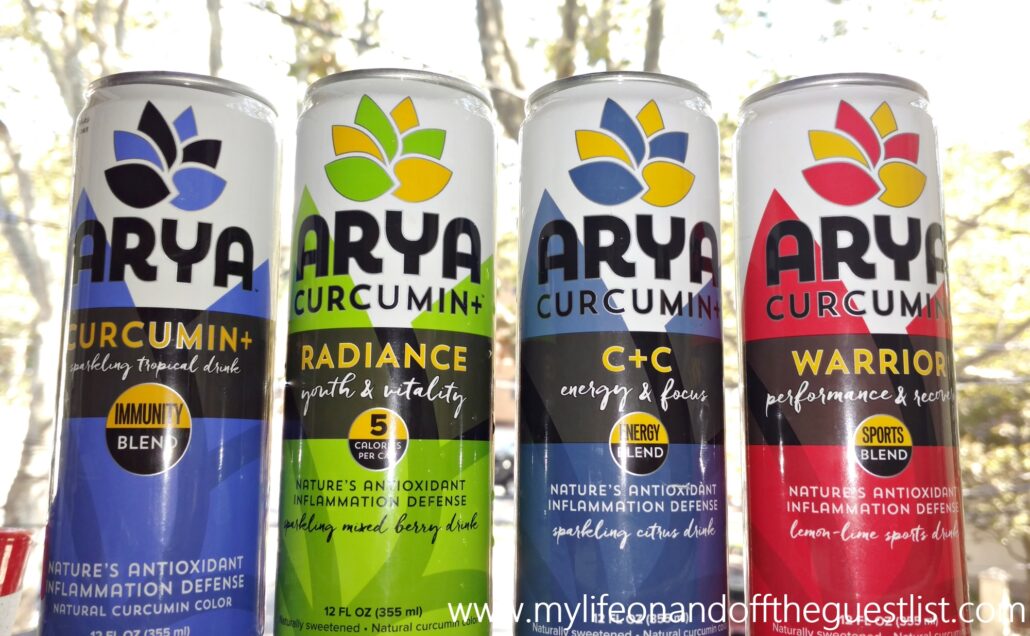 ARYA has harnessed the power of Curcumin, made it 27x more absorbable than the Curcumin extract from turmeric, and delivers it in the following, vibrantly hued drink blends. The ARYA drinks are specially blended with natural ingredients and come in the following flavors: Citrus, Lemon-lime, Mixed Berry, and Tropical, and range in price from $2.49-$3.49 each:
The Immunity Blend, which boasts only 5 calories, combines Curcumin+ with 3X Vitamin C, Vitamin B complexes, acai, blueberry, and green tea to boost your immune system and enhance your mood. It's health and wellness in a can.
The Radiance Blend, also only have 5 calories, is a sparkling mixed berry drink that combines the robust benefits of Curcumin with full doses of Vitamins C and E, Niacin, Pantothenic Acid, Biotin, Folic Acid, zinc, selenium, as well as blueberry, pomegranate, and acai extracts.
The Warrior (Sports) Blend is a performance and a recovery drink in one! A multi-functional drink that not only bestows all the anti-inflammatory benefits of curcumin, it also supercharges you with Vitamin B6, Vitamin B12, and Niacin. Potassium and magnesium are added to keep you hydrated and feeling strong all day long. It contains natural sugars and monk fruit, and 29 grams carbs to keep you fueled.
The C+C (Energy) Blend, also only 5 calories, is specially formulated to re-charge your batteries, giving you a boost to harness your inner Zen. This drink is packed with 45mg of super-nutrient curcumin plus a blend of Panax Ginseng, Taurine, Caffeine, Vitamin B2, Vitamin B6, Vitamin B12, and Niacin to increase your energy and focus.
ARYA Curcumin+ Daily Antioxidant Gummy Chews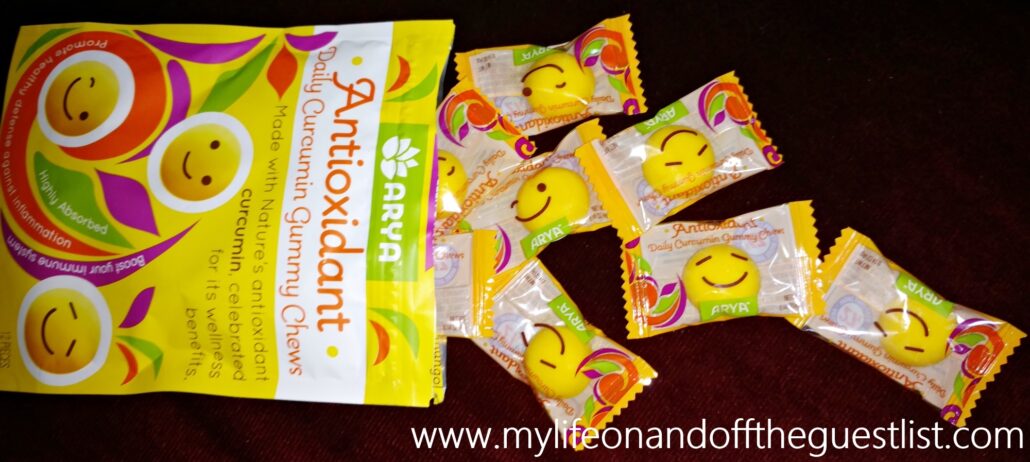 Helping your body has never tasted so yummy. Just as with the drink blends, the antioxidant-rich ARYA Curcumin+ Daily Antioxidant Gummy Chews gives you 27X the curcumin in delicious mango flavor! One gummy is equal to ingesting 1 tablespoon of Turmeric, giving you the daily curcumin you need (take 1 up to 3 times a day). These daily gummy chews are the perfect on the go treats you need to keep your body healthy. The gummies range in price from $2.49- $9.99 for a 3 or 12 pack.
For those of you looking to add the health benefits of Curcumin or Turmeric to your life and dietary, these ARYA Curcumin+ products are a great way to begin. ARYA Curcumin+ is available online at Amazon, Walmart, eBay, and Sears. Have you tried any Turmeric or Curcumin products? Share your thoughts with us.