Calling all fashion and beauty lovers! How would you like to spend the day with Jamie Chung, Joe Zee, Catt Sadler and many other fashion and beauty experts?
Simply Stylist
, a must-attend, tri-city Fashion and Beauty Conference is back in NYC and has teamed up with Marie Claire to put you together with the best tastemakers, celebrities and industry experts. The conference will be jam packed with great networking opportunities; where else can you get the chance to speak with and pick the brains of some of the fashion and beauty industry's breakout stars, and of course, all while enjoying delicious cocktails and hors d'oeuvres, wonderful gifts, and great music.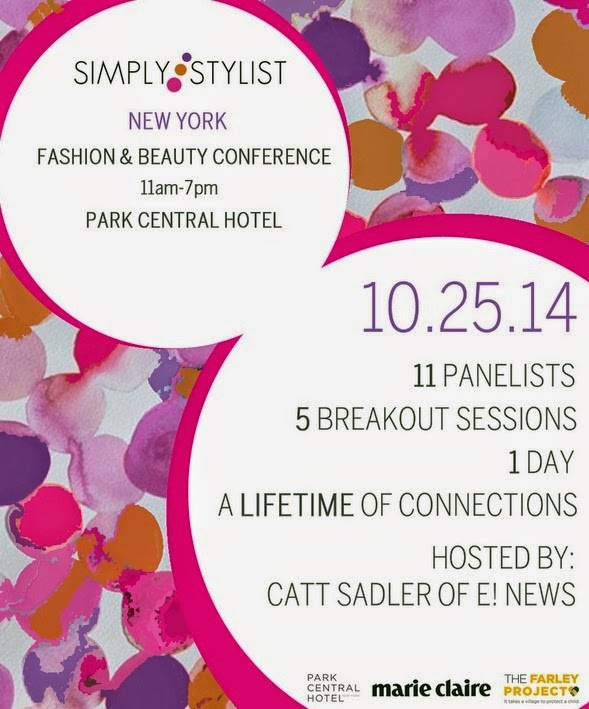 The day starts with a VIP Networking Brunch hosted by The Farley Project founder, Elissa Kravetz, and sponsored by derma e; a Fashion and Beauty Panel hosted by Catt Sadler of E! News and featuring guest speakers, Actress/Fashion Blogger Jamie Chung, Editor in Chief of Yahoo Style Joe Zee, and many more industry experts; attendees will enjoy a brief coffee break, complimentary makeup touchups and pampering during the Brand Experience hosted by Katherine Cosmetics, and . Event perks include a Live tweet-in Q & A and the chance to win a raffle prize valued at $1000 from Crossroads Trading and The Park Central Hotel
The conference takes place on October 25th, 2014 in New York from 11am – 7pm. See a rundown of the day's event itinerary below. For more information and to learn more about the speakers and brands attending, click simplystylist.com.
11:00am – 12:30pm Networking Brunch (VIP Ticket Holders Only)
Whether you're coming with a friend or on your own, Simply Stylist encourages you to grab a seat next to a stranger, put your networking skills to use and build a relationship that could potentially change your life forever! And of course a great gift bag.
1:00pm – 4:00pm Fashion & Beauty Panel (VIP and Fashion & Beauty Lovers Only) Hear the great stories from 11 inspiring speakers in the fashion and beauty industry including Elenor Mak (Co-Founder of Keaton Row), Jennifer Norman (VP of Marketing for derma e), Marie Claire Editor, Madison Guest (Celebrity Stylist to Victoria Justice), Lilliana Vasquez, Hannah Bronfman (Co-founder of Beautified app), Justin Anderson (Celebrity Hairstylist), and Danielle Bernstein (founder and fashion blogger of We Wore What). Learn what it takes, how to succeed, the importance of networking, how to follow your dream, and a giftbag.
4:00pm – 7:00pm Brand Experience/Pampering/Breakout Sessions (All Ticket Holders) Time for cocktails and fun. DJ Jilly Hendrix spins as you enjoy cocktails, appetizers, shopping, pampering, contests and giveaways and 5 Breakout Sessions on various topics, from social media and blogging basics to brand collaborations. What more could you ask for?!
For anyone trying to break into fashion and/or beauty, interested in making great connections, and who wants to learn more about Simply Stylist, the network that bridges the gap between brands and celebrity trendsetters by promoting, collaborating and producing content for their websites, this is THE event to attend, so get your ticket now! Sponsors in attendance include Bed Head, Keaton Row, Harper Hallam, derma e, Katherine Cosmetics, Rack It Up, and Dittos.