While we're enjoying our holiday staycation, many of you are spending hours traveling by bus, train, or airplane to visit family or friends. While we love traveling, one drawback has always been the pain and stiffness of our knees, back, and joints from being stuck in a seated position for hours on end. We usually rely on pain medication to relieve the various pains, buying it from a
Canadian Pharmacy
or a local service. Some medication leaves you feeling drowsy. However, not all medication does this. There are some other forms of pain relief available to people who might be suffering these days. One of the most talked-about treatment methods is CBD oil from companies like
LaurelCrest
. That helps people to reduce pain, allowing them to move more comfortably. Perhaps that is worth looking into if normal medications don't seem to help you. If you aren't keen on using CBD, there is a solution and that is the
AccuRelief by Carex Health Brands
.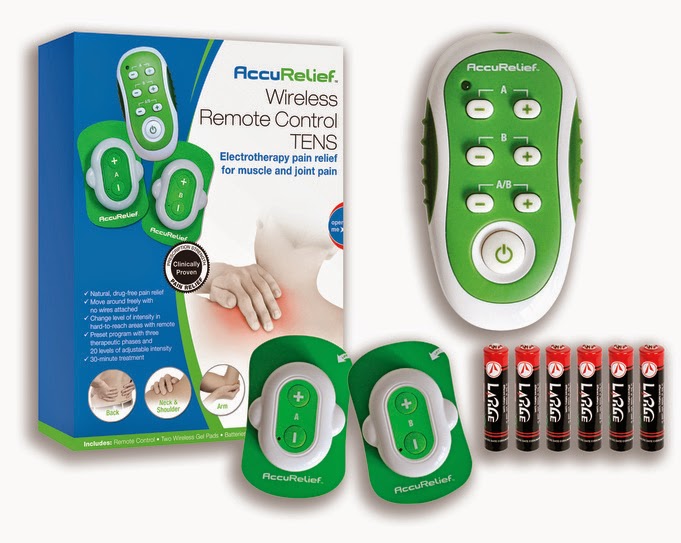 Above is the AccuRelief™ Wireless Remote Control TENS Device, a wireless compact electrical TENS unit that delivers powerful targeted pain relief for those hard-to-reach areas with remote control, and one of the first complete line of Transcutaneous Electrical Nerve Stimulation (TENS) therapy that is FDA-approved for full-body, over-the-counter use. This non-invasive, non-addictive, drug-free treatment alternative unique design includes two gel pads which allow you to surround your pain. People can also choose to use something like Blessed CBD oil to help them along the way with this. It features a combination program that delivers gentle electrical pulses with three therapeutic phases of alternating therapy to bring relief to pain sufferers without the risk of addiction and the annoyance of messy creams, odor, pills, and shots. With 25 levels of adjustable intensity, finding a comfortable level of relief is simple and quick. Having a solution that is non-addictive is definitely a good thing but, for some, it may be too late – Enterhealth may be able to help and treat those who are affected by a dependency on particular drugs that have taken over their normal lives.
AccuRelief™ is easy to use and is available without a prescription and FDA cleared for safety. it is a simple, drug-free solution for arthritic, muscular, joint, and back pain relief. This small and compact device features a lightweight, flexible design that contours to almost any body part that can be worn discreetly under clothing. AccuRelief™ automatically shuts off after every 30-minute treatment. Comes complete with two electrode controllers, two reusable electrode gel pads with snap connectors, one remote control, six (6) AAA long-life batteries, instruction manual, quick start guide, electrode placement guide and a convenient drawstring carrying case.
Are you ready to travel pain-free? We advise you to get the AccuRelief™ Wireless Remote Control TENS Device in your life stat.