If you're like us, then you're very much enjoying life on-the-go, and we don't mean running around. We're talking about not being tied down by wired devices while getting your daily work or play tasks completed. In the age of multitasking, we absolutely need the ability to do multiple things at once but we can't do that if we're wired to a desk. Today we're highlighting some of our favorite products that help us enjoy life wirelessly. Thanks to
RadioShack
, you too can add and enjoy portable power in your daily lives.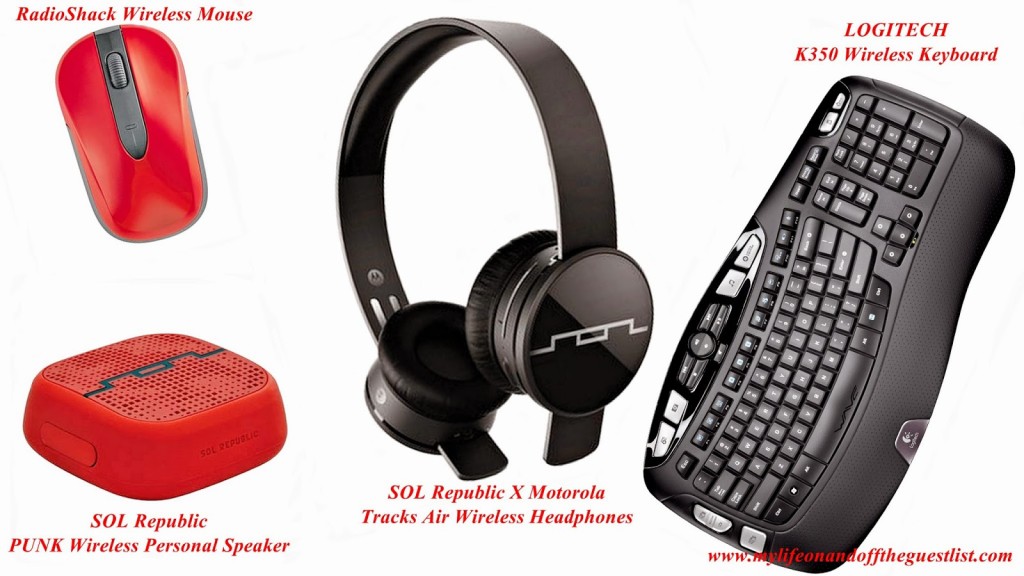 SOL Republic X Motorola Tracks Air Wireless Headphones, $199.99
Be free from the annoyance of tangled headphone wires and cords with this powerful wireless headphones from SOL Republic X Motorola, and hands-free calls with a touch of a button. These Tracks Air Wireless Headphones are powered by a large digital amplifier and Motorola's wireless expertise which gives it super power wireless range. It boasts A2 Sound engines that produces a clear, rich, and detailed sound equal to or better than wired dual connectivity. Its dual-mic crystatalk technology, 150 feet of wireless freedom, and incredible sound allows your phone calls to be clear all the time, anywhere, while the 15 hours of battery life lets you keep the music playing all night on a full charge.
SOL Republic PUNK Wireless Personal Speaker, $69.99
Looking for a small sized speaker that packs some powerful sound? Surprisingly loud for its size, PUNK allows you to crank up the volume and fill your room with music and take the party outside. This powerful portable speaker is designed for durability and protection from water, dust, and shock. With 8+ long-lasting hours of battery life, and the ability to play music wirelessly up to 60ft away from your device,you'll never leave home without this mount-ready (attach PUNK to many 3rd party accessories, such as bike and camera mounts) wireless speaker.
RadioShack Wireless Mouse, $19.99
Just like telephone and headphone cords got tangled and annoying, the cord on our mouse got tangled as well…until we discovered the beauty of going wireless. This 2.4GHz wireless mouse from RadioShack has a comfortable ergonomic grip and works with most PCs and Macs. Its optical sensor provides precision tracking, with or without a mouse pad. Plus, the USB nano receiver is almost invisible (it discretely fits into your computer's USB port) and allows you to operate your computer from up to 26 feet away without a driver. Lastly, it's LED indicator alerts you when the battery is running low (it requires one "AA" battery).
Logitech's K350 Wireless Keyboard, $59.99
What's better to pair a wireless mouse with than a wireless keyboard. Stay ahead of the comfort curve, no matter the surface, with Logitech's K350 Wireless Keyboard. With its wave-shape, this contour keyboard supports the actual, varied lengths of your fingers. We also love the fact that the palm rest helps position your hands comfortably on the keyboard (the height is also adjustable), and that it allows for instant media access, with one-touch controls programmable keys. This on-the-go keyboard boasts up to 3 years of battery life, a tiny unifying receiver that allows easy adding as a compatible wireless keyboard, and advanced 2.4GHz wireless that provides reliability of a cord, but with cordless convenience.
If you find yourself needing repair services, RadioShack also has a "Fix It Here" repair program, which offers on-site mobile device repair service for cracked screens, water damage, broken charging ports and more (starting at only $39.99). They can repair smartphones, media players and tablets the same day – in most cases, in less than an hour. What else can you ask for!