Ever wish you could pick the brains of some of the most influential women in the fashion industry? This Friday, top executives from some of today's most fashionable labels are taking part in a discussion on how women are leading change in the fashion industry, at the
"Women of Influence in Business and Style" discussion
. Presented by Pratt Institute, as part of their "Pratt Presents" series, and moderated by InStyle's fashion News Editor, Eric Wilson, Friday's event welcomes
Melisa Goldie, Calvin Klein's Chief Marketing Officer and Pratt alumna, Designer Tracy Reese, founder and creative director of the Tracy Reese, and Designer Maria Cornejo, founder of Zero + Maria Cornejo
. These three, top female fashion leaders will discuss their role in creating, shaping, and innovating brands with a global reach.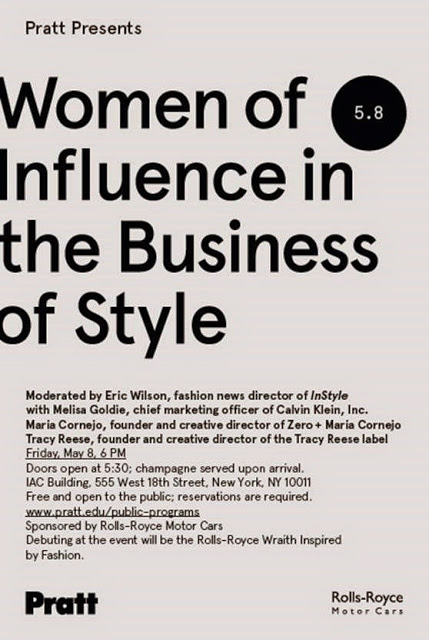 At an exclusive reception, prior to this wonderful panel, Rolls-Royce Motor Cars will unveil the Wraith 'Inspired by Fashion,' a stunning and innovative expression of design for the resurgent Rolls-Royce Motor Car that boasts never before seen features on any Rolls-Royce, including materials, colors and fabrics created by the Rolls-Royce Motor Cars Design Team. The reception will also see Rolls-Royce Motor Cars announcing a scholarship award to future female design leader, and a short film created by Pratt highlighting its 125+ years of preparing successful women in the field of design.
"The quality of education students receive at Pratt Institute is reflected in the remarkable achievements of the school's alumnae, which makes us very excited to offer a scholarship that will advance the education of a future female industry leader," said Giles Taylor, Design Director for Rolls-Royce Motor Cars. "Given the tremendous influence Pratt has in the fashion world, we couldn't have picked a better partner with whom to reveal the Wraith 'Inspired by Fashion."
The discussion panel is a can't miss event for anyone interested in learning more about the fashion industry. The event is free and open to the public, and will be held this Friday, May 8th at 6PM at the IAC Building, located at 550 West 18th Street. To make a reservation for the free event, please visit: https://giving.pratt.edu/women-business.