Accessories are to fashion what makeup is to the face, they enhance your look, so naturally we always want to surround ourselves with the most wonderful accessories…..we're sure you feel the same as well, and of course, nothing beats draping yourself in luxury accessories. Whether it's haruni jewelry, a Gucci bag, or a Saint Laurent purse, you need to add accessories to bring that extra layer of sophistication to your look. Today we share some of our favorite items from such luxury accessory brands in jewelry, handbags, belts, and scarves. Are you ready to accessorize yourself in luxury from Vram Jewelry, Soltek by Marie Odile, PONO by Joan Goodman, Glass Handbags, Suzi Roher, and Joanna Maxham? Then let the tantalization begin with these Fall/Winter offerings!
We can't begin to tell you how much we love this luxury jewelry brand, PONO truly holds a special place in our hearts. Of course, this is no surprise because you can't help but fall in love at first sight. Their Fall/winter 2015 collection boasts statement pieces that celebrate those who love to stand out. It's filled with rich seasonal hues, bold jewelry shapes and as always, all are incredibly lightweight. If you're looking for jewelry pieces to add some "wow" to your look, you should get to know PONO.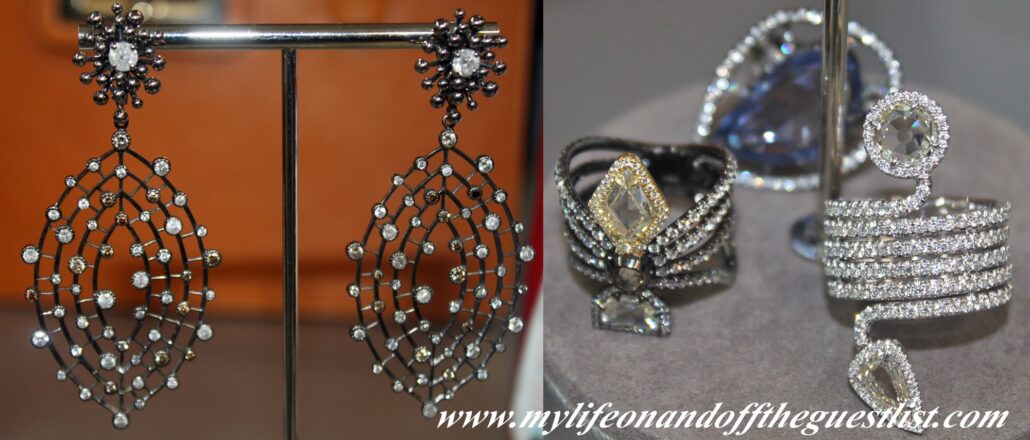 Though we are not in the market yet, we couldn't help but be mesmerized by the stunning engagement and bridal jewelry from Vram. The covetably timeless collection will set your heart aflutter and not just because they are exquisitely handcrafted. Vram offers classic and modern silhouettes that you'd want to own and wear beyond wedding season.
Need a handbag that will last a lifetime and make you the envy of everyone? We recommend the timeless classics from Soltek by Marie Odile. From the luxurious skins to the elegant and stylish silhouettes, you can always expect a compliment when wearing a Soltek. This season, we are mad for the embossed Stingray envelope bag, the cheetah printed pony hair bag with gold chain strap, and the royal blue and white bucket bag with fringe. So divine.
While handbags and jewelry are a given, sometimes a cool and edgy belt or standout scarf is needed to top your overall look. Luckily you can get both from Suzi Roher. We are in the midst of scarf season and fashionistas are taking note to stand out. Suzi Roher' scarves are wearable art…literally, as each boasts astounding artwork that more than catches the eye. Don't be surprised if it becomes a conversation piece. Her belts add the perfect amount of edge to any look. You can rock a belt made from watch faces, funky wide belts with vintage closure, or even something that look a bit futuristic. the possibilities are endless with this collection.
You already know that all Glass Handbags come with a patented built-in lighting system, so today we fawn over the luxurious fabrications available for fall/Winter, including embossed hair calf leather, embossed lizard, cow leather in rich glorious colors, and patent chrome leather. We wish we could show you all of what we saw and drooled over from Glass Handbags but we'd be here all night.
One thought came to mind when previewing the Joanna Maxham Fall/Winter 2015 handbag collection – CHIC! The line offers classic shapes with standout details – the extra long tassel, color blocking, mixed fabrications, bold hardware, and modern updates. No matter the season, these bags will take you far.
Take our advice, visit the websites for all these amazing luxury brands, and get to know them and the other products they have available. They are a great place to begin to accessorize yourself in luxury.