Face it, when it comes to big food holidays like Thanksgiving, we all want the best of both worlds – to look fabulous, yet still want to get away with wearing our "eating pants". Wouldn't you love to combine both? We all love enjoying Thanksgiving dinner, but no one wants really wants to look down and see their stomach sticking out. The only solution is to not eat much (no one wants that), or to do what we're planning on doing – Glamour-flage your style this Thanksgiving with Lola and Sophie.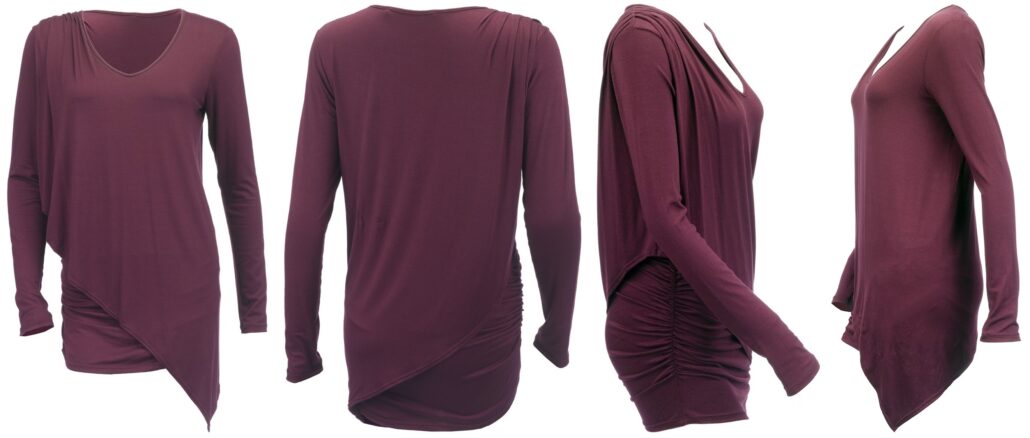 Say hello to the Lola & Sophie Long Sleeve Overdrape Top, a sexy rayon/spandex V-neck ruched top with asymmetrical over drape to hide your Thanksgiving dinner overindulgences. Sure to be a wardrobe staple and your go-to for the major eating holidays. With this chic top, which is available in the above cranberry and black, you will surely win the battle of the bulge thanks to its concealing silhouette, play on proportion, and accentuating details. The underlayer is ruched on the sides with a beautifully draped asymmetric top layer to keep your stomach and imperfections well covered.  Whether you wear it with dark denim jeans, slim pants, or leggings, you will absolutely highlight your best assets, "glamour-flage your trouble spots", and look slimmer in this effortlessly chic top!
Thanks to Lola & Sophie designer Gene Kagan, who is a "master of casual chic", we're all now equipped with the perfect style to keep your stomach pooch your own little (or medium-sized) secret. So eat and drink up this Thanksgiving, as much as your stomach can take because no one will be judging you by the size of your stomach. Are you ready to Glamour-flage your style this Thanksgiving with Lola and Sophie? Grab the Long Sleeve Overdrape Top for $99.00, and check out the entire Lola & Sophie collection at www.lolaandsophie.com.