We've always loved to cook, no surprise since we're huge foodies. We find cooking quite relaxing and therefore keep it to ourselves. It's our sanctuary. Also, in an effort to eat healthier, heartier meals, we've found ourselves cooking at home more. Of course, this means whipping out the good cookware. Just because we show off our culinary creations, doesn't mean that we don't love showing off or talking about our cookware. Kitchen appliances are essential for those who love to cook at home. Even for those who don't like cooking and don't do much of it, certain appliances are essential, such as the best toasters in Australia or a kettle. If you want to make sure that your appliances, not only in your kitchen but within the rest of your house too, are being well looked after, you can add a home warranty using companies such as First American Home Warranty so you feel secure about your appliances. We're here to share some of the favorite cookware and kitchen appliances we're currently using at home from some of our favorite brands, including T-fal, Krups, All-Clad, and Lagostina.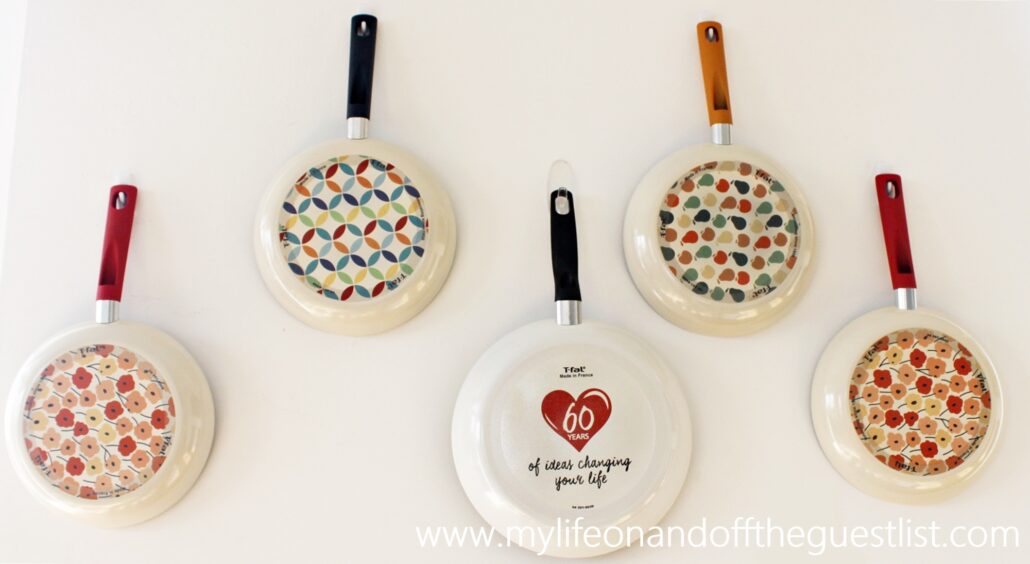 Since we learned to cook from our mom, we thought it'd be appropriate to start the vintage cookware collection from T-fal which celebrates its 60th anniversary. The T-fal Tres Chic Collection features 9.5″ and 11″ frying pans which boast retro inspired prints on the enamel base, a bold-hued, soft touch Bakelite handle, and an interior that features T-fal's ProGlide non-stick and Thermospot technology. The dishwasher safe frying pans retail for $19.99 – $24.99.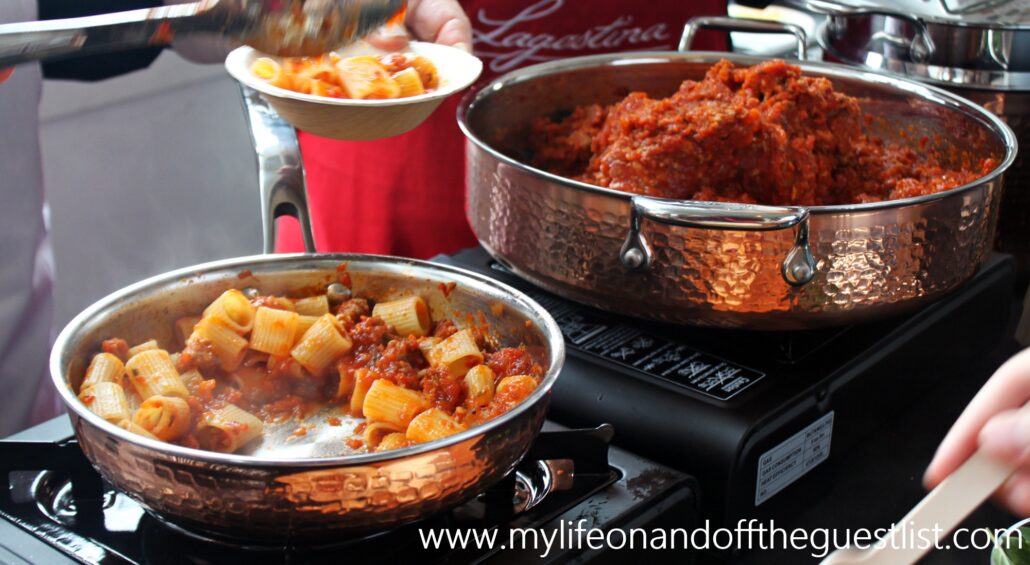 For those of you who are fans of the beautiful and stylish copper cookware, you'll love the pots and pans from the Lagostina Martellata Hammered Copper Collection. The 10-piece collection boasts a beautiful copper exterior and celebrates all there is about high-quality Italian cookware. It features premium tri-ply technology (stainless steel interior, a thick heat-radiating aluminum core, and the polished, hammered copper exterior), and its thick heat-radiating aluminum core offers optimal heat distribution throughout the entire pan, allowing your foods to cook evenly. The collection is oven safe, boasts riveted cast stainless steel handles which stay cool on the stove and are built for comfort, strength, and stability. We're currently creating delightful dishes like the pasta one seen above in the 8″ Skillet. The 10-piece set retails for $599.99, with the 8″ Skillet available for $79.99.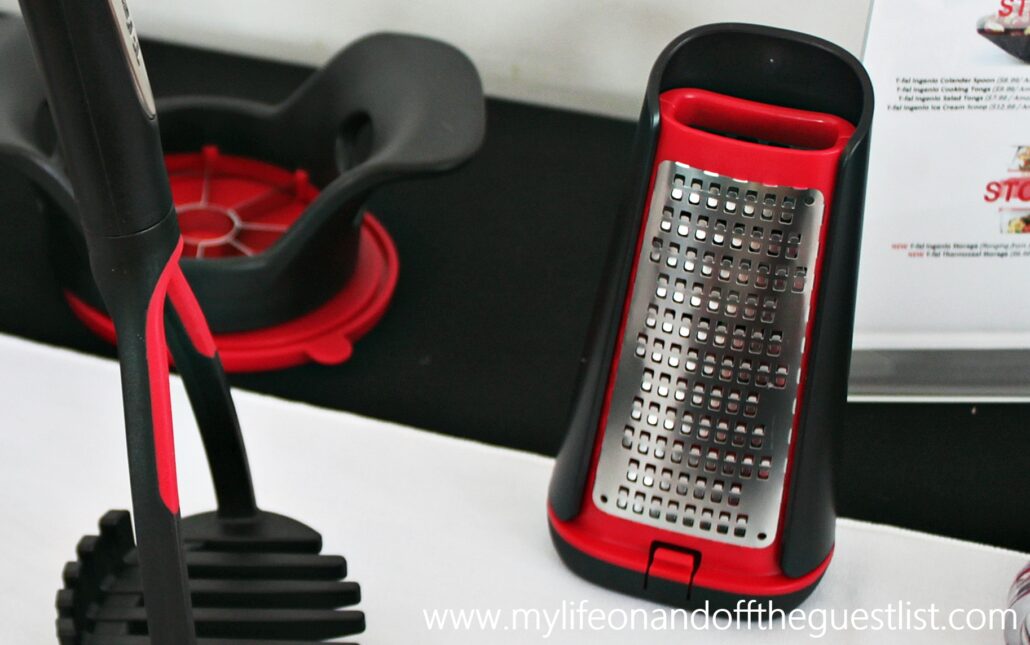 Next on our list of must-have cookware and kitchen appliances is the above beauty, which may not look exciting but is, in fact, a godsend. If you're an avid cook, then we're sure at one point or another, you've suffered a grater injury. Whether you were grating cheese, carrots, or zucchini, chances you've accidentally grated your fingers and/or nails. Thanks to the T-Fal Ingenio Multi Grater, those painful days are gone. Featuring etched blades that provide excellent grating in both directions, the option to reverse on the blades for coarse or fine grating, a safety cover to protect your hands, and the ability to separate the finished blades for easy cleaning, this dishwasher-safe kitchen tool will be a life (and finger saver). Get yours for $25.99.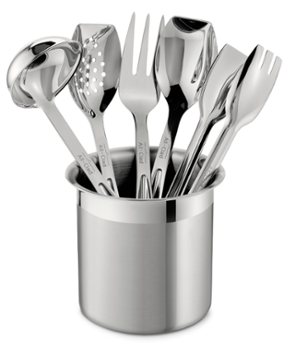 We all need serving and cooking utensils and while we'd been fans of wooden ones, we admit that after using them for several dishes, they no longer look pristine. This time around we've fallen hard for the gleam of stainless steel, like the one above. The stunning All-Clad 6-Piece Cook Serve Tool Set includes a brushed stainless steel fork, ladle, flat head spoon, slotted spoon, tongs, and caddy. This beautiful set is yours for $120.00.

Last but not least in our must-have list of cookware and kitchen appliances is coffee lovers. For those of you who have a coffee fanatic in the family like we do, you or rather, they will love the above KRUPS Professional Burr Grinder GX5000. Our mom loves grinding her own coffee beans because her coffee stays fresher longer and it gives her the ability to mix her bean flavors. This beauty boasts 45 settings divided into 9 steps, the ability to grind your beans from extremely fine for espressos, to coarse for french press coffees, and selects from 2 up to 12 cups. It's the coffee house freshness and flavor right at home. Why not make a coffee lovers day with this must-have coffee grinder for only $49.99.
What are your thoughts on the above cookware and kitchen appliances? Any favorites among the list?