We're a little late on this but we are in the season of the Lion; hello Leos and Happy Birthday!! We figured the best way to celebrate the fifth astrological sign of the zodiac is to raise a glass in your honor. We thought long and hard about the right cocktail but decided needed some expert advice. We turned to Drizly, the people who can have any alcohol (beers, wines, liquors, etc) delivered to your door in 1 hour or less, for the perfect cocktail for Leo. Drizly's Chief Cocktail Officer, Trisha Antonsen has whipped up the perfect original cocktails in a series we're calling Mixology Astrology by Drizly, and today we're sharing her recipe featuring matching ingredients to Leo's signature personality traits. The Blue Lagoon is a mesmerizing blue-green cocktail made with tangerine rum, blue curacao, pineapple juice and soda water.
Blue Lagoon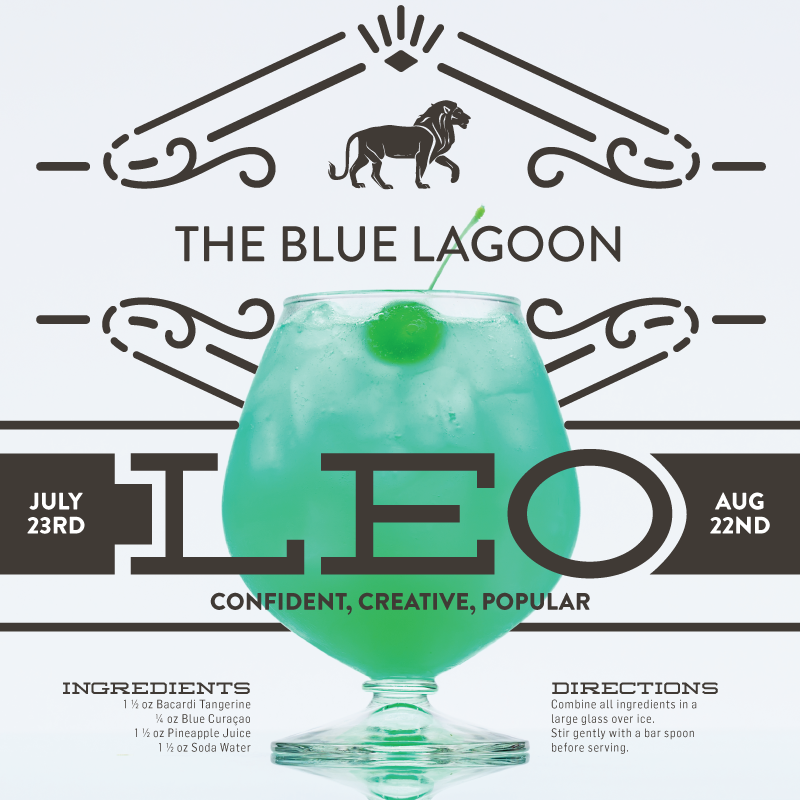 1 1/2 oz Bacardi Tangerine
1/4 oz Blue Curacao
1 1/2 oz Pineapple Juice
1 1/2 oz Soda Water
Combine all ingredients in a large glass over ice
Stir gently with a bar spoon before serving
It is a perfect compliment to the confident, creative, and popular Leo. Let's face it, Leos love to be in the spotlight, they wow you with their showmanship so, of course, the perfect birthday drink would be this eye-catching cocktail. Want to experience this yummy cocktail now? As we stated above, Drizly can deliver the perfect drinks to you from their huge selection. They currently have more than 2,000 products available from their various retail partners. Their products include beer, wine, liquor and extras like soda, and cocktail mixers (subject to state law of course), which you can order direct from Drizly.com or right from their app, available for both iPhone, and Android. It's perfect for your next night in.
Drizly will deliver the ingredients for your cocktail of choice to your door within the hour in the following locations: Austin, Baltimore, Boston, Chicago, Dallas, Denver, Hoboken/Jersey City, Indianapolis, Los Angeles, Minneapolis/St. Paul, New Orleans, New York City, Providence, Seattle, St. Louis, Tampa, Washington D.C. and Edmonton, Alberta. What are your thoughts on this month's Mixology Astrology by Drizly, Leos? Could you go for a Blue Lagoon right now?