As we've stated numerous times, we're always on the lookout for the future of fashion. The next generation of fashion designers whose designs captivate you into wanting to know everything about them. We were introduced to several of these talented designers at the NYFW showing of the The Art Institutes Spring 2017 Collections. Nine womenswear designers from various Art Institutes locations showcased their collections during fashion week. These nine student designers included Adrian Escoto, Bianca Zidik, Melody Hernandez, Julissa Arrington, Devon Pezzano, Mimmy Begazo, Rene Mejia, Esther Ashiru, and Maria D'Ocon. Let's get to know their stunning looks from The Art Institutes Spring 2017 Collections show.
Adrian Escoto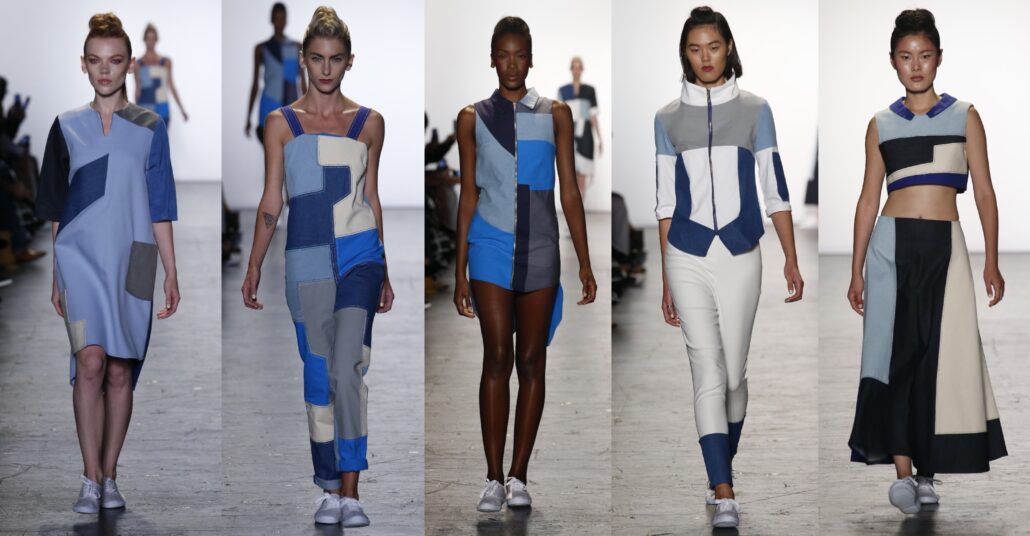 A student at the NYC At Institute, the fashion capital native showcased a collection based on the rugged past of the NYC streets fused with the modern chicness of the future. The six look assortment exudes a unique, edgy, and playful "devil may care" vibe. Denim patchwork in combinations of blues, blue, gray, and whites, etc gave eye-catching detail to this casual chic collection.
Bianca Zidik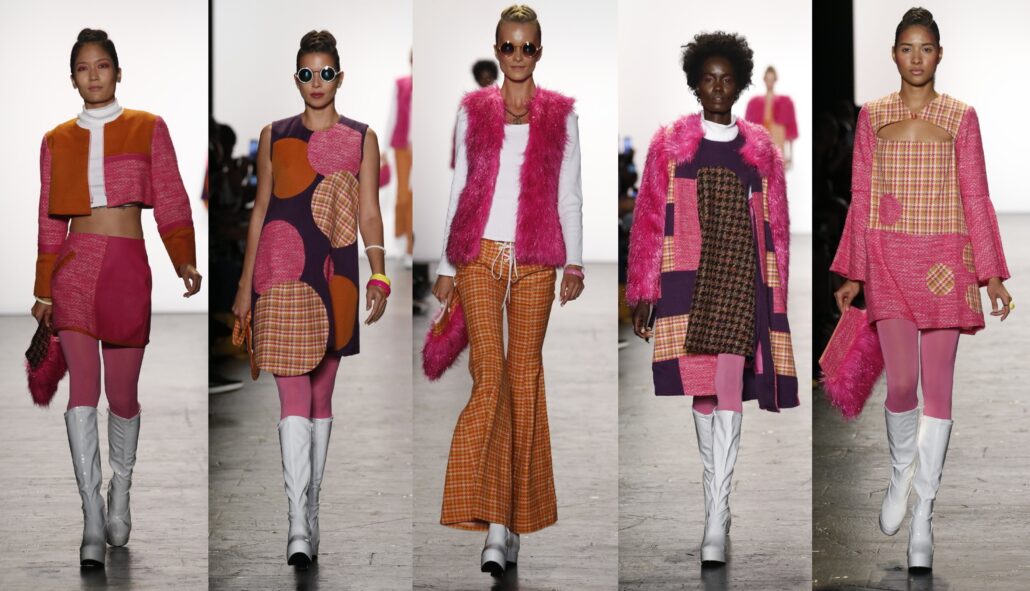 The fun and colorful past and fashion legend Betsey Johnson inspired this fashion-forward collection from Chicago fashion student Bianca Zidik. Her bold and pink-heavy collection are based upon her fashion philosophies: fun, funky, and free spirited, and we adore it. We love her used of using circles as patchwork and of course her bold choice of colors.
Melody Hernandez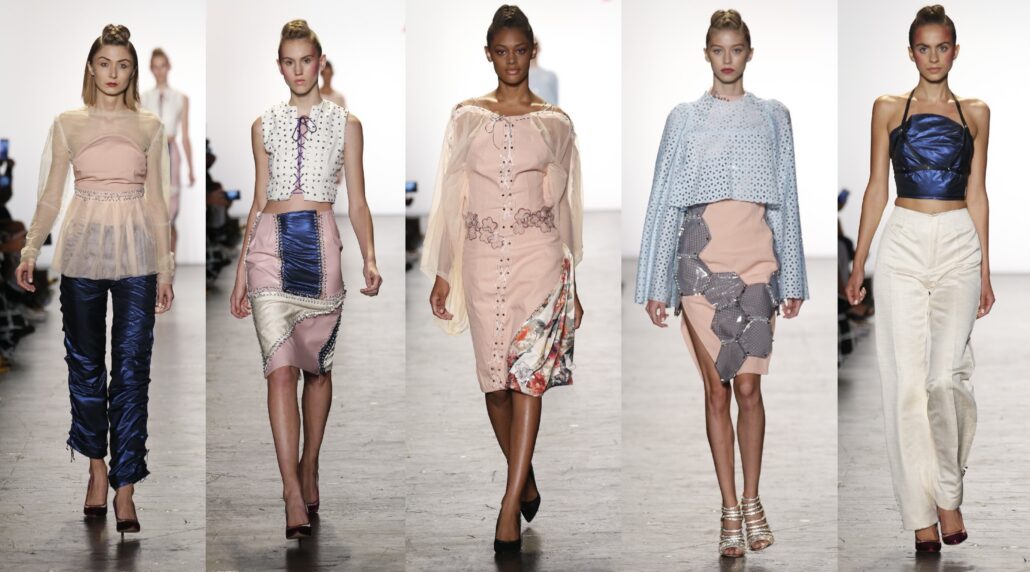 Oil is not the only hidden treasure in Texas. Dallas student Melody Hernandez premiered a stunningly chic collection that would make any fashion-loving socialite swoon. Her collection featured innovation textile juxtaposition and we love how she utilized sporty materials and made them into a collection of sophisticated silhouettes.
Julissa Arrington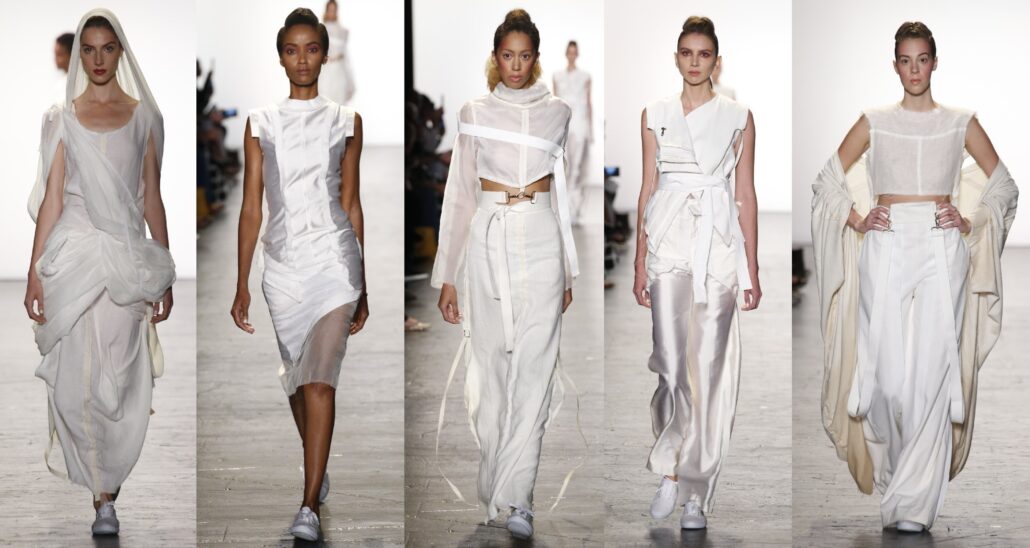 We love the slightly off-white collection from San Francisco student Julissa Arrington. Many of the pieces took us back to 1996 when singing group TLC rocked innovative all-white looks for the Grammys. We love the elongated suspenders and various strap details, hardware details, and the combination of linen, silk, and gauze. Julissa's collection is drawn upon a time, a place and unconventional beauty. Each piece was contrived with an unbridled imagination evolving into a dramatic story and unfolding into a detailed minimalistic silhouette.
Devon Pezzano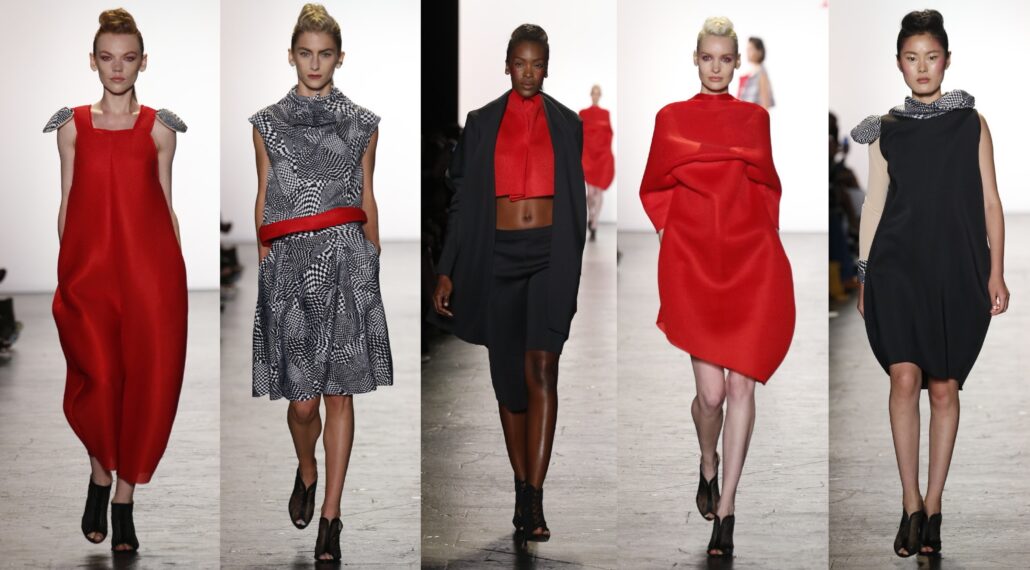 Philly native Devon Pezzano wowed us with her use of the striking color of red, and bubble shapes. her collection had a wonderful fluidity to it, a great feat for the mostly neoprene collection….mesh neoprene to be precise. Our favorite was the Red neoprene 3/4 sleeve dress with pockets. Such an impactful silhouette and definitely an attention getter.
Mimmy Begazo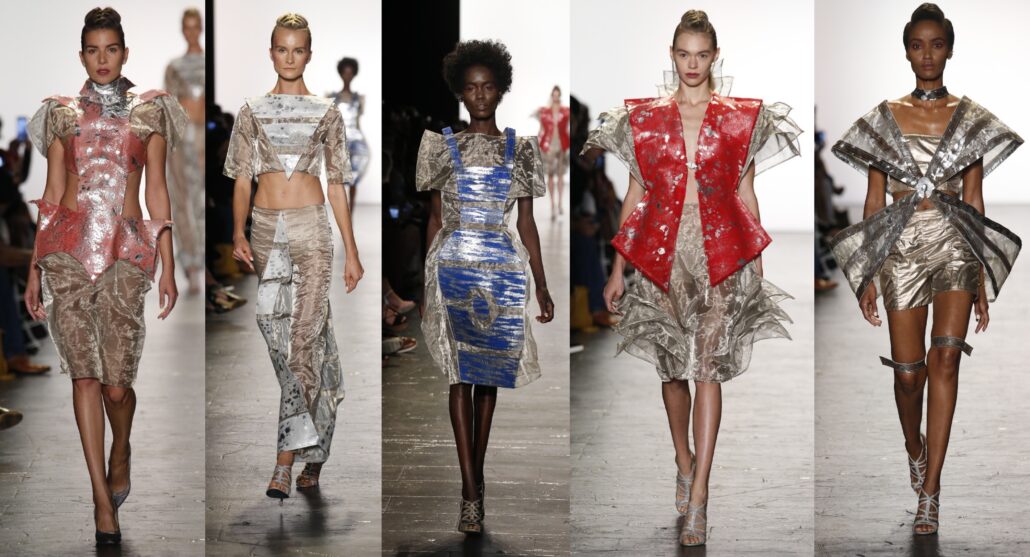 Miami student designer Mimmy Begazo's collection, named "Destination Beyond" is as avant-garde as it is plausible. Inspired by the thought of having to block harmful waves from our electronic devices from entering our bodies, Mimmy has created this collection of innovative fashions we may very well be wearing  one day. The looks offer a contrasting use of cowhide hair foiled in silver (an ode to natural primitive body shielding) combined with the advancement of fabrics and technology we have today. Innovative but easy to wear, "Destination beyond" is meant to showcase how fashion can adapt and merge with our needs for the future.
Rene Mejia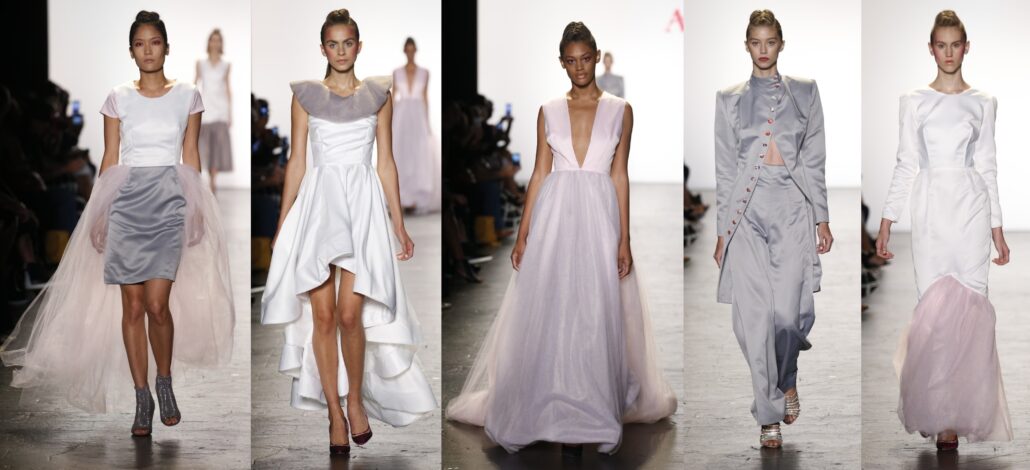 The Art Institute of Fort Lauderdale student Rene Mejia presented a collection featuring a continuous flow of elegance, clean lines, classic elements and silhouettes, and sophistication and grace that represent beauty and his extreme dedication of his artistic eye. The white and gray collection of gowns (and one swoon worthy pantsuit) in satin and tulle celebrated simple refinement.
Esther Ashiru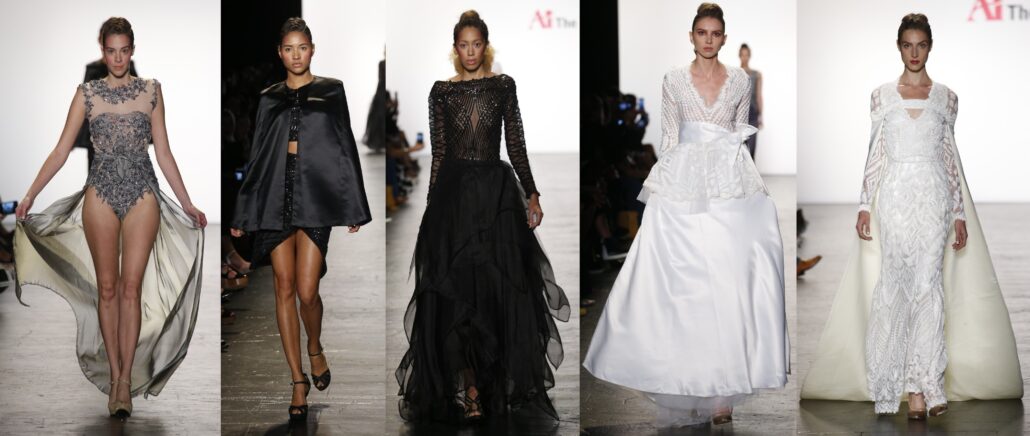 Taking our breath away was the bewitching collection from The Art Institute of Vancouver student, Esther Ashiru. Years of experimenting with styles, fabrics, colors and textures, topped with a skillful eye helped create the stunning "Paris Bound" collection seen above. In this collection (our absolute favorite), Esther gifts us with an accolade of enchanting looks sashaying down the runway in fine cascading fabrics with detailed lace and silk organza that create an ensemble of illustrious couture gowns with a glamorous red carpet appeal.
Maria D'Ocon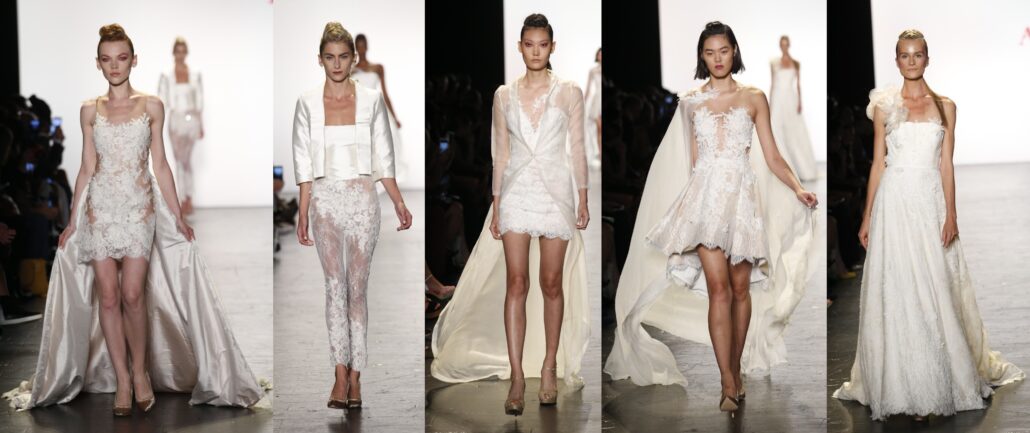 Last, but certainly not least is the collection from other Miami student, Maria D'Ocon. No doubt heavily influenced by her time at Barcelona bridal house Pronovias, her "Destination" collection was inspired by the architectural influence of Spain's cosmopolitan cities along with the beauty of the rugged Spanish countryside, all of which were sewn together using refined couture techniques. We expect modern and fashion-forward brides-to-be will be flocking to Maria very soon.
These are the collections from The Art Institutes Spring 2017 Collections? What do you think of these wonderful womenswear designers? Are there any favorite looks or designers you'd like to see more from? Share your thoughts about The Art Institutes Spring 2017 Collections in the comments.
PHOTOS BY NYFW.COM