Exciting news beauty addicts and fans of Hello Kitty. On November 1st (ours and Hello Kitty's shared birthday), Sanrio and innovative, Southern California-based global cosmetics company, ColourPop, launched the ColourPop X Hello Kitty Cosmetics Collection! This new range of cosmetics products includes super cute beauty products for the eyes, lips, and face.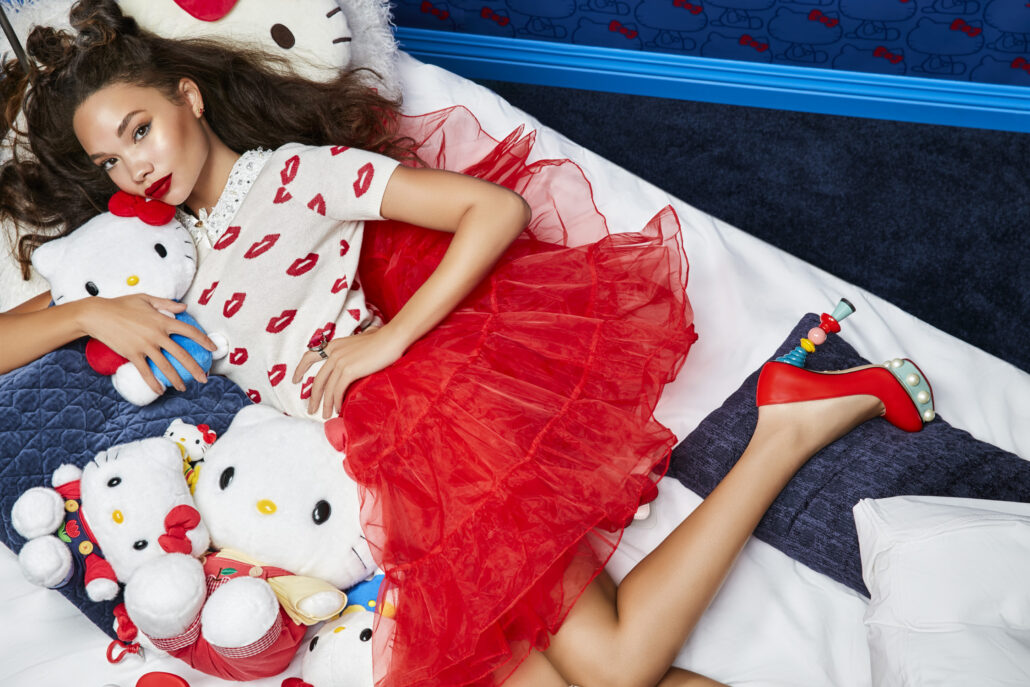 The ColourPop X Hello Kitty Cosmetics Collection is a limited edition and cruelty-free collection of cosmetics and is a first lifestyle brand collaboration for ColourPop. Inspired by Hello Kitty and the latest seasonal shades, the  ColourPop X Hello Kitty Cosmetics Collection consists of singles, sets of four eye shadow shades, and a face kit that pairs three eye shadows, blush, highlighter, signature ColourPop ultra matte and ultra gloss lipglosses, and a limited edition makeup bag.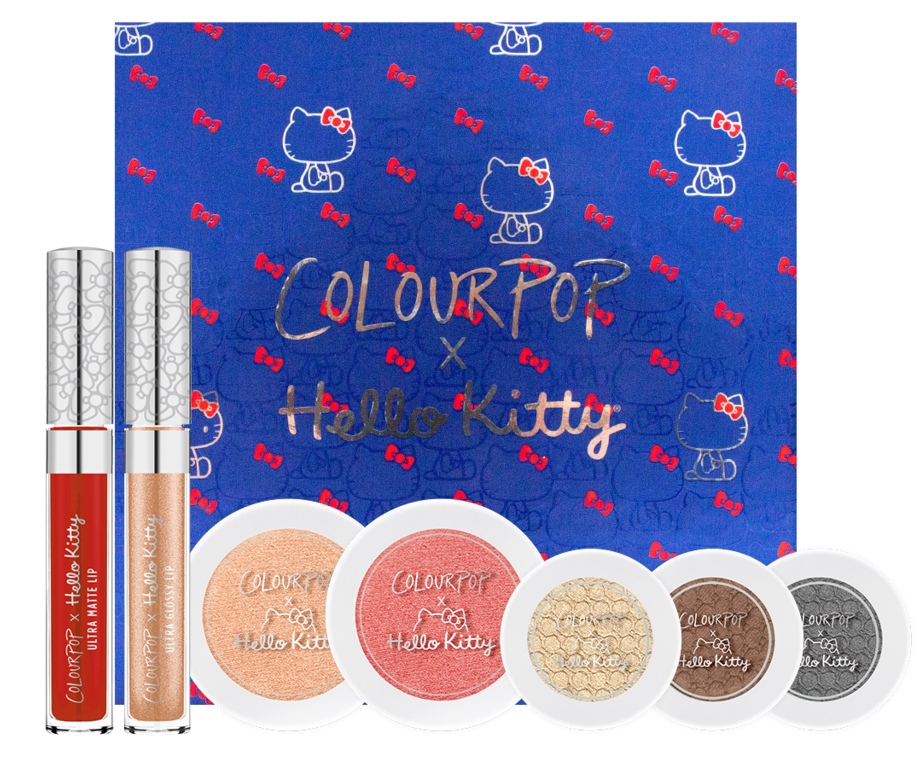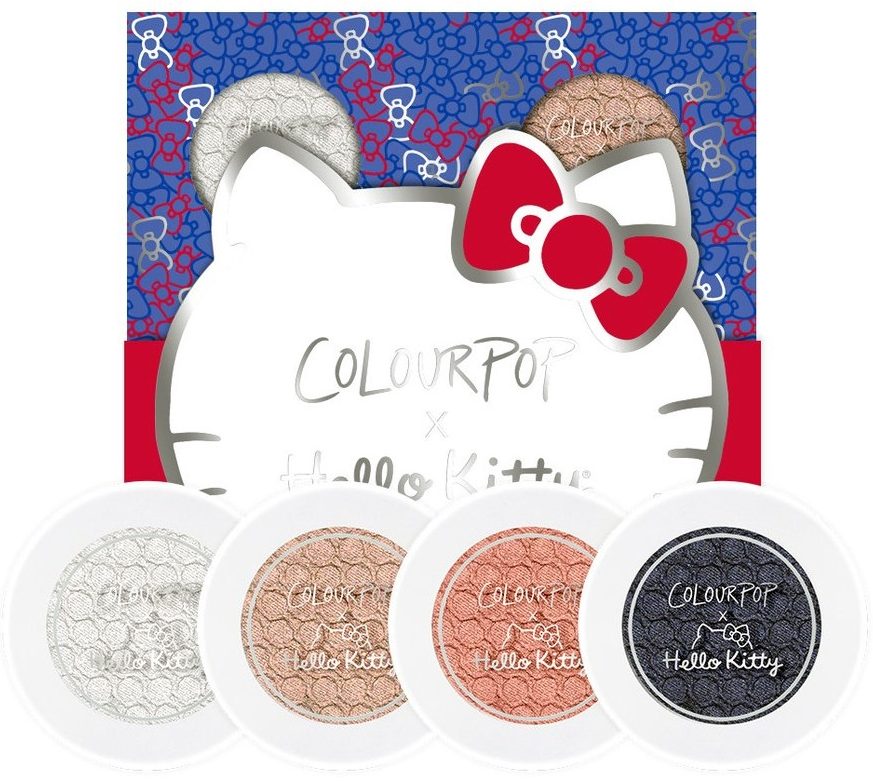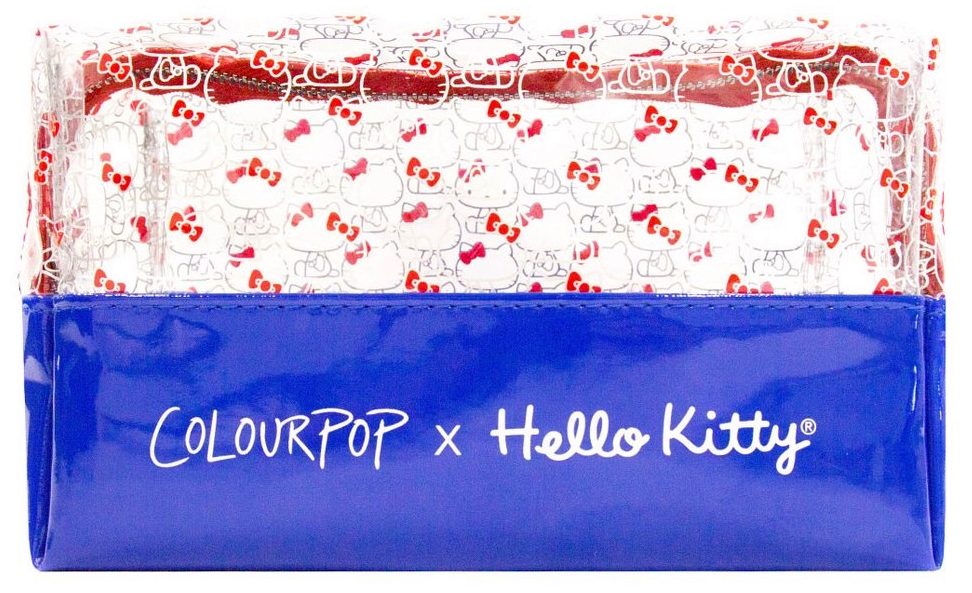 The complete ColourPop x Hello Kitty Cosmetics Collection includes:
Shadows and Pigments – Boasting a long-wearing crème powder formula, these eyeshadows come in an assortment of vibrant shades including Rainbow, a sheer white with highlights of silver and pink glitter in a glitter sheer finish; Small Gift, a mid-tone peachy pink with a pearlized finish; School Bus, a deep navy blue with a pearlized finish; and Friendship File, a warm peachy beige dusted with pink and silver glitter with a metallic finish. The shadows are available as singles, as well as in a Super Shock Shadow Foursome called Mama's Apple Pie.
Ultra Glossy Lips – This super shiny lip gloss provides extreme shine with a cushion-like feel, with absolutely NO stickiness or tackiness. Colors include Trinkets, a crisp blue/red with a soft sparkle in a sheer finish; Arigato, a bright hot pink topped with a ton of hot pink glitter in a sheer finish; and Supercute!, a bright warm pink doused with pink glitter in a sheer finish.
Ultra Satin Lips – A lightweight, comfortable, bold lipstick with a satin finish, this stunning lip color is available in Lock Diary, a saturated fuchsia; and Tiny Chum, a baby nude pink.
Ultra Metallic Lips – This super intense metallized liquid lipstick is dripping with high impact metallic pearls, and only available in one sultry color – Surprise, a dynamic ruby red that is topped with copper and hot pink glitter!
Lippie Stix – ColourPop's signature medium – full coverage lipstick has an extra creamy feel. Available in Let's Play, a brilliant cranberry lightly dusted with hot pink pearls in a satin luxe finish; Date Mate, a vibrant cool-tone fuchsia in ColourPop's "matte " finish; and Konichiwa, a mid-tone cool blue pink with a crème finish.
Blush and Highlighter – ColourPop's blushes go on easy with a super silky feel. Coin Purse, a bright cool-toned rosy pink blush in a matte finish is the go-to blush in the assortment. The highlighter gives a sultry contour in a long-wearing crème formula. Available in School is Fun, a soft iridescent duo chrome gold highlighter in the offering with a pearlized finish, it is the perfect finish to a gorgeous face!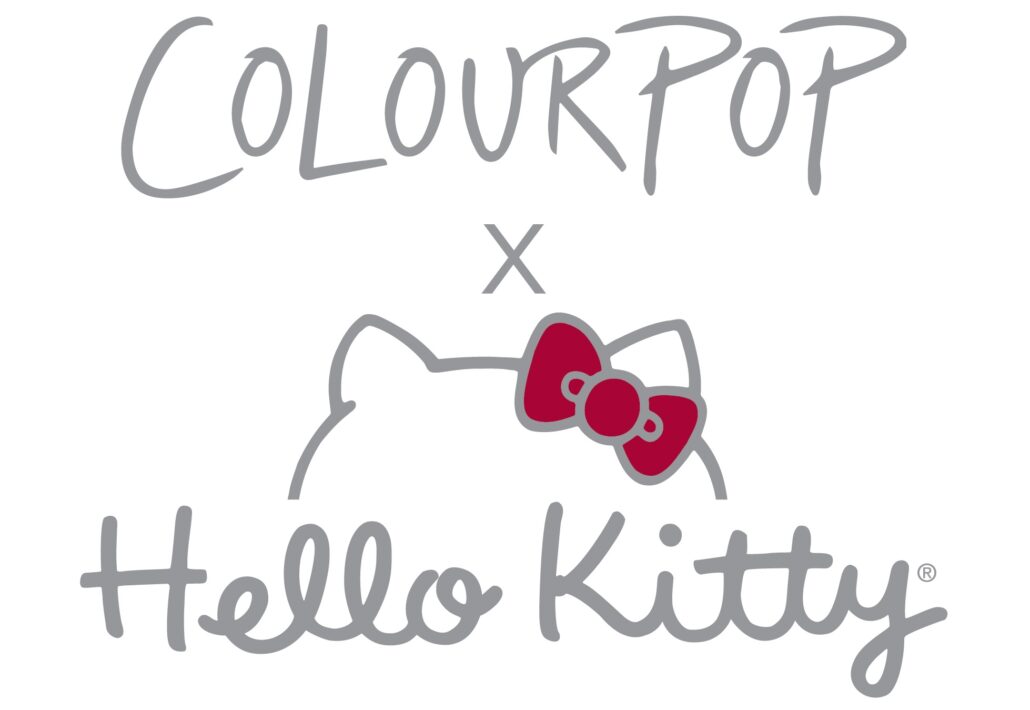 We recommend you starting with the Hello Pretty Kit so you can enjoy most of the makeup products at once. The kit comes with two lip glosses, the highlighter, blush, and three eye shadows. It's a great ay to get acquainted with the makeup collection. Are you excited to try this collection? Have you tried the products? Share your thoughts with us.