The holidays are almost right around the corner, which means it's just about that time to start getting your gift ideas ready and taking advantage of sample sales. One great upcoming sample sale is the annual PONO Holiday Jewelry Sample Sale. The luxury jewelry brand is offering many of their stunning pieces at 50-80% off their regular prices, plus many of their accessories are limited edition, one-of-a-kind pieces.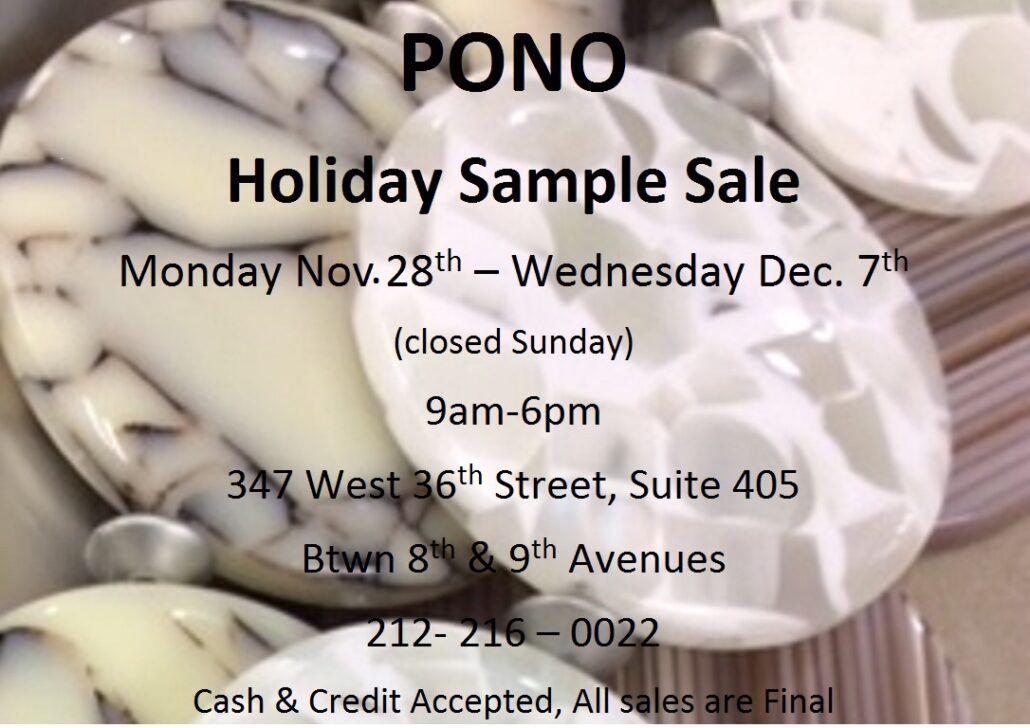 You have ten days to grab as many gifts as you can for the special women on your holiday list at the PONO Holiday Jewelry Sample Sale. Expect to see rows and rows of exquisite beautiful jewelry at amazingly affordable prices, did we already mention the sale is 50-80% off?

The best part, while shopping for these beautiful pieces (some of which you can see above), you can chat with PONO Jewelry designer Joan Goodman and learn all about the things that make PONO so wonderful. You'll be left in awe as you drool over the PONO Sunstone Angle Bracelet, now only $30.00, down from $60.00; or the magnificent Many Moons Resin Necklace originally $440.00,  now a steal at $180.00; why not go for gold with the Crescent Moon Resin Choker, now wonderfully available at $75.00, down from the original price of $215.00; or make a "great taste" statement with the Egyptian-inspired Sophia Resin Choker, originally $385.00, but can now be yours for $200.00. If that's not enough, the PONO Holiday Jewelry Sample Sale promises lots of arm candy with their bracelet stacks at their bangle bar where 10 bracelets are on sale for $50.00 (that's $5.00 per bracelet). These bracelet stacks normally retail for $250.00, so you know this deal is amazing.
The PONO Holiday jewelry Sample Sale will be held at 347 W 36th St. suite 405, between Eighth and Ninth Aves, Monday, Nov 28th until Wednesday, Dec 7th (the location is closed on Sunday), from 9am to 6pm. For more info on the sale, contact PONO at 212-216-0044 or log on to www.ponobyjoangoodman.com.