.Although it may not seem that way to some, Black skin is indeed beautiful. It must be celebrated, honored, and revered every day. What better than a Black fashion label to help do just that! We're happy to highlight Negris Lebrum, a Houston based fashion brand born from an inspirational love story that began during the 1940s, between a young beautiful French Creole woman and a handsome Black man whose love was forbidden by societal standards. The inspired collection is named for this muse, Ms. Negris Lebrum.
What started out as a small collection of 12 screen-printed t-shirts 11 yrs ago, has grown into a high-end fashion house; no surprise since Fashion Designer Travis Hamilton was inspired by this chic French woman. But today we're highlighting Mr. Hamilton's revisit of one of his very first t-shirts paying homage to Ms. Negris Lebrum, the "LE NOIR EST JOLI" tee. The French phrase translates to "Black is beautiful", very apt in light of the current Black plight and struggle.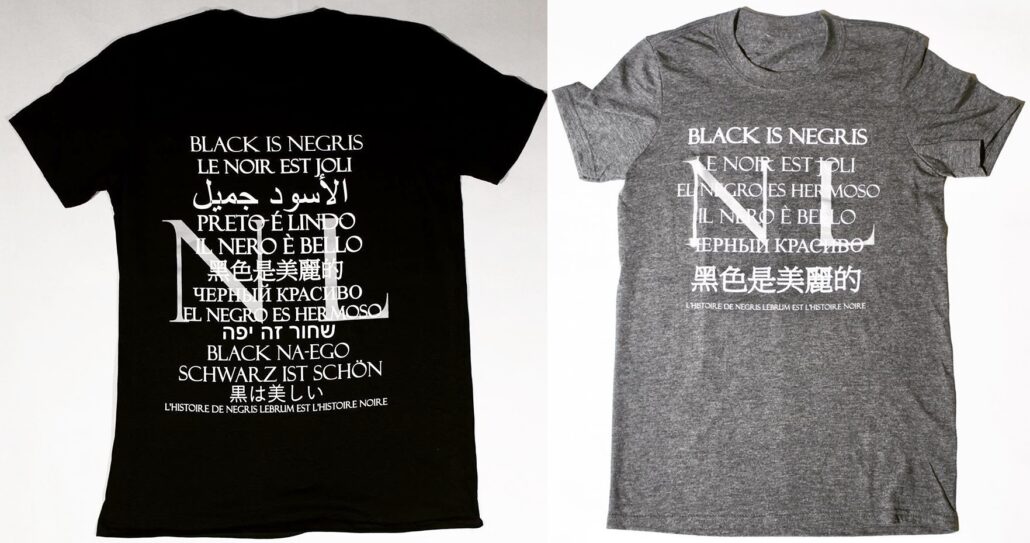 While she was light enough to pass, Negris Lebrum chose to live her life as a proud Black woman. She fell in love with and married a darker-skinned man; in doing so, she was ostracized and forced out of her community for marrying him instead of passing for white. Hence the creation of the "LE NOIR EST JOLI" tee. In light of the recent movements, Mr. Hamilton went back in his archive and updated this "vintage" t-shirt with 12 languages instead of the original 5.  His "LE NOIR EST JOLI" message is now beautifully translated into English, French, Arabic, Portuguese, Italian, Mandarin Chinese, Russian, Spanish, Hebrew, Ibo, German, and Japanese; making it a global tee.
"I originally made these t-shirts as a tribute to this intriguing woman's incredible story. Today, in the environment in which we are currently living, the messages of pride in one's self from years ago communicate a loud message of the importance of inclusion," says Travis Hamilton. "This message of inclusion & pride in one's self & seeing others through nonexclusionary eyes is every bit as powerful today as it was back in 'the day'."
We see the world come together in support of Black lives. We see multiple countries condemn police brutality towards Black people. This shows the unified message on the Negris Lebrum "Black is Beautiful" tee is one that the world would proudly wear.
The newly released 12 language version of the t-shirt is available for $55.00 on the www.negrislebrum.com in Women's and Men's sizes. The super-soft, 100% combed cotton tees are available in black or charcoal gray.