Holiday gifting can be tough. While some people may be easy to shop for, some are very hard to find gifts for. If you have blank spaces near a few names, whether they be male, female, old, or young, we have some wonderful gifts ideas to share. We're positive this list of gifts for anyone and everyone on your list will be major hits this holiday season.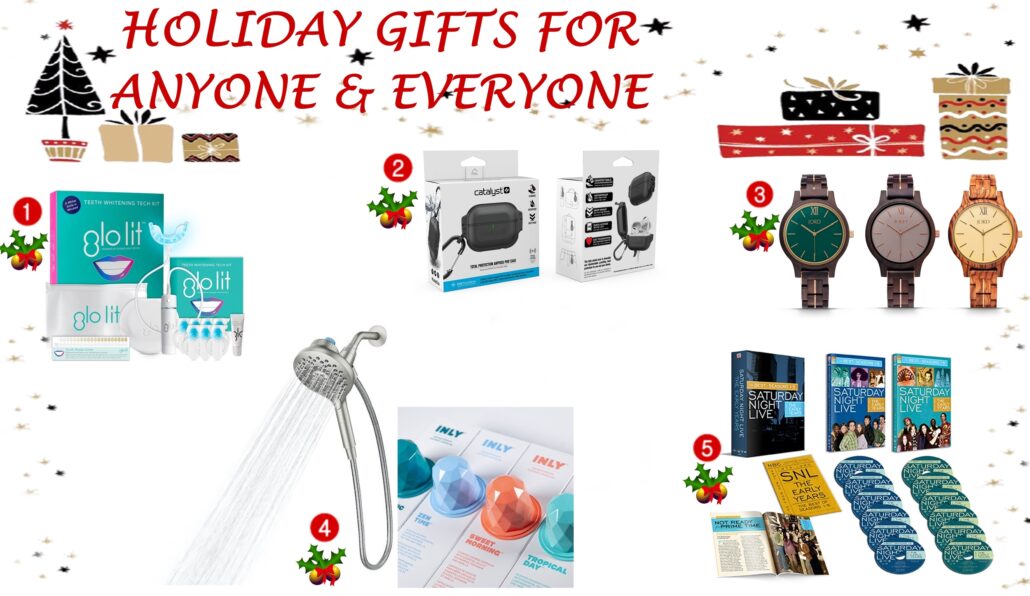 These are the holiday gifts that would make anyone happy to receive; no matter who they are. Cross off lots of names on your list with holiday gifts from GLO Science, Catalyst, JORD, Moen, and Time Life.
GLO Lit Teeth Whitening Device Tech Kit with Bluetooth, $149.00 – if we're all being truly honest with ourselves, we've all let ourselves go a bit while made to stay at home. I'm sure many of you have increased your coffee (in our case, tea) intake, and brushed your teeth less than twice daily. Thankfully you can turn that around or help someone on your Christmas list get back to normal with the smile-saving GLO Lit Teeth Whitening Device Tech Kit with Bluetooth. This clinically proven, all-in-one teeth whitening device kit combines professional-grade patented heat & light technology with specially formulated whitening gel to visibly whiten teeth without sensitivity. Whiten your teeth up to 5 shades or more from the comfort of our home with a vegan, gluten-free, and cruelty-free whitening gel.  The fast 8-minute applications result in a whiter, brighter, more confident smile you'll want to show off during your video chats. We think it's one of the top gifts for anyone. Each kit includes: GLO Heat & LED Light Mouthpiece & Storage Case, Bluetooth Power Pack w/ hands-free lanyard & garment clip, 7 Teeth Whitening GLO Vials (42 applications), GLO Lip Care, Travel Pouch, and User Manual & Shade Guide.
Catalyst Total Protection Case for AirPods Pro, $49.99 – this ultimate AirPods case is waterproof up to 100m (330ft) and drop proof to 3m (10ft) so you can take your AirPods Pro anywhere without the worry. With an impact-absorbing silicone interior, and a tough washable polycarbonate exterior your case is equipped to withstand drop after drop. It's also protected from any scratches and scrapes and has a detachable carabiner so you can easily hook it on to your belt, bag, or purse. It is fully compatible with wireless charging and provides total protection for you and your device. You can also easily wash and disinfect your case using 70% isopropyl alcohol or 70% ethanol, which significantly reduces the infectivity of enveloped viruses. As part of the Catalyst Cares program, for every Total Protection AirPods Pro case purchased until Dec 31st, 2021, Catalyst will make a $1.00 donation to the CDC Foundation's Coronavirus Emergency Response Fund. Available in Army Green and Stealth Black, you can pre-order the Total Protection Case for AirPods Pro now for November 16th delivery.
JORD Frankie II Wood Watch, $189.00 – The JORD Frankie collection is the best selling wood timepiece in the world. It is worn in over 140 countries worldwide and is a mainstay in the JORD watch lineup. This 45mm ultra-slim quartz minimalist watch is perfect for everyday wear. It boasts an uncomplicated, Sapphire crystal glass face that offers complete focus and a streamlined shape that offers style. The beautiful hand-finished wood exterior, which is pretreated with tung oils, is built atop steelcore™ construction of the Frankie II. This endoskeleton provides superior strength without sacrificing the natural wood visibility. Although the watches are splash-proof, they should not be submerged in water. The 2020 style has been reengineered to offer more colors, more dial designs, and more sizes (the original 45mm and a smaller 38mm). With the variety of color options, this wood watch is sure to be a big hit for holiday gifting. SAVE NOW on this unique gift by using the code mylifeonandofftheguestlist20 for 20% off the entire website!
Moen Aromatherapy Handshower, $129.00 – No one can deny the benefits of taking a nice hot shower to ease the stress. It is the best way to fully luxuriate in some "me-time". With their newest launch, Moen takes that stress release to another level. This holiday season, why not give the gift of pure relaxation with the Moen Aromatherapy Handshower with INLY™ Technology. Get ready to enjoy or give the gift of a customizable spa experience in the comfort of home. The Moen Aromatherapy Handshowers are uniquely designed with the ability to infuse spa-like essential oils directly into the water flow to create an incredible and sensory shower experience. The INLY Shower Capsules, made in France with essential oils curated by master perfumer, Jean-Charles Sommerard, slide into an infusion dial on the showerhead to allow you to select your preferred essential oil dilution setting: high, medium, low, or off.  The four spa-inspired INLY fragrances include:

Zen Time: With essential oils of lavender, tea tree, and vanilla
Energetic Morning: With essential oils of lemon, scots pine, and cistus
Sweet Morning: With essential oils of red berries, geranium, and vanilla
Tropical Day: With essential oils of lemongrass, neroli, and vanilla

Saturday Night Live: The Early Years 12-DVD Collector's Set, $99.95

– there's nothing like the gift of laughter. Laughter is therapeutic and makes one of the greatest gifts for anyone on your list. This hilarious 12-Disc Set includes 33 complete episodes featuring all-time-classic characters like The Coneheads, John Belushi's Samurai, Emily Litella, The Blues Brothers, and More, and features incredible guest hosts like George Carlin, Lily Tomlin, Steve Martin, and Richard Pryor; and musical acts, rare behind-the-scenes footage, a 28-page collector's book, a bonus DVD and more!
So if you have a few people on your holiday gift list you don't know what to gift, check out our list of gifts for anyone and everyone on your list.