So much of this year has been so ugly; it's time to think about adding some much-needed beauty to the holiday season. The pandemic is forcing us to add a bit more self-care practices into our hectic lives and we're here to help. We've already featured some great gift ideas for wine lovers, and today we share some beauty gifts the beauty lovers on your list will love.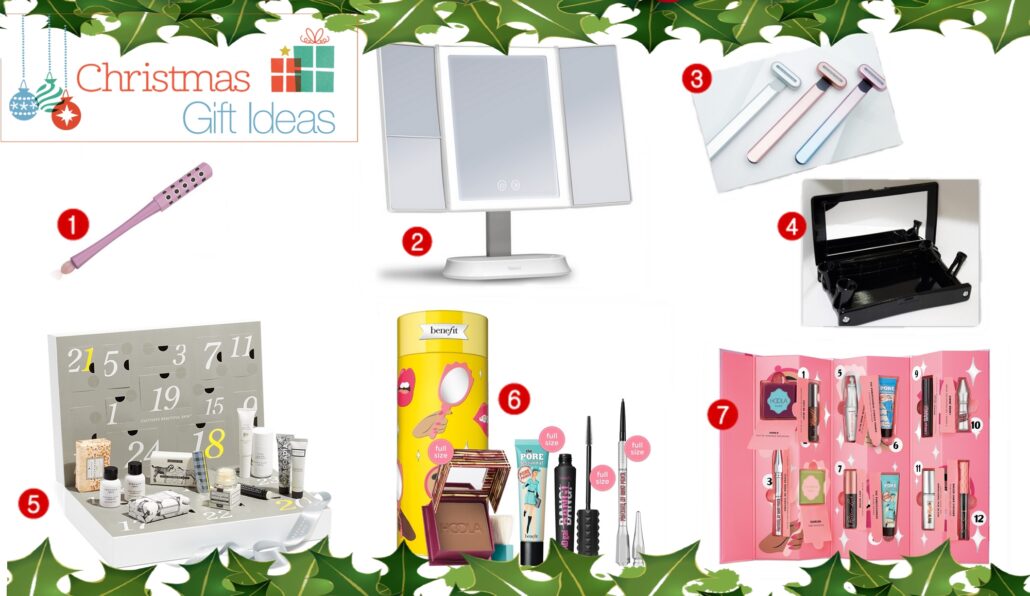 From beauty tools to product-packed gift sets, you and the beauty addict on your holiday gift list will love these wonderful beauty gifts from Fancii, Trophy Skin, Miss Swiss, Beekman 1802, and Benefit Cosmetics. Keep reading to get to know these must-have beauty and skincare products.
Fancii Remi Rose Quartz Roller, $47.00 – Remi is the must-have beauty tool for when you need a little TLC. Since spa services are very limited due to the pandemic, we've had to up our at-home spa experience. This dual-ended facial massage roller stimulates blood circulation, increases collagen production, and improves skin's texture, firmness, and elasticity. This glamorous tool is designed with 30 small germanium stones to replicate a massage similar to one you'd receive at a spa. Plus these stones are made to attract harmful positive electrons from the skin caused by overexposure to phones and computer screens. The naturally sourced Rose Quartz stone can be used to massage acupressure points on the body to help manage nausea, tension headaches, and more! With just 3 minutes a day, you'll see improved skin texture and firmness.
Fancii Lighted Vanity Mirrors, $48.00 – $119.00 (various sizes) – Fancii designs innovative beauty tools for skincare, nail care, and makeup endeavors. Natural daylight is proven to be the best light for makeup application but finding that perfect ray of sunshine at home or on-the-go can be a struggle. Their mirrors are built with natural daylight LED lights to eliminate Bad Beauty Lighting for all men and women, at home and on-the-go. We love the Zora Tri-Fold Vanity Mirror ($69.00) for its three-panels and trio of LED light settings. Fancii's mission is simple, to make beauty routines easier, more effective, and even a bit more glamorous.
Trophy Skin BrightenMD Beauty Tool, $99.00 – this multi-function eye, face, and neck beauty tool offers a quick, effective, and relaxing treatment. It's a portable facial in your purse. Enjoy Microcurrent stimulation to improve your skin's appearance; therapeutic warming stimulation for improved circulation; red light therapy that stimulates cell turnover and renewal; ultrasonic waves that enhance absorption of your favorite serum; a smart touch sensor turns on when in contact with your skin; and a 90-degree rotating head that makes every treatment a comfortable experience.
Miss Swiss Travel-Size Makeup Case, $30.00 – if you look at any professional makeup artist's makeup kit, you'll see it's a hard case or trunk. It's the best way to protect the products and tools they work with. We've all experienced a lipgloss or lipstick uncapping in our bags thanks to friction; or opening up your purse to find the horror of loose power everywhere. Unlike makeup artists, the average beauty lover can't carry those "toolbox-like" carriers every day (no purse is that big). Thankfully, there is a solution. Thanks to 24yr old entrepreneur Ashley Piszek and her patented travel size makeup case, your makeup kit can be as protected as a professional makeup artist.  The Miss Swiss Travel-Size Makeup Case resembles the utility of a Swiss Army Knife® with custom holders that prevent friction between commonly used makeup products. Miss Swiss also helps in making makeup application on the go much easier, something we're positive your current makeup bag can't do.

Beekman 1802 Twinkle Twinkle Collection,

$94.00 – What's more fun than an advent calendar full of amazing beauty treats? $160 worth of beauty treats to keep you pampered every day until Christmas.  Celebrate each and every day of your holiday countdown with Beekman's signature Advent calendar, stocked with 24 minis of their favorite bath and body products. Daily surprises include Goat Milk Wash, Goat Milk Lotions, Stick of Butter, Cuticle Serum, Bar Soaps, Lip Balms, Hand Creams, Cuticle Creams, and a Gingham Hair Clip. We know this is at the top of the list of beauty gifts we're hoping for this holiday season.
Benefit Cosmetics Cheers, My Dears! Holiday Set, $50.00 –  Get gorgeous from head to mistletoe with major deals on Benefit's beauty bestsellers. This limited edition mascara, brow, primer, and bronzer holiday set includes 4 full-size products, is wrapped and ready-to-gift. This giftable set includes BADgal BANG! BIGGER, BADDER volumizing mascara, Precisely, My Brow Pencil ultra-fine brow defining pencil, The POREfessional smoothing face primer, and Hoola matte powder bronzer for face, all in a reusable tin that's ready to go under the tree.
Benefit Cosmetics Shake Your Beauty Advent Calendar, $65.00 – since we offered you a skincare advent calendar, we had to share a makeup one. Also from Benefit, the Shake Your Beauty holiday advent calendar makeup set includes mini and fun sizes of Benefit Cosmetics' 12 bestsellers; a $139 value for only $65.00. The set includes travel-sizes of They're Real! lengthening mascara in black, They're Real! tinted lash primer, Roller Lash super-curling & lifting mascara, BADgal Bang! volumizing mascara, 24-HR Brow Setter clear shaping & setting eyebrow gel, Hoola matte powder bronzer, Dandelion baby-pink brightening face powder, The POREfessional pore-minimizing face primer, The POREfessional Hydrate Primer hydrating face primer, Gimme Brow+ tinted volumizing eyebrow gel, Precisely, My Brow Pencil ultra-fine eyebrow defining pencil, and Roller Liner waterproof liquid eyeliner in black. It's like a mini haul of beauty gifts you or the beauty addict on your list will love.
What are your thoughts on these spectacular holiday beauty gifts? Will these make it onto your wishlist and gift list? What beauty products are you hoping to score this holiday season?