What better way to express your love to others than cool, personalized Valentine's Day gifts that is sure to bring a smile to their faces. If you are looking for a fun gift for your friends, family, or partner, you can't go wrong with personalized products. We're sharing two amazing brands that offer one-of-a-kind gifts that are guaranteed to bring joy to their day.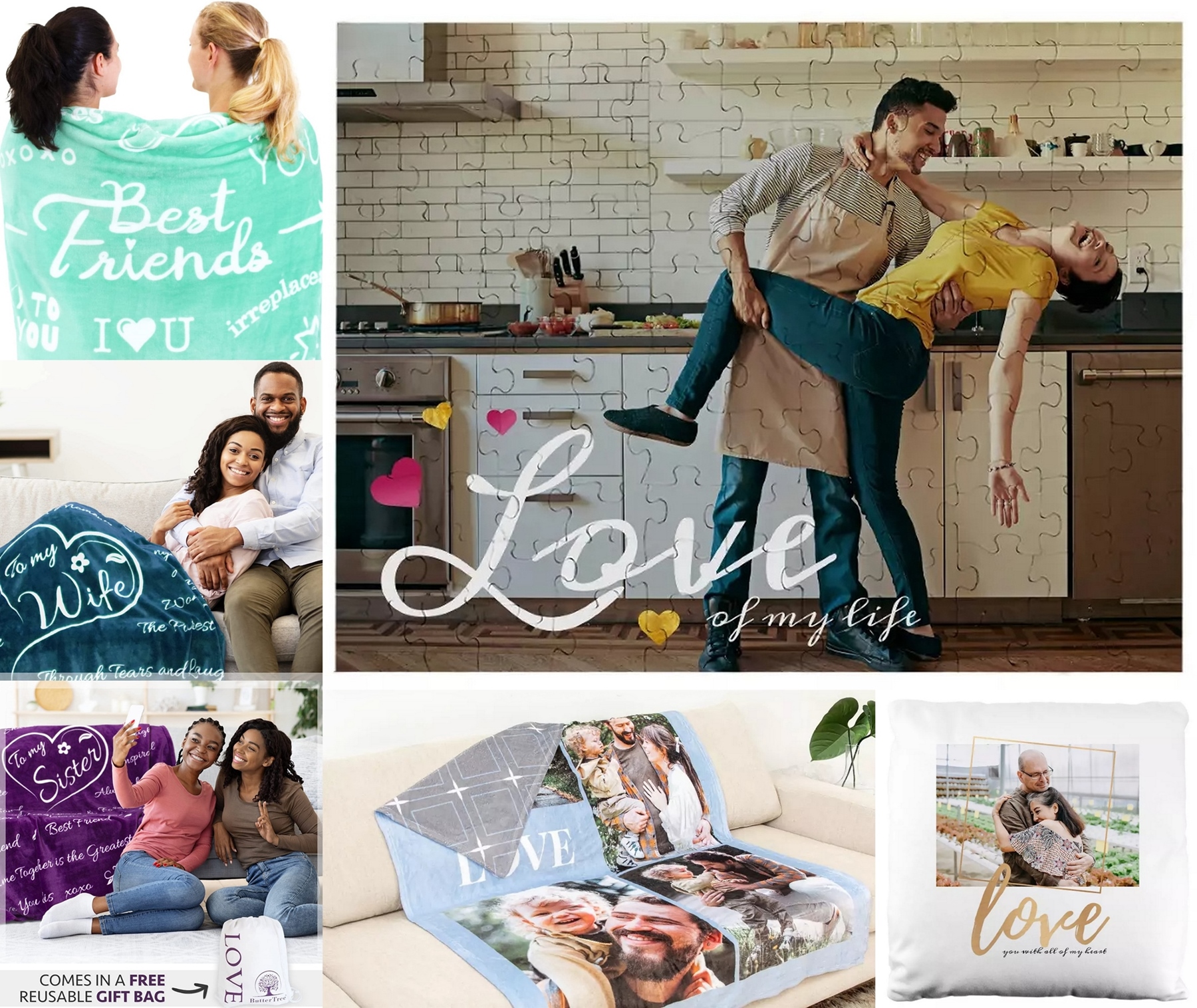 Let the folks at Collage.com and Butter Tree Blankets help you get the perfect personalized Valentine's Day gifts for the special people in your lives. We find ourselves appreciating personalized gifts more and more and we're sure most of you out there are the same. This is why we know we'll enjoy the below terrific brands.

Looking for cheeky, customized gifts, www.collage.com offers over 50 personalized products you can make your own. To lighten up a heavy day, you can put a funny picture or even your face on a pillow, blanket, or puzzle. Celebrate and immortalize heartwarming moments big and small and make them live on forever bringing lifelong smiles to your loved ones.
For Valentine's Day and beyond, Collage.com allows you to capture your most cherished moments on everything from photo books, custom pillows, personalized socks, photo blankets, water bottles, photo puzzles, framed canvases, and photo mugs. It's so easy to use. Simply upload your photo(s) of choice to your desired gift, add details, such as date or caption, and you're done.

Keep your sister, friend, or mom warm this Valentine's Day with the softest fleece blanket you'll ever find. Butter Tree Blankets, made with the best quality materials, feature beautiful messages that your special someone will cherish forever. Surround your loved ones in luxurious comfort with a ButterTree Gift Blanket that says everything you want to say.
Tears of Joy are guaranteed for the love of your life with the beautiful Wife blanket. Make your best friend's day with the Best Friend friendship blanket.
At ButterTree, they don't use digital print for the design transfer. They use a dye process that fully blends the colors with individual fibers. This ensures a high-definition design that won't fade or bleed. These cozy gift blankets are longer than other brands, are lightweight, and are breathable. They come in a variety of colors including purple, merlot red, silver, coral blue, rose pink, teal, and soft taupe. Head over to www.amazon.com/buttertree to get your favorite.
We'd love to know your thoughts on these personalized Valentine's Day gifts. Wouldn't you love to give or receive these as gifts? Let us know in the comments.