Kim, Allison and I arried at the AmorePacific Boutique to view the collection for designer Christine Rhee and her line Chree.
Chree was one of the line featured in Gen Art's 14th Annual Fresh faces in Fashion as one of the designers to watch. This event was held on Sept. 4th during Fashion Week. See below for information on Christine and Chree from the Gen Art site
CRHEE was created from Christine Rhee's desire to create a name that was at once her own and something entirely new. Born and raised in a small town in Ohio, Rhee received her BA in architecture from Princeton University and later worked for architect, Lynn Breslin and fashion designer, Mary Ping before venturing out on her own. Rhee utilizes her architecture education and love of fashion to explore her ever-present fascination with the relationship one has with one's own appearance. CRHEE uses clothing as language to project the qualities of the wearer as strong, intelligent, and feminine. The aim is to create wearable clothes that are both modern and timeless while classic and unconventional.
Here is a photo of Christine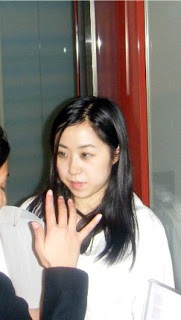 and I had Kim conduct a mini interiew with her.
The event was sponsored by Mekhong Liquer, a very interesting liquer from Thailand which tastes amazing with gingerale.
It was a small boutique so it was extremely crowded which made it very difficult, actually impossible to take photos of the line
but you can view the collection here. Before I start to talk about the products from AmorePacific, I must talk about the decor on their ceiling, isn't it so chic? It makes the entire store look exotic. There was also a raised platform which featured the products on top on a seemly flat surface with water overflowing underneath; the sound was so soothing. Very spa like. I couldn't get a proper photo because of the crowd.
Anyway, AmorePacific has a line of very upscale products. Click on the link to find out more on this fabulous line of products.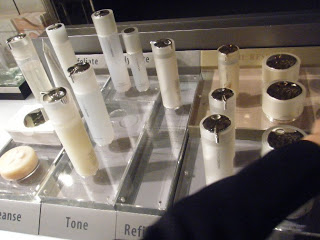 Of course there was a giftbag but unfortunately Kim chose for me and mine was missing a few items. Kim said from now on, I pick my own…LOL