I'm certain, like me, many of you do not have the pleasure of living on a farm or fruit orchard – rather you live in a concrete jungle where trees are limited to one tree in a plot and/or city parks. In New York, we have the pleasure of having the Union Square Greenmarket which gives us the opportunity to get fresh, homemade, homegrown and organic fruits, vegetables and other farm products. Unfortunately, I don't get to visit this market often so I have to get my homemade joy from somewhere else. In comes the All fruit jams, marmalades and spreads deliciousness from Rigoni di Asiago, an Italian maker of organic products.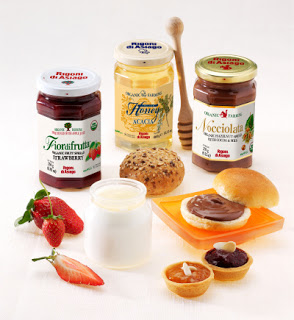 I was introduced to this brand at the Hundreds Under $100 Media Event and I must say, it is one of the most wonderful things I have ever tasted. Rigoni di Asiago actually makes several products – DolceDì – a natural sweetener comes from organic apples (there is NO added sugar), Fiordifrutta is a range of organic jams and marmalades, Fruttosa is fresh, healthy organic chopped fruit, Miele, – a line or varied flavored Organic Honey and Nocciolata – a soft and fragrant blend of chocolate and hazelnuts.
I haven't tried everything, only a few of the Fiordifrutta All Fruit Jams and the Nocciolata Hazelnut Spread but trust me, that is enough to make you fall in love with Rigoni di Asiago. My favorite Fiordifrutta Jam was Plums (Prugne in Italian)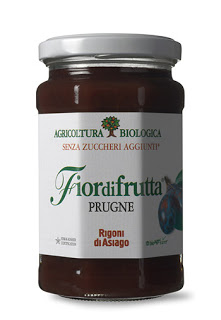 A delicious bitter-sweet preserve that is contains antioxidants, minerals, vitamins, is high in fiber and is Gluten-free. It is also fat free, has no sodium and only has 8 grams of Carbohydrates. It is addictive. It is delicious. Although it's great with crackers, biscuits, bread, etc, I ate the entire thing directly out of the jar (almost in one sitting) – it IS THAT amazing. My other favorite flavors include Raspberry, Cherry and Gooseberry. A big added bonus is Fiordifrutta is safe and healthy for Diabetics.
Now on to Nocciolata – oh my goodness! If you like Nutella, you'll throw it away after one taste of Nocciolata. In my opinion, it is smoother, creamier and better tasting.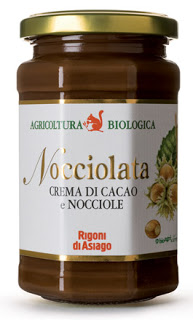 This creamy, chocolaty heaven contains the following organic ingredients – dark chocolate, hazelnuts (16%) brown sugar, skim milk powder, cocoa butter and sunflower oil. I dipped just about everything in this creamy goodness – bananas, pretzels, crackers, apples, a spoon, etc (lol). I shared it with a few friends and I think I converted a few Nutella fans. It is certified organic and Weight Watchers has given Nocciolata 2 points in their current issue.
You can purchase Rigoni di Asiago products at Dean & DeLuca, Zabar's and other gourmet and organic stores.