I love when beauty gives back, sometimes the world is so negative that we forget the positive. I've stated a few times that my cousin is a Breast Cancer survivor and I try to help support the fight against the disease whenever and however I can, so when I received an invitation to the launch of
Promise Me
, the new fragrance from
TPR Holdings, Inc.
benefiting the
Susan G Komen For the Cure
organization, I made it a point to attend. We all know at least one person who has been affected or has a friend/family member who have been affected by Breast Cancer. This fight is a continuous one until there is a cure. I applaud companies like
TPR Holdings
for doing all they can to help win the war against Breast Cancer and they are doing it in a most sensory uplifting way. Promise Me – inspired by Nancy G. Brinker's promise to her dying sister,
Susan G. Komen
, is a "beautiful tribute to the bravery of each and every person who has been touched by this disease"
Developed by Drom Fragrances and famed perfumer, Jean Claude Delville (who I had a chance to interview on the fragrance notes, etc), Promise Me, speaks to strong, courageous women (like my cousin) who live life to the fullest. The fragrance's notes are sophisticated, fresh, sweet and feminine but I'll let Monsieur Delville tell you himself
Each Promise Me fragrance comes with educational messages from the Susan G. Komen organization and the contribution each purchase makes to the organization (a whopping 13.5% from each sale goes to Susan G. Komen For the Cure – that's amazing) as well as a Limited Edition Scented Promise Me Bracelet. Even more amazing is the fact that TPR Holdings has committed to donate a minimum of $1,000,000 to Komen for breast cancer research, education, screenings and treatment.
The Promise Me 100ml Eau de Parfum will retail for $59.00 and will be available at Dillard's, Lord & Taylor, Boscov's, Sephora in JC Penney and HSN.com. the 100ml Eau de Toilette will retail for $29.99 and will be available online at http://www.promisemefragrance.com/. The 30ml Eau de Toilette will retail for $19.99 and will also be available at http://www.promisemefragrance.com/.
I was very lucky to receive the fragrance and the wonderful book Nancy G. Brinker wrote honoring her sister and I am gifting one lucky reader the entire giftbag (see full contents shown below) which includes Promise Me 100ml Eau de Parfum, Promise Me Book, Promise Me Limited Edition Scented Bracelet, Promise Me Bookmark and Pink Ribbon Breast Cancer Pin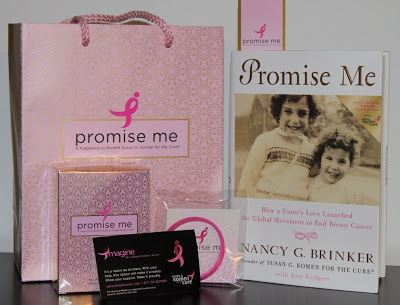 To enter this must have giveaway:
Leave a comment on this post stating one promise you hope to fullfill
Extra Bonus if you:
1. Tweet this Contest – tag @guestlistblog
2. Follow @_Promise_Me on Twitter
3. Follow @KomenfortheCure on Twitter
4. Like Susan G. Komen for the Cure on Facebook
5. Share/Like this contest on Facebook
6. Be a Fan of My Life on and off the Guest List on Facebook
PROMISE ME FRAGRANCE GIVEAWAY
NO PURCHASE NECESSARY. Void where prohibited. Must be legal U.S. and Canada resident, 18 yrs or older to enter. Sweepstakes to commence on April 15th, 2011 at 12:00:00 p.m. Eastern Time ("ET") and end on April 22nd, 2011 at 11:59:59 p.m. ET. My Life on and off the Guest List will determine (1) one winners by random drawing from all eligible entries to receive a 100ml Promise Me Eau de Parfum. Limit one prize per household. Odds of winning are dependent on the total number of eligible entries. Approx estimated retail value of prize $59.00 each. Winners will be notified by email. Offer valid while supplies last. Giveaway sponsored by My Life on and off the Guest List; Prize provided by TPR Holdings.
It was brought to my attention that the rules secion of this post stated two winners. This section was not properly updated from my last giveaway which had two winners. As stated in the actual post, there is only one winner – "I am gifting one lucky reader the entire giftbag".