Mother's Day is almost here – may 8th to be exact, and everyone is looking for the perfect gift to give Mom (better than last year perhaps). SoftSheen-Carson, #1 ethnic hair care leader is currently hosting a national contest for one lucky mother and daughter to win "An Optimum Mother-Daughter Spa Getaway and Makeover".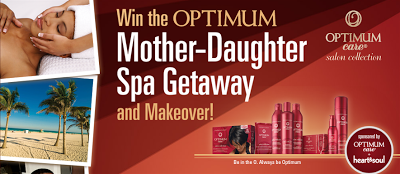 What better way to show your appreciation this year than entering the chance to WIN THE OPTIMUM CARE MOTHER-DAUGHTER SPA GETAWAY AND MAKEOVER:
The contest, sponsored by Optimum Care and Heart & Soul, is currently running now until May 15th 2011. One lucky mother and daughter can enter for a chance to win airfare, hotel for two for a luxurious Spa and Wellness weekend in Miami, Hair consultation and makeover with celebrity stylist Johnny Wright and an appearance on Lifetime TV's The Balancing Act.
Enter to give your mom the chance to be the pampered queen she should be – afterall, doesn't she deserve it?
To enter visit: http://www.beyouroptimumbest.com/