Sometimes it is virtually impossible for a woman (ok, me) to not carry a large handbag – there's just so much you need or might need when you walk out of your house. Whether you leave the house for the day or just a night out, you must make sure you have essentials. I'm not even speaking about your wallet, keys, etc; I mean beauty essentials – lipstick, compact, mints/gum, fragrance….its even worse if you have to travel. It can get annoying when trying to pack beauty essentials and still remain TSA compliant with 3-ounces. Thankfully several beauty companies have helped us beauty addicts with that problem but no one really addressed the fragrance issue until now. Thanks to companies like
Sen7
and
Travalo
, you don't have to worry about leaving your favorite fragrance behind when carrying a small bag or traveling.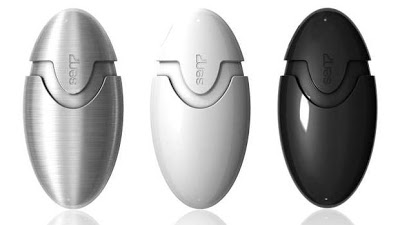 This sensual and futuristic little gem of a capsule is TSA compliant as it holds 3-ounces of your favorite fragrance. Its sturdy enough for your carry-on and compact enough for your handbag. Sen7 is available in a variety of colors and two textures, whether you like the soft touch rubber or smooth cool metal. The design is so beautiful, Sen7 was a finalist at the HBA Global EXPO 2011 International Package Design Awards. This beauty is the more high end of the two with a retail of $38.00 with the Limited Edition Sunny Sen7 retailing for $49.00. Or you can go really high end and get the Sterling Silver Sen7 for $499.00 or the Diamond Sen7 but you'd have to call for the price. To own your own Sen7 or get one as a gift, click http://www.sen7-shop.com/us/sen7-kollektionen/sen7-special-edition/diamond.html.
Travalo Perfume/Cologne Atomizer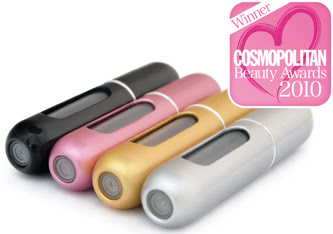 This 2010 Cosmo Mag Beauty Award Winner is a refillable atomizer bottle with a difference. Its patented easy fill system allows you to refill in seconds with a simple repeat pump action. Travalo is finger-sized at a convenient 8.6cm long and weighs only 20 grammes (it's smaller than a pack of gum), yet when filled it gives over 65 sprays of fragrance, in a wonderfully fine mist spray that belies the diminutive size which also makes it TSA Compliant. Travalo comes in a rainbow of colors and three sizes – the largest model just launched and includes 65 sprays of your signature scent for only $19.99. If this price fits your budget, then click on http://us.travalo.com/travalo-store to purchase one or two Travalo Atomizers for yourself or as a great gift.