Living Proof wants you to restore the love and undo the damage you've done to your hair as well as give you the opportunity to win an all-inclusive, 4-night stay for two at Canyon Ranch in Tucson, Arizona. To get started, purchase the $29 Restore Discovery Kit (available at Sephora, QVC, Ulta, Nordstrom and
LivingProof.com
), which provides a 14 day supply of Restore.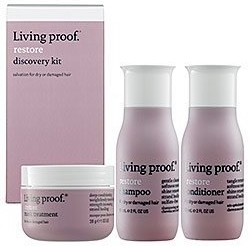 Then document your journey by registering for the Restore the Love Challenge on the Living Proof Facebook page. Every day you upload a photo/video/comment on your Restore experience you will unlock rewards, including Sobe Lifewater, discounts for Beyond Yoga and Cosabella, a subscription to Fitness Magazine, and a $29 credit on Living Proof.com. For every day you upload a photo or video, you will be entered for a chance to win that amazing trip. Check out the video below of Celebrity Stylist Tim Rogers and Living Proof's Scientist Eric Spengler for all the details.
Before your hair is color-treated, processed or heat-styles, it is virgin hair – your hair at its healthiest – strong, smooth, soft, shiny and manageable. Virgin hair has a protective layer that is perfectly intact until we damage it with everyday styling, making our hair highly porous which results in dull, rough, stiff, and brittle hair. Living Proof Restore weightlessly heals, and protects hair making it soft, shiny, strong and manageable. Made without any silicones, this product is so weightless you don't have to trade volume for softness and shine. From the first use, you'll feel Restore heal hair, but after 14 days, your hair will become completely strengthened and transformed.
For more information on Living Proof or the Restore the Love Bus: 14 Day Challenge like Living Proof's Facebook Page at Facebook.com/LivingProofInc and follow Living Proof on Twitter @LivingProof #RestoretheLove.