For those of you (I know it's probably 90% of guys) who are not into fashion week, there is an event for you. Stone Rose Lounge trades runways for ramps with the debut of Thrashin' Week, a three-day bash that brings New York's downtown skate scene to one of the city's most in-demand uptown haunts. The Manhattan hotspot has partnered with Red Bull to invite the biggest names in action sports to grind through Fashion Week on a 30-foot mini ramp that will be unveiled beside the lounge's sweeping views of Central Park and Columbus Circle. From athletes to models, everyone is invited to enjoy all-star skateboarding sessions, mini ramp contests with some of New York's top skaters, and live musical performances from today's' most anticipated artists.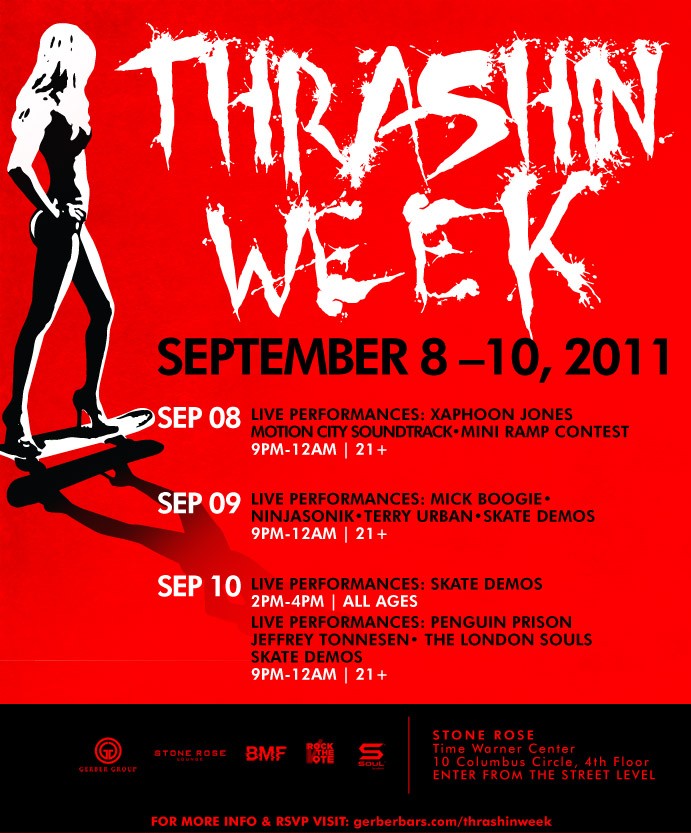 Athletes attending include Billy Rohan, Nolan Lee, Quim Cardona, Luis Tolentino, Danny Falla, Taji Ameen, Leo Gutman, Willy Akers, Dave Willis, Curtis Rapp, Ron Deily, Kevin Tierney and more TBA. Musical performances by Motion City Soundtrack, Mick Boogie, Ninjasonik, Penguin Prison, Xaphoon Jones of Chiddy Bang, London Souls, Jeffrey Tonnesen, Terry Urban and more TBA.

WHERE: Stone Rose Lounge
Time Warner Center
10 Columbus Circle, 4th Floor
New York, NY 10019
(Ground floor entrance)


WHEN: Thursday, Sept. 8, – Friday, Sept. 9, 2011
9:00 p.m. – 12:00 a.m.
Saturday, Sept. 10, 2011
2:00 p.m. – 4:00 p.m.
9:00 p.m. – 12:00 a.m.
To RSVP for these events, visit http://www.gerberbars.com/thrashinweek/
Thrashin' Week is brought to you by Gerber Group, Stone Rose Lounge, Red Bull, Rock the Vote, and SOUL by Ludacris