We all know that shrimp and pasta make a delicious and perfectly paired duo! Beginning February 22nd,
The Shrimp Council
and
Dreamfields Healthy Pasta
launched the first
"Shrimp & Pasta Party!" on Facebook
. The party spotlights the great nutritional pair through an interactive recipe contest, a shrimp and pasta personality quiz, a place for fans to share their favorite shrimp attributes, and more.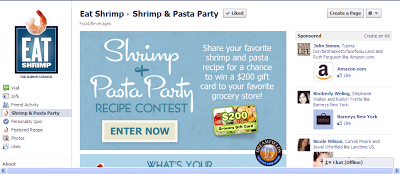 During the 40 days and 40 nights of the season of Lent, which ends on April 5th, the engaging promotion will be housed on the Eat Shrimp Facebook page, managed by The Shrimp Council. A customized Facebook tab has been designed to encourage fans to try different pasta and shrimp combinations, allowing visitors to twirl up dozens of nutritious and delicious meal options.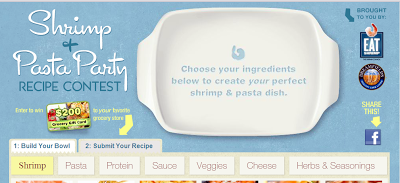 The contest will be available during the seven weeks of Lent, and five winners will be announced on April 30, 2012. One grand prize winner will be awarded with a $200 gift certificate to the grocery store of their choice, while the four runners-up will receive $50 gift cards. And while you're trying to think of your own recipe creation, why not try the one below for dinner tonight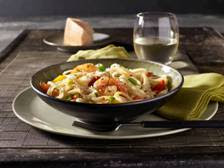 1 box Dreamfields linguine
2T olive oil
1 C chopped green, red and/or yellow bell pepper
½ c sliced green onion
1T minced fresh garlic
1T chopped fresh parsley
¼ – ½ t crushed red pepper flakes
1 lb. uncooked medium shrimp, tails on
1/3 c freshly grated Parmesan cheese
Cook pasta according to package direction. Drain and return to pan; keep warm. Meanwhile, heat oil in a large skillet over medium heat. Cook bell pepper, onion, garlic, parsley and red pepper flakes for 5 minutes, stirring frequently, or until pepper is crisp-tender. Add shrimp mixture to pan with pasta; toss to combine. Sprinkle with cheese.
Recipe Courtesy of Dreamfields Healthy Pasta and The Shrimp Council