Though it is a playground for the boys, the NFL Pop-Up Shop, located on sixth ave, between 41st and 42nd Streets, held a Ladies Night Event to introduce the NFL's Women's Collection to the public. The event, hosted by Gwen Reese, wife of Giants GM Jerry Reese, featured massages, manicures, a 15% discount, cocktails, hors d'oeuvres, music by famed female dj, DJ Kiss, and appearances by a few NFL Players. The event was a dream come true for many NFL fans, who wanted to meet some of their fan favorites. Fans and players were able to talk about their favorite games and plays while sharing tips on the
top 10 sportsbooks
sites and fantasy football teams. This event was good to stir up excitement about the upcoming season. Many fans are now excited about the games that are coming up. Some fans that I spoke to mentioned that they will be placing bets on their favorite NFL team. This gives fans the chance to win some money, whilst still supporting their team. Of course,
Sports betting in America
is a huge thing, so a lot of people do it. Hopefully, some fans will be able to win big.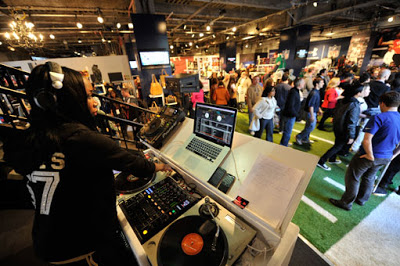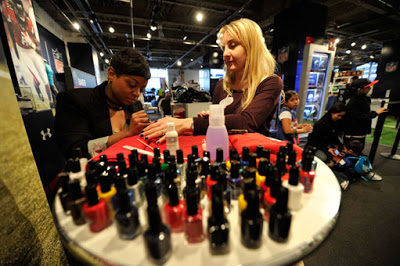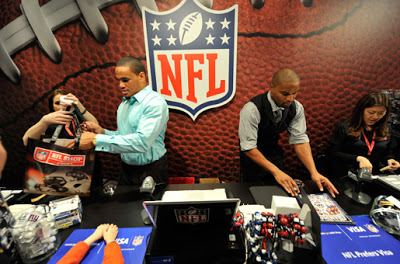 The NFL Pop-Up has all the essentials guys will love, team jerseys on display and for sale, footballs, vintage NFL items displayed etc but for the ladies, I saw more than just jerseys. The pop-up also featured shoes, handbags and jewelry. The luxury handbags designed by Angel Anastasio for the Anastasio Moda for NFL Collection features luxe leathers and modern silhouettes. The Touch by Alyssa Milano collection features fun, casual styles. Expect to see stackable rings, charm bracelets, pendants, necklaces, and earring from the vast NFL Jewelry collection. Two of the NFL Players in attendance include Dustin Keller, Tight-End for the New York Jets and Osi Umenyiora, Defensive End for New York Giants who ended up behind the register to the delight of many fans.
Photographs by Robert Deutsch, USA TODAY