We are at a time when getting the most out of your money is very high on everyone's list in all categories, from food to clothing to beauty products. Comparison shopping now includes both price and brand name. Pro Beauty Tools understands this and that's why they offer amazing beauty tools that are comparable (and sometimes better) than some of the most expensive brands available. One of those amazing products is their
Professional Lightweight Hair Dryer
, the lightweight dryer that works like a heavyweight.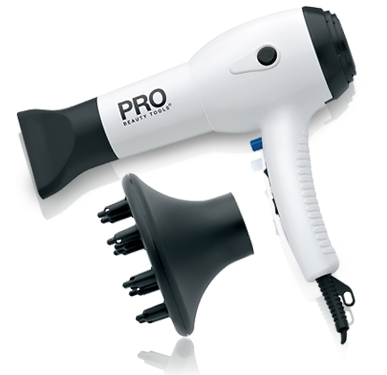 The PRO Beauty Tools Professional Lightweight Hair Dryer uses Tourmaline Ionic Ceramic Technology for ultimate shine, volume, and healthier-looking styles. The ultra lightweight design is 25% lighter than most dryers, it features 2 heats/2 speeds, cold shot button, and a concentrator and Finger Diffuser attachment (I usually prefer my hair dryer to have a comb attachment because of my thick hair but the Professional Lightweight Hair Dryer did a great (and fast) job drying my hair plus if I do want the comb attachment, I can just get a universal one.
With its amazing performance, it's hard to believe this hair dryer is only $29.99 but it is – much less than anything else that compares to it. If you're in the market for a great hair dryer but don't want to spend hundreds, Pro Beauty has what you're looking for.