It's beginning to get warmer and that means everyone's favorite season is almost upon us. It's the time when the glorious blazing sun has you reaching for refreshingly cool treats like ice creams, smoothies and sodas…but what, what about eating and drinking healthy you may ask? No fear, there are plenty of healthy ways to stay cool and refreshed during those hot summer months, even with soda.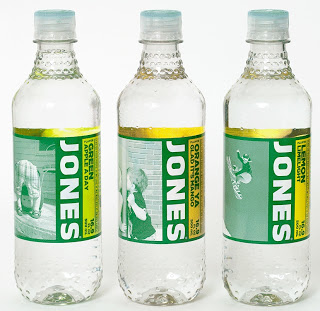 Jones Soda's has launched an all new sparkling product line of sodas called Au Naturel. The three unique flavors, Lemon Limelight, Orange Ya Glad It's Mango and Green Apple A Day, blends crisp carbonated water with light all natural sweeteners (pure cane sugar, agave nectar and stevia) and citrus flavors for a refreshing new taste with satisfying fizz. Each 16.9-ounce bottle contains just 35 calories, which is an 80% less than most non-diet sodas, has only seven grams of sugar and includes a full five grams of fiber. So you get all the enjoyment of drinking a soda with out the negative aspects of too much sugar, food coloring, etc. with a small amount of caffeine with green tea extract for a subtle and refreshing energy kick.
The Jones Soda Au Naturel isn't available as yet, but the refreshing carbonated drink, which will retail for $1.79 per bottle, will be available for purchase at www.jonessoda.com and roll out to stores soon.