Are you ready to enjoy a refreshing and delicious juice beverage? One that's a bit unconventional, a bit different – just like you? Tropicana introduces a refreshingly different line of juice beverages, Trop50 Juice with Tea. The extraordinary trio of juice with tea combinations are made with delicious fruit juices and white and green teas to deliver a great-tasting and nutritious juice beverage. You may remember my last feature where I raved about the
Trop50 Red Orange
. It's still very much my favorite and I'm not the only one. I've now gone three weeks with out Trop50 Red Orange because it's been sold out of my supermarket – great for Tropicana, bad for me.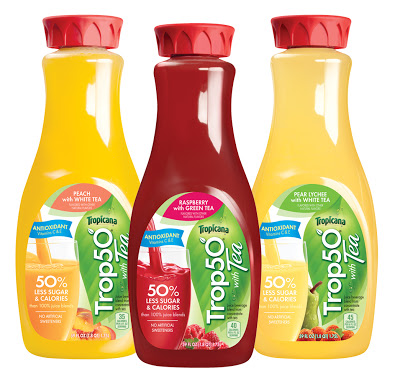 But I digress. Say hello to Trop50 Peach with White Tea, Trop50 Raspberry with Green Tea, and Trop50 Pear Lychee with White Tea, all found in the chilled aisle. Tropicana gave me the opportunity to try all three flavors, which I enjoyed with my mom (who is Diabetic) while she was visiting me for Mother's Day. While we relished all three flavors, my mom couldn't stop talking about how delicious the Peach with White Tea was; I on the other hand fell in love with the delicious taste of crisp pears and exotic flavor of the Pear Lychee with White Tea (my overall favorite still remains the Red Orange).
Like the original Tropicana Trop50 flavors, the Trop50 Juice with Tea also provides 100% of your daily Vitamin C, has 50% less sugar, 50% less calories and no artificial sweeteners (the zero-calorie, all-natural stevia-based sweetener in Trop50 is PureVia™, which is the highest quality, all-natural extract of the stevia plant called Reb A). So not only are you enjoying an exotic blend that will excite your tongue, you're also doing something healthy for your body. Just one 8-oz glass (if you can stop at one) of any of these three flavors contains only 35-45 calories, a full day's supply of vitamin C and a good source of antioxidant vitamin E. To indulge in one or more of these delicious flavors, checkout Tropicana's product locator by clicking the following link – http://cr.tropicana.com/usen/tropusen.cfm?link=locator&date=20120525
In honor of these refreshingly different flavors, I am giving away nine (9) coupons for a FREE full-size bottle of Trop50 Juice with Tea. Share with me what makes you refreshingly different? To enter the giveaway, please see rafflecopter entry info below:
I received the product mentioned above free of charge for editorial consideration, and I'm also eligible for additional incentives. However, all opinions expressed are 100% my own.