Hello my dearest fellow beauty, while you're trying to win one of my Gossip Girl Birchboxes, take a look at the exciting new box they have coming for July with Glamour. To celebrate their "Five Senses of Summer" issue (July – on stands now), Glamour has partnered with Birchbox to stimulate the senses of beauty junkies everywhere.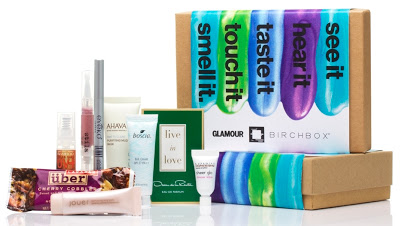 Curated by Glamour's beauty editors, the July box features treats from the following brands, among others:
See It: stila and Color Club to showcase the latest cosmetics trends
Hear It: Custom designed headphones and a Glamour edited "prettifying" playlist on Spotify – plus a month of free premium service on Spotify in every box
Feel It: AHAVA and Alterna® for skin and hair that feels silky smooth
Smell It: Oscar de la Renta fresh "live in love" fragrance to keep you uplifted
Taste It: LÄRABAR and Tea Forté for your snack cravings
For more information on this amazing offering, follow @Birchbox and @Glamour on twitter. To shop Glamour mag's full size picks and sign up to get the Glamour box (while supplies last), go to Birchbox.com.