British Hair care Expert and Celebrity Hairstylist,
Lee Stafford
, brings his award winning line of shampoos and conditioners, styling products and hair growth treatments to the US market. Previously only available in the UK, the range of products will be available at Duane Reade locations in NYC and Ulta stores nationwide. Developing and crafting the high quality line referred to as,
The Pink Range
, each product is an example of Stafford's signature edgy style. Priced from $7.99-$14.99, the line offers something for every hair type. From bleach blonde to dark, beachy waves to poker straight, women can find their exact unique hair needs from The Pink Range. A few products from the collection are highlighted below
ArganOil™ from Morocco Nourishing Miracle Oil – Argan Oil is a rich, nourishing oil native to Morocco with a unique blend of ingredients that help in repairing hair and aids in the creation of luxurious healthy hair.
ArganOil™ from Morocco Nourishing Conditioner – Along with Argan Oil, it also contains Keratin Amino Acids to maintains hair's optimum moisture balance with Panthenol to promote shine.
Dry Shampoo – Available in three colors, original, medium brown and dark brown, this light powdery texture refreshes, revitalizes and cleans hair with no horrible painty feel like most dry shampoos have (like most coloured dry shampoos).
Hair Growth Treatment with Pro-Growth™ Complex – soothing formulation reduces irritation and moisturises the scalp while giving your hair strength from within by fertilising your follicles, creating a healthy environment on your scalp to help hair grow faster and reach its maximum potential length.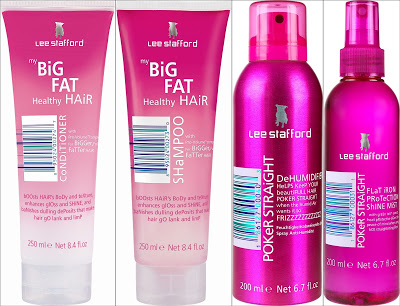 My Big Fat Healthy Hair Shampoo – Thanks to the Pro‐Volume™ complex of conditioning agents My Big Fat Healthy Hair Shampoo will give you exactly what it says on the tube — bigger, fuller, fatter hair! Banish dulling deposits that make hair go lank and limp, so hair will have enhanced gloss and shine too!
My Big Fat Healthy Hair Conditioner – Your second step to full on volume, like the shampoo, keep hair healthy, with the Pro‐Volume™ complex feeding your hair with a combination of conditioning agents to give you voluptuous hair.
Poker Straight Dehumidifier – a light and gentle solution with unbeatable hair calming effects to fight frizz. Don't fear humid air anymore.
Poker Straight Flat Iron Protection Mist – With the help of Green Tea extract, stop the damage from using your flat irons while you still achieve a sexy, sleek, super straight look, protect your hair from environmental and heat damage, reducing free radical formation caused by UV and heat styling.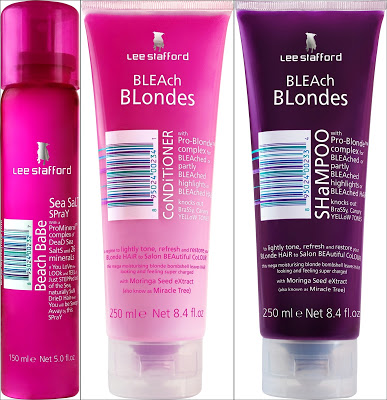 Beach Babe Sea Salt Spray – Love the look and feel of just stepped out of the sea? This defining spray will bring out the tousled, textured look you're looking for. With its ProMineral™ complex of Dead Sea salts and 26 minerals your hair will still feel soft to touch but with added bounce, definition and body to die for. Added sunflower extract helps to give moisture and shine to your hair and will also help to protect and repair against free radicals.
Bleach Blondes Shampoo – specifically for bleached or partly bleached highlights or hair, this deep purple shampoo will knock out brassy canary yellow tones, refreshing and restoring your hair back to salon beautiful color. The Pro-Blonde™ complex with Miracle Tree will help keep hair squeaky clean and encourage natural shine, whilst the 21st century color protection helps to stop annoying color fade caused by styling, sunlight and the damage caused by UV.
Bleach Blondes Conditioner – This mega moisturising conditioner will help to refresh and restore blonde hair back to salon beautiful colour. Your blonde barnet will be left smooth and hydrated thanks to the Pro-Blonde™ complex with panthenol, chamomile and moringa seed extract (aka Miracle Tree), which helps keep hair squeaky clean whilst also encouraging your hair's natural shine!