The Samsung Galaxy S III has been setting records worldwide for its innovation and now Samsung presents an innovative Galaxy S III accessory. What is it? Samsung presents a cool new cellphone case. The new
Galaxy S III Flip Covers
replaces your Galaxy S III battery cover to provide additional protection for your screen against smudges, scratches and dirt, give you privacy against nosy, over-the-shoulder readers and adds some bright color to a phone that comes in darker shades. For those of you who love the color pink (like me) – a color which is not offered in the Galaxy S III, this is a great way to brighten up your Galaxy S III.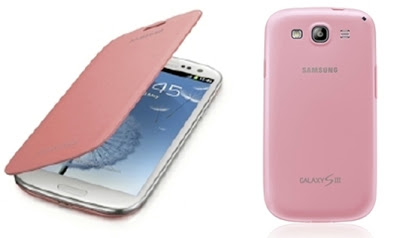 How does it work? Simply remove your phone's battery cover and clip on the hard plastic portion of the protective Galaxy S III Flip Cover in its place. The Flip Cover wraps around the side of the phone and the soft plastic felt adds an extra layer of protection over your screen when in place. The soft plastic felt easily folds back to allow unimpeded access to your Galaxy S III features. This cool new phone cover is available in multiple colors (not shown – yellow and orange). Want to spice up this cover even more? Even with the Flip Cover, it's totally possible to add decals or bling to your cellphone, so have some fun with it.
Each Galaxy S III Flip Cover retails for $39.99 and is available now.