In my experience, the best things are always found or got their start in the tiny, hole-in-the-wall types of places and premium vodka,
Broken Shed
is a great example of that. This refreshing, four times distilled vodka was started by founders, Mark Simmonds, Steve Turner, and Mark O'Brien in an "old and bruised-up shed" in New Zealand in 2009, and while it's moved on to a newer, grander location, the old shed still exists and acts as a "tasting room".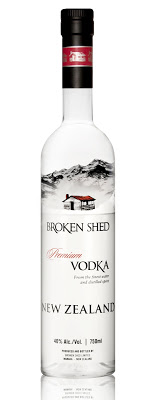 Unlike most vodkas, Broken Shed Vodka is distilled from whey (they call it milk honey), which gives it a bit of a unique taste, nothing that will put off vodka fans of course, this actually made it smoother than many other brands I've encountered. "While the U.S. vodka market is huge, it's also over-crowded. Brands are struggling to differentiate themselves," said Mr. Simmonds. "But our quality speaks for itself, and we have unique features with our water sources, distillation from whey, and 100% New Zealand origins. We're confident we can get our vodka in front of some smart vodka drinkers. And once they taste, we know they'll love Broken Shed."
Broken Shed is made up of 60% water from the Southern Swiss Alps and 40% spirit from the New Zealand whey. I find myself more apt to liking any alcohol that's a bit on the sweet side and Broken Shed has a subtle, natural, muted sweetness to it but it is gluten-free, as well as free of additives and sugars. Overall, Broken Shed is a fine, crisp vodka that perfect on the rocks, delicious with cranberry juice alone or with a splash of orange juice. There are actually quite a few cocktails that are a must try:
Broken Flower
1 part Broken Shed Vodka
Generous drop of Elderflower cordial
1 part Soda water
Pour over ice and serve with slice of cucumber
Broken Basil
2 parts Broken Shed Vodka
Crushed basil leaves
1 part Passion-fruit juice
1 part Apple juice.
Serve over crushed ice
Broken Sunrise
2 parts Broken Shed Vodka
1 part Fresh orange juice
1 part Cranberry juice
1 part Soda water.
Stir over ice in a tall glass.
Broken Shed Vodka launched in the US this past summer and it retails for $32.00-35.00. "We are very excited to be selling our vodka in the U.S.," said Mark O'Brien, co-founder of Broken Shed. "We make and sell Broken Shed in a comparatively remote area, so we're thrilled to have the opportunity to launch on the world's largest stage."