Spring is just a few week away and there are several things to look forward to – warmer weather, beautiful blooms, new wardrobe additions and of course new beauty items from Illamasqua. The avant-garde beauty brand launches
I'mperfection Collection
– a collection of stunning blushes, nail lacquers, lip colors and an innovative blush brush that celebrates your imperfections. The collection encourages you to showcase what other brands encourage you to cover up.
"So show off your freckles. Make beauty spots more beautiful. Shine a light on your birthmarks. And be proud of your scars."
– Illamasqua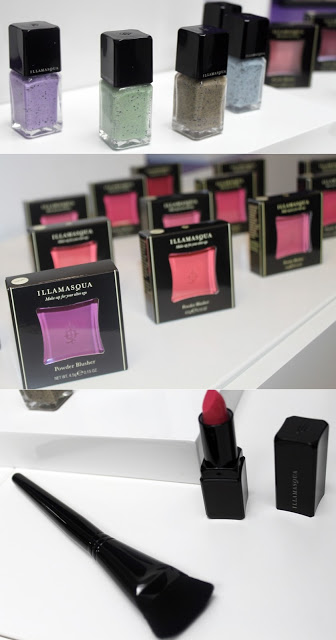 The Limited Edition Speckled Nail Varnish ($16.00), available in five colors – Speckle (lilac speckle), Mottle (green speckle), Fragile (blue speckle), Scarce (pink speckle) and Freckle (neutral speckle) is inspired by the spotted markings on the eggs of birds. The speckled nail varnish is a long-wearing, chip-resistant and like all of Illamasqua's beauty products, highly pigmented.
The new highly pigmented Powder Blushers ($26.00) features intense color with a matte finish that can be used dry or wet for a bolder look. The beauty of this blush is you can build from a subtle shade to intense color providing you with several variations from one color. The blushes, which comes in 16 colors, can also double as an eyeshadow with neutral colors perfect as a matte bronzer or contouring powder.
The Blush Up Brush ($40.00) is the perfect companion to Illamasqua's powder blushes. This innovative brush features an innovative ellipse shaped head that is designed to "tuck directly under the cheekbone." Achieve the perfect brush strokes with the Blush up Brush as you sweep your blush up and across your cheekbone.
Illamasqua introduces a new bright pink hue, Immodest, to their already amazing Lipstick Collection ($24.00). This high-pigmented lipstick gives intense color with a matte finish for a non-stop, all-day sexy pout.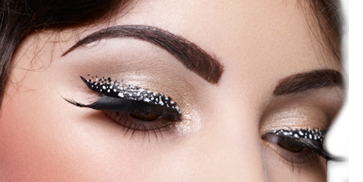 The innovation of the L'imperection Collection isn't limited to the nail varnishes and blush brush – you can created an amazing speckled eyeliner (featured above) with Illamasqua's Precision Ink Liquid Eyeliner ($27.50) in Scribe (white) and Abyss (glossy black).
We had the pleasure of learning about all these new products from David Horne, Director of Product Development and creative genius behind Illamasqua. He is a genius you can't help but love because he is so open to listening to his customers, celebrating unconventional beauty and breaking beauty boundaries.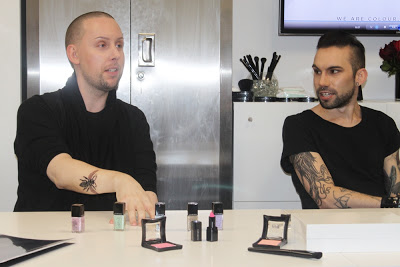 Check out some video of David Horne using the Blush Up Brush on one of the preview's attendees
The Illamasqua l'mperfection Collection is available now on www.sephora.com, and in Sephora and Sephora at jcpenney stores.