When one thinks of floral fragrances, the words fresh, sweet, and feminine come to mind but the latest fragrance from Agent Provocateur brings to light the darker, sultrier side of floral. Say hello to the alluring and sensuous
Agent Provocateur Pétale Noir Eau de Parfum
and
Luxury Body Elixir
–
"a beautiful scent that epitomizes sensuality and unlocks the darker side of female seduction"
.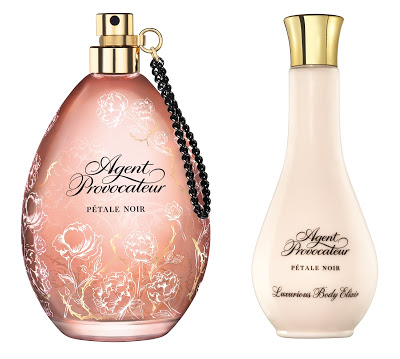 Ignite your deepest passion and with this bold, seductive and captivating new fragrance and luxury body elixir from Agent Provocateur. A deep floral scent with a hint of oriental mystique, Pétale Noir features exquisite oils that are subtly layered with dramatic floral notes.
"The scent begins with intoxicating top notes of Mandarin, Water Lily, Bergamot,
Violet Leaves, Hyacinth, Flower Stem Accord and Magnolia, which create an illusion of innocence and allure. The story unfolds as bold tones of Rose Otto, Rose Absolute, Ylang Ylang, Muguet, and Neroli gently caress Heliotrope, Orris, Osmanthus and fine Cassis Blossom. The dramatic denouement reaches its conclusion as bold Ginger, Cedarwood, Sandalwood and Cistus-Labdanum linger sensually alongside Musks, Vetiver, Leather, Oak Moss, Tobacco Leaf, Benzoin, Patchouli and Amber, delivering a mysterious intensity that is seductive, passionate and unmistakable."
The accompanying Luxury Body Elixir is super smooth and leaves skin feeling soft and uber-sexy. A blend of natural oils, Gold of Pleasure and Babassu Oil keeps your skin supple and hydrated. Extracts of "Devil's Eyelashes" and Tephrosia Purpurea Seeds are added special, secret ingredients with aphrodisiac properties resulting in even more dangerous seduction and sensuality. Men you have been warned – beware the dark passion!
The new Pétale Noir collection, Pétale Noir 50ml Eau de Parfum $87.00, Pétale Noir 100ml Eau de Parfum $118.00, Pétale Noir Luxury Body Elixir 225ml $53.00 from Agent Provocateur, will launch exclusively in all Nordstrom locations, on www.nordstrom.com and will be available in Agent Provocateur boutiques.