Though it is a rare occurrence, I do get my naturally curly hair out of it's usual bun and get it straightened every once in a while but since humidity is the enemy flat iron hair, I make sure to keep up with the products that will help me maintain my style longer no matter the elements. The latest innovation in achieving straight styles comes from
MOTIONS Haircare
.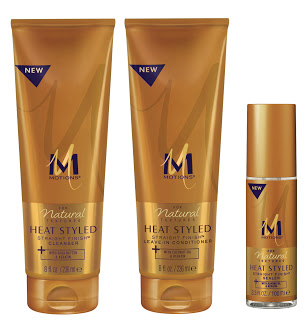 The new, revolutionary 3-step Motions Straight Finish™ Heat Styled System provides women with natural curls, the option to straighten their much-loved curls, without losing them forever. With a blend of natural oils and Keratin Protein, the unique smoothing formula PREPS, PROTECTS and SEALS naturally curly hair, allowing for optimal straightening results. Now I've been trying to use it since I received it this past week but with a combination of an uncooperative mother nature and a hectic schedule, I haven't been able to but will hopefully do so this weekend……back to more about the product.
STEP 1: STRAIGHT FINISH CLEANSER ($6.99)
• Gently cleanses, softens and conditions for manageable hair
• Helps with ease of detangling, while elongating curls
• Formula includes a blend of Shea Butter, Soy Bean Oil and Keratin Protein
• Structured Liquid formula provides optimal conditioning
STEP 2: STRAIGHT FINISH LEAVE-IN CONDITIONER ($6.99)
• Adds a layer of moisturizers that help protect the hair
• Intensive leave-in formula that includes a blend of Argan Oil, Coconut Oil and Keratin Protein
STEP 3: STRAIGHT FINISH SEALER ($6.99)
• Seals the shaft, minimizing wiry ends and leaving a luminous shine
• Formula includes a blend of Argan Oil, Almond Oil and Keratin Protein
Motions® Straight Finish ™ Heat Styled System is available in mass-market retailers and drugstores nationwide such as Target and Walmart and www.drugstore.com now.