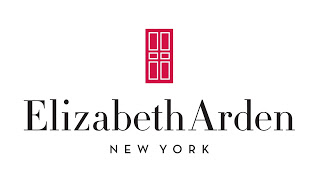 I had the pleasure of attending Single Edition's Blog Meet Brand Event, where I was introduced to new products from Elizabeth Arden as well as enjoy a subtle but sexy makeover from the brand using some of their newest beauty products. The three products highlighted at the event were the Elizabeth Arden Ceramide Capsules Daily Youth Restoring Serum, Eight Hour Cream Skin Protectant, and the NEW Beautiful Color Luminous Lip Gloss.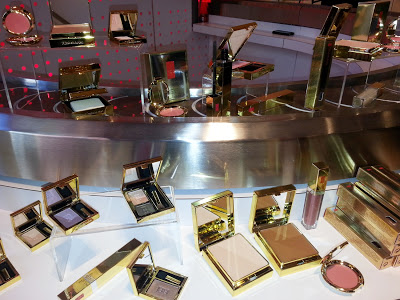 After some networking and mingling, we learned some great beauty tips on achieving flawless summer beauty looks and quick and easy travel beauty tips from Elizabeth Arden's Global Makeup Artist Rebecca Restrepo. Ms. Restrepo also shared one of my favorite quotes from Elizabeth Arden that I think all women should remember – "To be beautiful is the birthright of every woman" – Elizabeth Arden.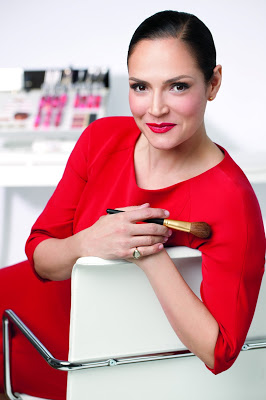 Rebecca Restrepo's must try tips include:
 Skincare is even more important when traveling. Must-have beauty products for traveling should be multi-use products and ones that can be packed in your carry-on. The Ceramide Capsules Daily Youth Restoring Serum deliver a lot of moisture and one capsule can easily fit into your pocket. Rebecca applies hers mid-flight for extra hydration and also uses it as a makeup primer when traveling.
Skin can get very dehydrated when flying, Rebecca advises packing the Elizabeth Arden Eight Hour Cream as an essential part of your travel arsenal! She applies it to her lips before every flight and use it on her hands and elbows throughout the flight. As a bonus tip, she says to warm up the product in the palms of your hands before applying to your skin. This helps the Eight Hour Cream to activate and be absorbed quickly.
Per Rebecca, someone told her that solids travel better than liquids, so now she never goes anywhere without her Elizabeth Arden Flawless Finish Sponge-On Cream Makeup. It provides all the coverage she needs without making a mess in her makeup bag.
Last but not least, she left us with this parting tip – Before I land after a long flight, the perfect pick-me-up is a touch blush to brighten the cheeks, a swipe of brightening shadow to open the eye and a dab of rosy lip gloss. To achieve this fresh and well-rested look, Ceramide Cream Blush in Nectar, Beautiful Color Eye Shadow in Innocence and Beautiful Color Luminous Lip Gloss in Sweet Pink are my go-to products. 
After taking us through the products, we got to play and test out some of the products ourselves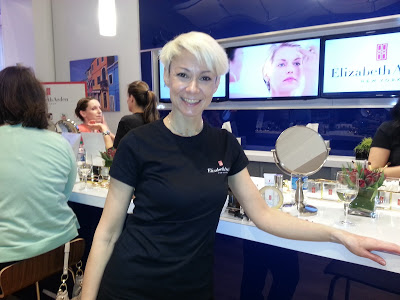 After trying out the three products highlighted, it's no surprise that Elizabeth Arden has been a favorite of beauty lovers everywhere.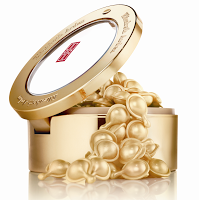 The Elizabeth Arden's
Ceramide Capsules Daily Youth Restoring Serum
delivers the perfect amount of hydration and Ceramide (essential lipids found in the skin that are essential in maintaining defense against signs of aging) benefits to your skin. If you're like me and live in an apt that has terrible air circulation, these little capsules will be your best friend.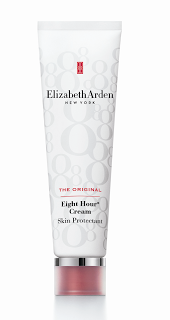 The Elizabeth Arden
Eight Hour Cream Skin Protectant
is legendary, a beauty favorite and staple since it was created by Ms. Arden in 1930, the formula has never been changed. I personally keep mine in the fridge so when I get those puffy eyes from late night blogging, the cooling effect helps reduce my unsightly bags.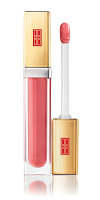 The newest addition to the Elizabeth Arden brand is the NEW Beautiful Color Luminous Lip Gloss which offers high-shine, increased moisture with Mango and Shea Butters and a light vanilla scent. A key ingredient is Maxi Lip which is clinically proven to increase lip volume by 40%. I usually stay away from nude tones because I haven't found tones that I like but I fell in love with Sunset (shimmery pink) and Cameo (shimmery nude). Get all insider information on the latest news on product launches and product information on Elizabeth Arden products on Twitter: https://twitter.com/elizabetharden, Facebook: https://www.facebook.com/elizabetharden, Pinterest: https://pinterest.com/elizabetharden/ and Instagram: http://instagram.com/elizabethardenThis is a "sponsored post." The company who sponsored it compensated me via a cash payment, gift, or something else of value to write it. Regardless, I only recommend products or services I use personally and believe will be good for my readers. I am disclosing this in accordance with the Federal Trade Commission's 16 CFR, Part 255: "Guides Concerning the Use of Endorsements and Testimonials in Advertising."