Something about apples always makes me think of fall. Although the fruit is available year round, I just can't help but associate it with the season. Maybe it's because of Apple pies, Apple cider and other warming treats you can create with this multitasking fruit. I personally love apples, organic galas are my ultimate favorite with Fuji being a very close second. I try to eat one or two everyday but carrying two apples in your bag can be cumbersome, especially when your handbag sometimes contains an SLR or laptop. Thanks to
Bare Fruit Snacks
, I can carry around my favorite healthy snack in a convenient package. A package that also is great to add to your child's lunchbox for school.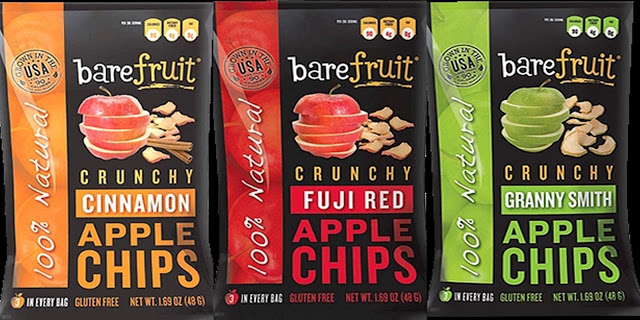 Made from Washington State apples (and nothing else), Bare Fruit apple chips are low in calories, fat free, full of fiber, and delicious. It's just like eating an apple, only more convenient and even tastier. Love the taste of apple pie but worried about the calories? The Cinnamon Apple Chips gives you the deliciousness of apple pie without hurting your waistline or the guilt. The Fuji Red Apple Chips are the perfect form of natural sweet, crunchy deliciousness and the Granny Smith Apple Chips offers the perfect combination of tartness and sweetness.
While there are several delicious snacks that are better for you, the baked (not fried) Bare Fruit Apple Chips are actually good for you. They utilize an exclusive process that bakes the chip in a way allowing the natural sugars to caramelize on the outside. This provides a sweet and tart flavor combination without adding sugars or flavors. Bare Fruit also don't contain cholesterol, gluten, or any added preservatives.
Love what you see so far? Get ready for more deliciousness because Bare Fruits Snacks has two new flavors – Sea Salt Caramel (if you love caramel apples, you'll adore it) and Chile Lime (sweetness with a touch of citrus and kick-ass spice)…both have only 100 calories.
All Bare Fruit Snacks come in a 1.69-oz. size which retails for $1.99-$2.49 range and a 0.53-oz. bag which typically sell for 99¢ to $1.49.