In the highly competitive world of super premium tequila, brands really have do something special to stand out from the rest. Whether it's a result of crafty marketing or some revolutionary production process, each brand strives to have at least one claim to fame.
Partida Tequila
raises the bar even higher with several unique and memorable characteristics.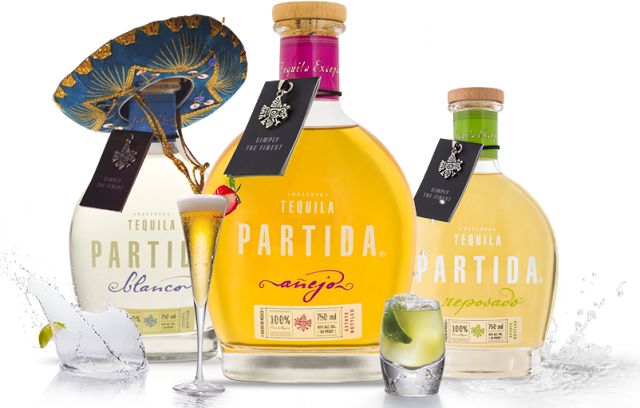 Partida's Tequila is made with 100% pure blue agave found near a dormant volcano in Tequila Valley. Besides cultivating from a well-known and respected region, Partida Tequila waits anywhere up to 10 years, allowing their selection of la pina to grow sweeter and more flavorful.
In the spirit of maintaining a high-quality product, Partida uses a state-of-the-art distillation process to ensure a consistent smooth agave taste. All of their tequilas are twice distilled and hand-poured into their distinctive curved bottles. The Reposado and Anejo variations are aged in one-pass Jack Daniel's American Oak barrels and spend an additional 50% more time aging than standards dictate, producing a naturally colored and non-abrasive tequila. Partida describes it best, "simply pure Tequila goodness". Get to know this trio of tequilas through their tasting notes below:
Tasting Notes:

Blanco – Crisp tasting with a bright aroma. Smells of citrus and melons. Slight heat on tongue after swallow, followed by a clean finish.
Reposado – Called "The Bentley of Reposado's", this aged tequila features a slight smoky scent with hints of vanilla. A natural sweetness and very light spiciness, smooth all throughout.
Anejo – A perfect blend of Partida Tequila and American Whiskey, this golden tequila features a significant scent from barrel aging and notes of dried fruits. Flavorful with hints of banana, chocolate and sweet pear, with sophisticated spiciness to taste.
If you're not really a tequila drinker or just wants to avoid the devastating condition known as STF ("Shitty Tequila Face", known to affect those who drink awful tequila), you'd be wise to get to know the smooth and delicious offerings from Partida Tequila.
Written by Andrew HoChoy
Edited by Glasgow Skinner
***A huge thank you to Gentleman Blogger, Andrew HoChoy of The Digital Gent for sharing his wonderful palate with My Life on and off the Guest List on sampling Partida Tequila. Make sure to check out his blog***