When it comes to style, individuality is key. No one wants to walk down the street or be out and see several people with what they have. This is not just true for fashion but for everything personal. AT&T and Motorola presents the
Moto X by Moto Maker
which allows you to express your individual style with the option of customizing your cellphone. With on-trend style elements (bold color, texture, etc) have become more than just a phone – they are now an extension of our style. While it's cool to have the latest technology, we still want to make it highlight our personality plus the Moto X is also the first smartphone to be designed and assembled in the US.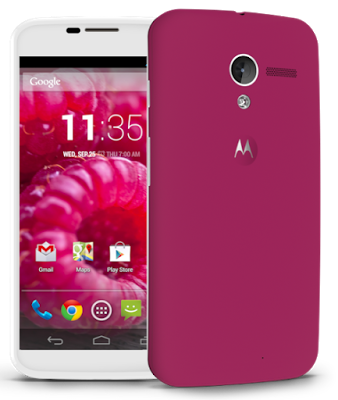 With the Moto X, you can choose the back color, front color, accent color and case. With over 2,000 possibilities to choose from, you can design a phone that's uniquely yours. You can also choose your phone's memory size (16GB for $199.99 or 32GB for $249.99, add a name or greeting that'll pop up every time you turn on your phone, select your wallpaper and pre-sync it with your Google account (Moto X owners get an extra 50GB of Google Drive storage on top of the standard 15GB free for two years to safely keep and share photos, documents and other files).
Moto X responds to your voice, no touching necessary, it perfectly fits your hand, twist your wrist twice, it becomes your camera. it discreetly lets you know your notifications without draining your battery. Moto X runs on Android, which lets you take Google with you wherever you go. You'll have access to more than 975,000 apps and games on Google Play. Full specs include:
Android 4.2.2, Jelly Bean Interface
Width 65.3mm; Height 129.4mm with a weight of 130G
4.7″ AMOLED (RGB) / HD 720p display
4.0 LE + EDR Bluetooth Technology
Rear-Facing Camera w/ 10MP CLEAR PIXEL (RGBC) – Quick Capture – LED flash – 1080p HD video (30 fps) – 4X digital zoom – Slow motion video – Burst mode – Auto HDR – Panorama – Tap to focus
Front Facing Camera w/ 2MP 1080p HD video
2 GB RAM, 16 GB standard with 32 GB version available online
Motorola X8 Mobile Computing System which includes a software optimized Qualcomm Snapdragon S4 Pro (1.7GHz Dual-Core Krait CPU, quad-core Adreno 320 GPU), a natural language processor and a contextual computing processor
I love the concept of customizing your phone and of course the patriotic aspect of it being assembled in the US. I look forward to Motorola expanding on it with prints or patterns, and of course uploading your own image or design. What do you think of the Moto X?