We've been staring at our images of the
GUESS
and
Marciano
Spring 2014 Collection and counting the days until the weather gets warmer. We're drooling over all of GUESS's polka dots pieces, denim color blocking, and moto styles and Marciano's cool abstract prints and crisp white looks.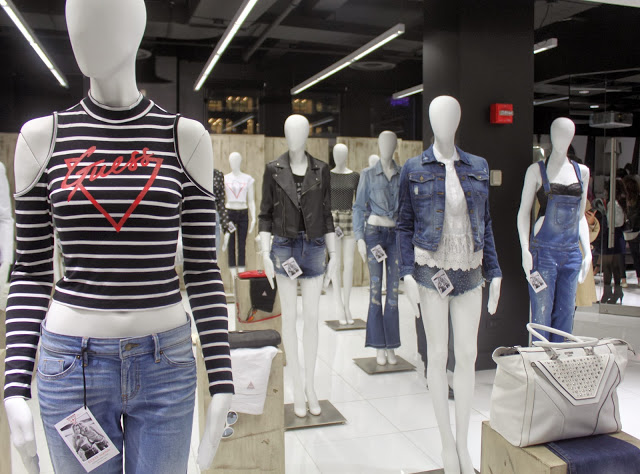 This season, GUESS is having lots of fun with denim and denim pairings. The collection is bursting with prints, stripes, and denim that are patched, ripped, frayed and studded. We're also excited to see faux leather making a big splash in everything from shorts to jumpsuits – we're totally drooling over the Racer-back Jumper and Drawstring shorts. We also fell in love a red Moto Jacket with killer studding on the 3/4 sleeve (and the red floral dress) that we saw at the announcement of Priyanka Chopra as the new face of GUESS and we're happy to see we are set on the black and white trend with a black and white version.
What more can you expect from the GUESS Spring 2014 Collection? Gingham denim, denim trimmed with lace applique, shoulder cutouts that are both bare and trimmed with applique and mesh panels (check out the above slideshow).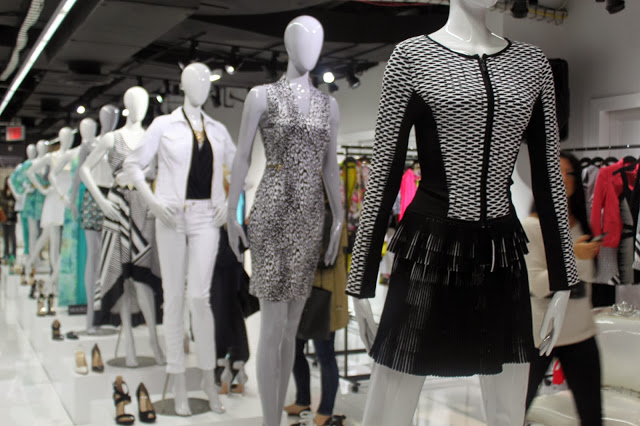 Marciano continues to perfectly marry sensuality and sophistication with their Spring 2014 Collection. Looking forward to the black and white trend for spring? Marciano gives you the option of wearing the trend in graphic prints (huge kudos for the abstract leopard print), stripes and solid pieces (we love the crisp white suit). Of course that doesn't mean the collection is void of color. The collection is teaming with stunning, colorful prints. Some evoke a serene tropical paradise and another an Eastern escape. We see ocean hues (turquoise, teal and aqua) and bold florals and mesmerizing graphics that remind me of wild jungle flowers. The collection also boasts a stunning paisley print that to us, screams a Bollywood influence (perhaps a nod to welcoming Priyanka Chopra to the family?). We also saw jeans, tanks and mini skirts bejeweled with chunky stones and light-as-air maxi dresses.
Our top favorite piece (we actually have several but because we are crazy for long flowy maxis) has to be the breathtaking turquoise printed Halter Maxi with the keyhole and pleating down the front. Any favorite pieces for you guys?