Actress Tracee Ellis Ross has once again teamed up with Optimum Salon Haircare Artistic Style Director and celebrity hairstylist, Johnny Wright (the two are known for being notoriously hilarious together), to chat about all things hair. In the "Optimum Amla Legend #LegendaryStyle" video, the duo discuss legendary style and their favorite new products from the
Optimum Amla Legend Rejuvenating Ritual collection
.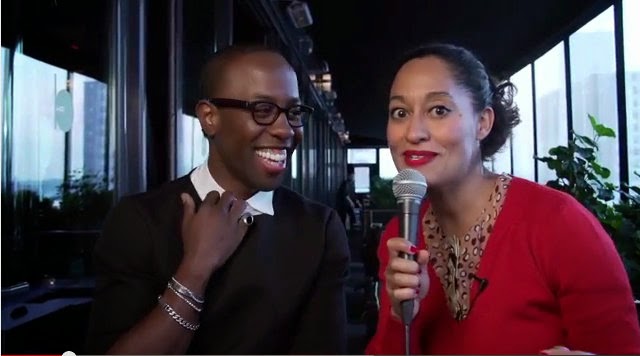 During the entertaining video, Johnny Wright shares his expertise in hair care, some very noteworthy tips for stronger, healthier hair, and his legendary hair icons. They both discuss why they love the Optimum Salon Haircare Amla Legend Rejuvenating Ritual, a rejuvenating product collection infused with legendary Amla oil, an oil used for centuries in India as a luxurious natural hair conditioner, and the benefits this unique product does for your hair. Check out the video below:

The latest from the Optimum Salon Haircare Amla Legend Rejuvenating Ritual includes:
Optimum Amla Legend Oil-Infused Styling Ritual: Condition hair back to life with this 3-piece collection of innovative styling products infused with luxurious Amla Oil. Comprised of Optimum Amla Legend Enchanted Finish Hold + Polish Spray, Optimum Amla Legend Treasured Temple Edge Tamer and Optimum Amla Legend Lustrous Body Blow Dry Mousse, this high-performance trio of products leaves hair with timeless hold, incredible shine, nourishment, protection and long-lasting day-to-night style control. ($6.99 each)
Optimum Amla Legend Miraculous Black Oil Dull Defying Hair color: The first hair color treatment infused with rejuvenating Amla Oil from India. Featuring a unique, ammonia-free oil blend, this gentle tone-on-tone haircolor enhances natural color, while visibly improving and restoring hair, transforming strands to become smoother, shinier and healthier. Available three shades, including: Jet Black, Natural Black and Natural Dark Brown. ($8.99 each).
The Optimum Salon Haircare Amla Legend Rejuvenating Ritual is available at mass, drug and beauty supply stores nationwide.