We all know the Absinthe aka the Green Fairy is dangerously seductive and can entice you to do things that are a bit on the naughty side. Imagine having the power of that persuasion in your fragrance. Pascal Rolland, founder of the Liquoristerie de Provence, who in 1999 was behind the return of Absinthe liquor, is the first to create a fragrance that features the mysterious and mind-altering liquor. With his company, 
Absolument Parfumeur
, Monsieur Rolland became the first liquor-making perfumer, launching Absolument Absinthe, and following it with four other scents for men and women. The perfumer, who recently signed with
Crafting Beauty Inc.
to be its exclusive distributor in the USA and Canada, welcomes this range of exotic fragrances stateside for the first time.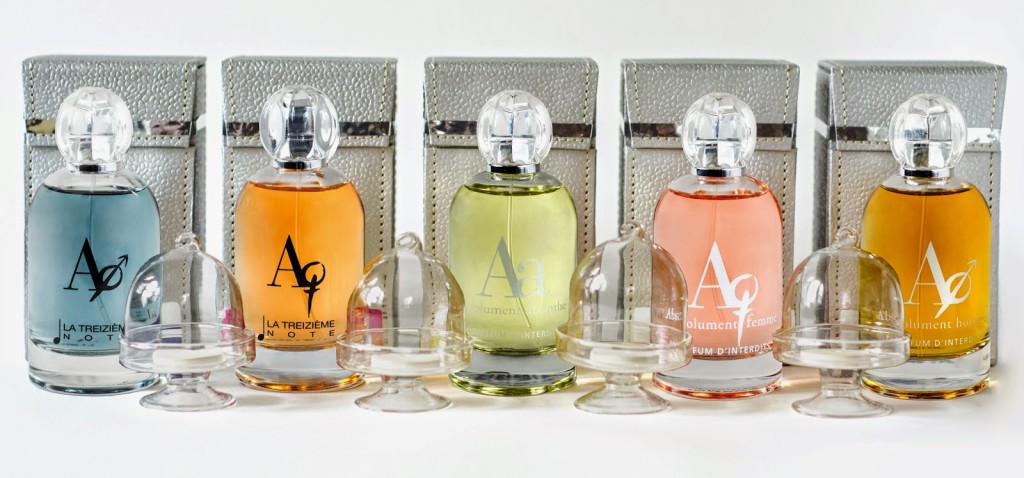 As of today, Absolument Parfumeur features the following five fragrances:
Absolument Absinthe – Light and deep, luminous and mesmerizing unisex fragrance that reacts to your own chemistry. A woman's skin will bring out the floral notes. A man's skin will bring out the fresh spicy notes.
Top notes: the first contact with the note is created by the sparkling pulp mingled to the black Chinese tea, scented with bergamot. The spicy exotic fragrance of "Canepa Sativa," or cannabis, gives an aromatic aspect unknown till now.
Heart notes: the Absinthe, both fresh and intriguing, combined with the green Iranian galbanum heart express a very strong duality. The floral notes (lily of the valley, Lotusflower, jasmine, Ylang-Ylang ) are warmed by the noble spicy notes (nutmeg and Ceylon cardamom).
Base notes: the woody warmth Sandalwood base note is softened by the sensuality of the Musks.
Absolument Femme – Floral, sophisticated, elegant, subtle, delicious, mesmerizing, fragile and mysterious, that is what defines absolute femininity.
Top notes: Citrus, Italian Bergamot, Argentine Lemon
Heart notes: Absinthe, Thyme, Chamomile, Caraway, Cinnamon, Geranium, Lavender and florals: Lily of the Valley, Rose, Jasmine, Neroli, Carnation
Base notes: Patchouli, Leather, Animal, Sweet Amber, Vanilla
Absolument Homme –  their version of the ultimate olfactive signature for men conveying elegance, virility, and simplicity. Providing an aromatic stamina, Absolument Homme is a perfume that deftly combines virility and refinement.
Top notes: the freshness of Sicilian lemon and the citrus elegance of the Bergamot orange.
Heart notes: Egyptian Geranium, Spicy Carnation, and nutmeg seeds carry refinement and subtlety.
Base notes: woodland and amber unite Musk, Sandalwood of Mysore, Cedarwood of Virginia and Patchouli leaves.
13th Note Femme – floral, fruity and sweet, the 13th Note actually gives this perfume its name as well as its intoxicating softness and femininity. Femme is an enchanting perfume that dresses a woman in an irrepressible desire. Inspired by a dessert from french chef, René Berges, it offers to women new sensations that appeal to all the senses.
Top notes: Ananas, raspberry, green strawberry and sage
Heart notes: Rose, violet, mimosa, vanilla and jasmine
Base notes: Musks, white peach, honey and amber
13th Note Homme – The 13th NOTE for men is aromatic, fresh and spicy, an innovative and complex fragrance for elegant men. Just as with Femme, it is this 13th Note that gives Homme its name and its fascinating elegance. Also inspired by a dish from chef René Berges, Homme is an exclusive perfume, one for a man of mystery, power, and refinement.
Top notes: Mandarin, anis, and basil from Provence
Heart notes: Chamomile, black pepper, chili pepper, white clove, sage and wormwood
Base notes: Atlas and American cedar, patchouli, leather and white musk
To experience the 13th Note for men, let it interact with your skin for 5 minutes so that all the notes can aerate and reach a balance.
The fragrance line launched with a luxe packaging, made of 100% recycled cotton made to look like real leather, without actually having to use the skins. Want to get to know these five fragrances? The Absolument Parfumeur fragrances are available at Henri Bendel in New York as well as Crafting Boutique online.
Would youw ear the range of Absolument Absinthe fragrances? Share your thoughts in the comments.