Rosé wine lovers set sail on NYC's Hudson River on June 13-14 to indulge in exquisite wines and seriously good times. The occasion? The country's first large-scale Rosé tasting event, La Nuit en Rosé. The sold out event, taking place during four 4-hour sessions over two days, gave the public and members of the press, the opportunity to taste 85 rosés crafted by 58 wineries from around the world. The vast selection ensured that wine connoisseurs and novices alike would be able to discover rosés that seduced their taste buds.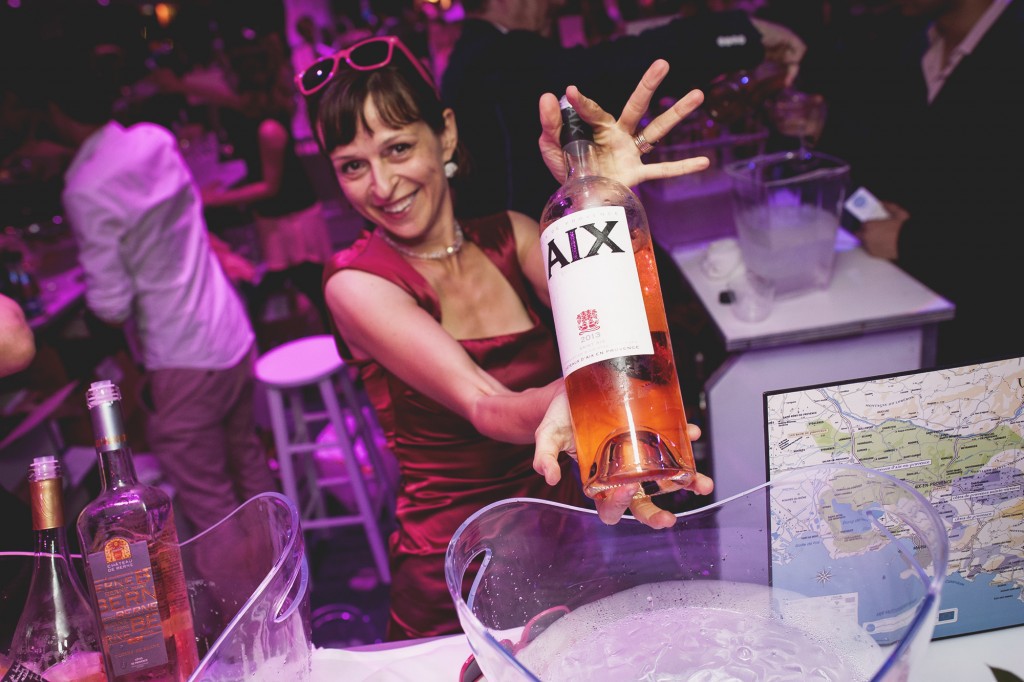 As if sampling a bevy of rosé wines weren't enough, La Nuit En Rosé up'd the experience with a hot DJ, beautiful views aboard the state of the art Hornblower Hybrid, and decadent cuisine to compliment this great summer wines including: a selection of ice creams (one rosé-infused) from The Tipsy Scoop; French pastries, canelés and financiers by Céline; oysters provided by the Brooklyn Oyster Party; and some of the most delectable cheese and charcuterie we've ever experienced from Vin sur Vingt, among others. We were elated to be part of this first event there, and we will definitely not miss the next, which promises to be bigger and even better.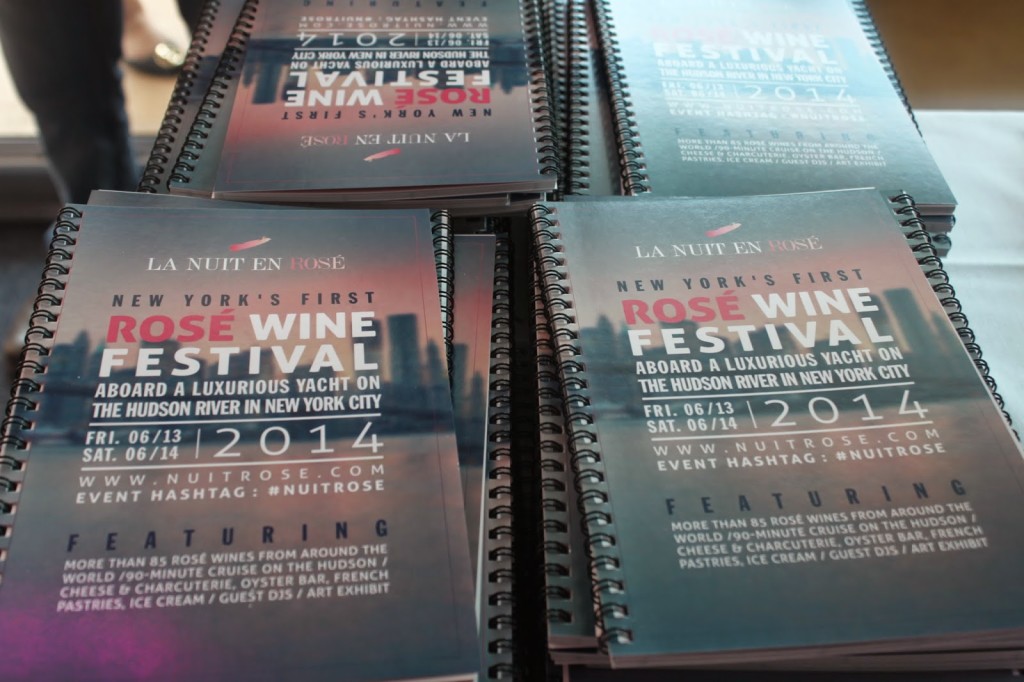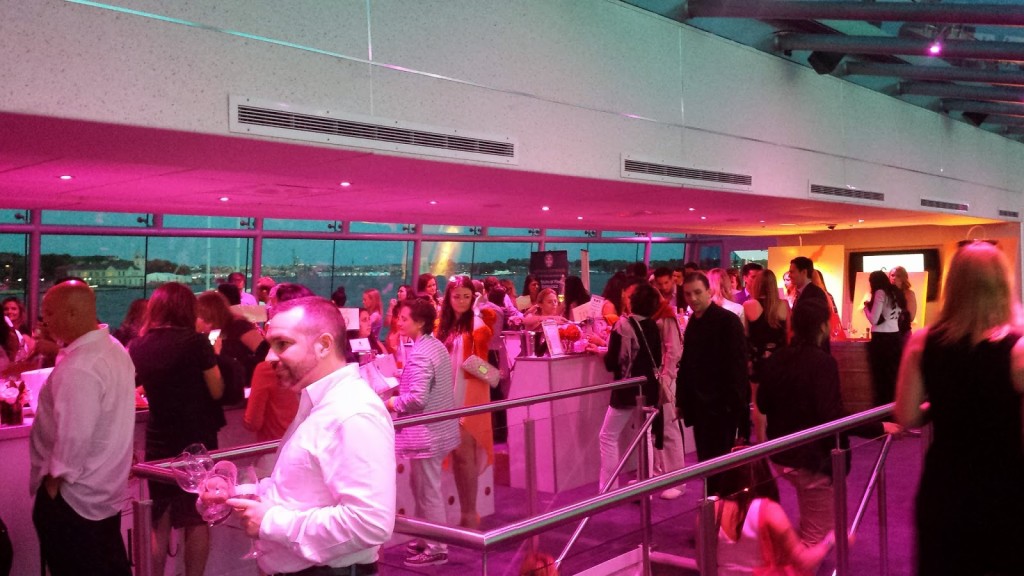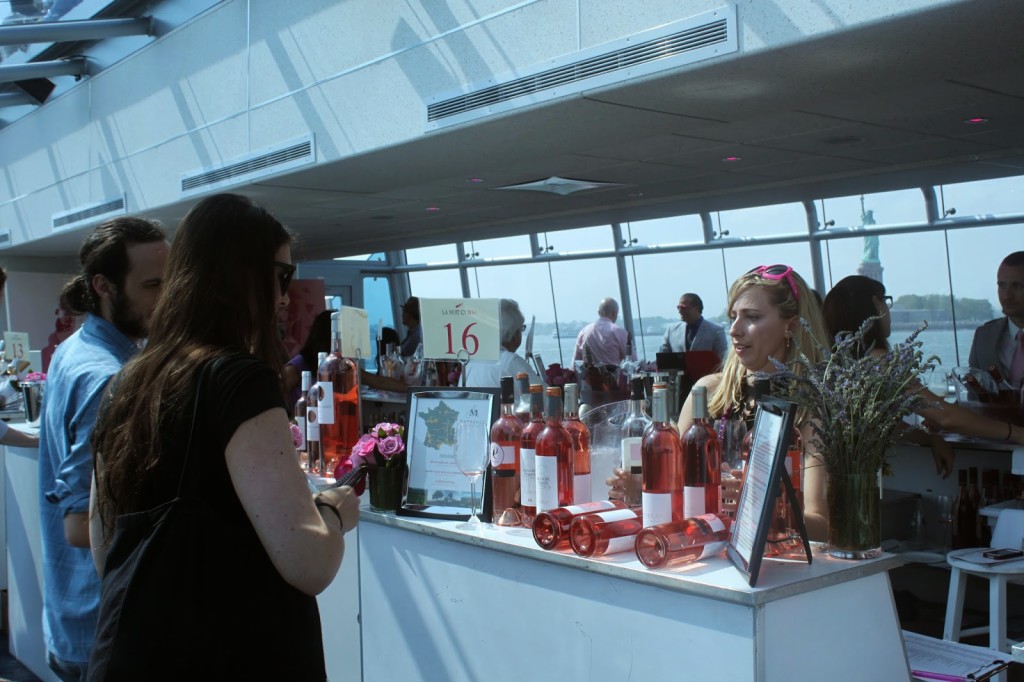 Here's a look at just a few of our favorites from the La Nuit En Rose experience:
Mulderbosch Cabernet Sauvignon Rosé
Mulderbosch
Blend: 100% Cabernet Sauvignon
Notes: A richly hued and versatile South African wine.
If you are not usually a red wine lover, consider this
Mulderbosch as a pleasant midpoint between whites and reds.
Serve well chilled, paired with a summer salad, salmon, tuna, or sushi.
Berlucchi Franciacorta Rosé NV
Origin: Italy, Franciacorta
Blend: 55% Pinot Noir, 45% Chardonnay
Notes: Beautifully light and refreshing
Ouled Thaleb Rosé 2013
Morocco, Benslimane
60% Syrah, 30% Grenache, 10% Cinsault
Notes: The grapes used to craft Ouled Thaleb are free of herbacides and fungicides.
Pair with tuna and appetizers such as sausage.
OG by Les Eoliers 2013
Chateau Les Eoliers
Origin: France, Languedoc Corbiere
Blend: Grenache, Mourvedre
Notes: If you need a celebratory rosé, this is it.
A Luxuriously designed bottle with a lighted bottom and gold flecks inside.
It's sure to catch the attention of all party goers.
Domaine Vico Rosé 2013
Origin: France, Corsica
Blend: Nielluccio, Sciaccarellu, Grenache
Notes: This rosé is light and crisp, but still manages to maintain deep flavor.
Tentation by Reunucci Rosé 2013
Domaine Terra Vecchia
Origin: France, Corscia
Blend: 60% Merlot, 30% Syrah, 10% Vermentinu
Notes:
A great bottle for a ladies party. Besides its sleek exterior, Tentation boasts a flavorful, pronounced rosé taste, but with a smooth finish at the end.
Cotes des Roses Rosé 2013
Gerard Bertrand
Origin: France, South of France
Blend: Grenache, Cinsault, Syrah
Notes: This variety is beautifully floral and bares a rose patterned
bottom on it's bottle to prove it.
Pineto Brachetto d'Acqui 2013
Marenco
Origin: Italy, Brachetto d'Acqui DOCG
Blend: 100% Brachetto d'Acqui
Notes: If you like your rosés and wines sweet,
this certainly fits the bill. This tasty dessert wine has a pronounced
Strawberry bouquet.
Bridge Lane Rosé 2013
Lieb Cellars
Origin: United States, Long Island
Blend: 63% Cabernet Franc, 21% Merlot, 8% Pinot Blanc, 5% Riesling, 3% Gerwurztraminer
Pairing: Fish, raw seafood, oysters, shrimp
Merlot Rosato 2012
Omina Romana
Origin: Italy
Notes: Merlot Rosato is delicately sweet, with a fine balance
between fragrant and fruity.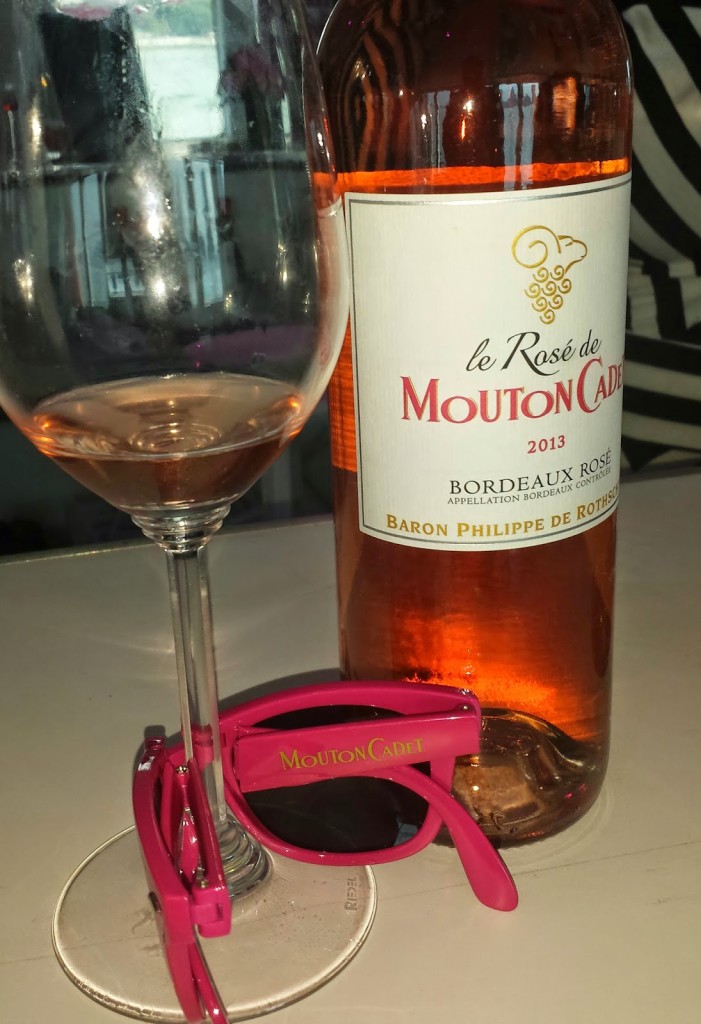 le Rosé de Mouton Cadet 2013
Origin: France, Bordeaux
Blend: 60% Merlot, 23% Cabernet Franc, 17% Cabernet Sauvignon
Notes: fruity aroma with an elegant subtle fullness, hints of raspberry and red currant make this rose a perfect summer drink.
Food Pairings: great with light dishes – fish, seafood, and light pasta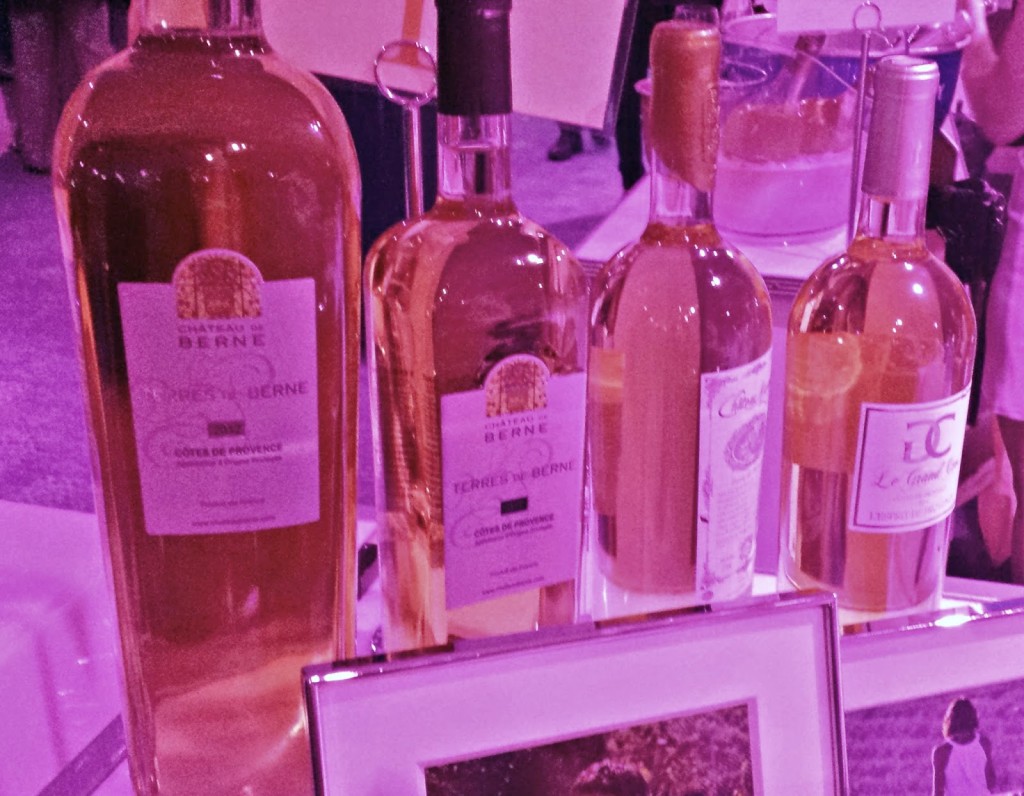 Terres de Berne Rosé 2013
Chateau de Berne
Origin: France, Provence, Cotes de Provence
Blend: 50% Cinsault, 40% Grenache, 10% Cabernet Sauvignon
Notes: floral and crisp summer fruit flavors, fresh bouquet and taste
Food Pairings: it's crisp and fresh taste makes it perfect for spicy cuisine such as Indian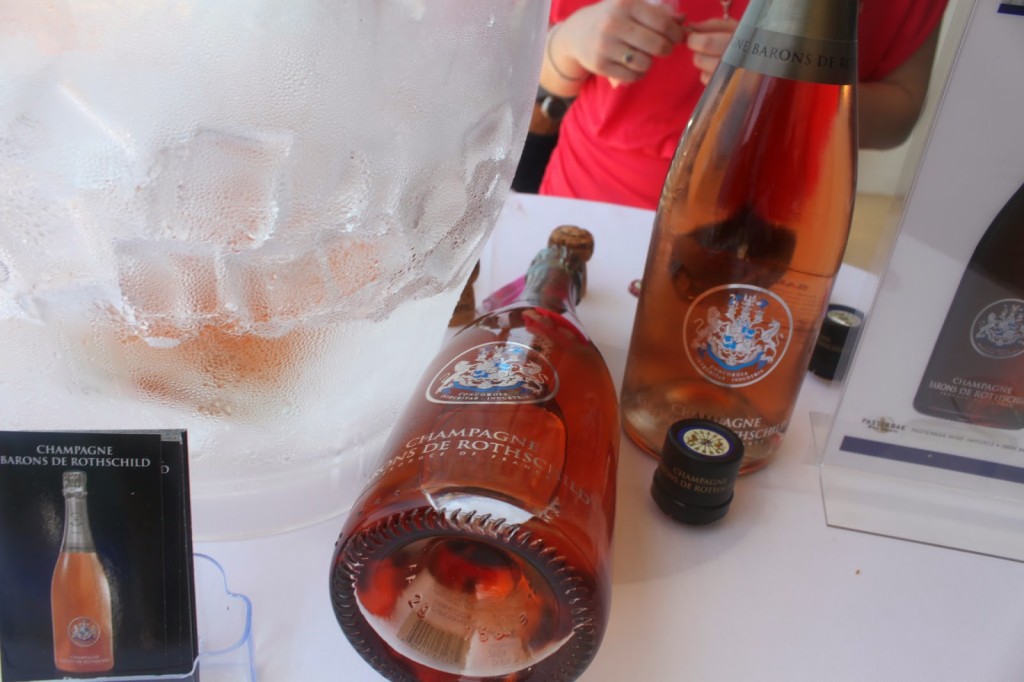 Champagne Barons de Rothschild Brut Rose
Origin: Champagne, France
Blend: 85% Chardonnay, 15% Pinot Noir
Notes: it has the aroma of rose petal, wild strawberry, and a touch of citrus; it's light in color, full bodied, and features subtle bubbles. The first taste is fresh and crisp and it pairs perfectly with sushi and lightly cooked lamb.
For the times we needed to take a break or cleanse their palate from wine tasting, the refreshing Lorina Pink Citrus Lemonade was on hand. The sparkling, premium French beverage was a welcomed and delicious cleanser.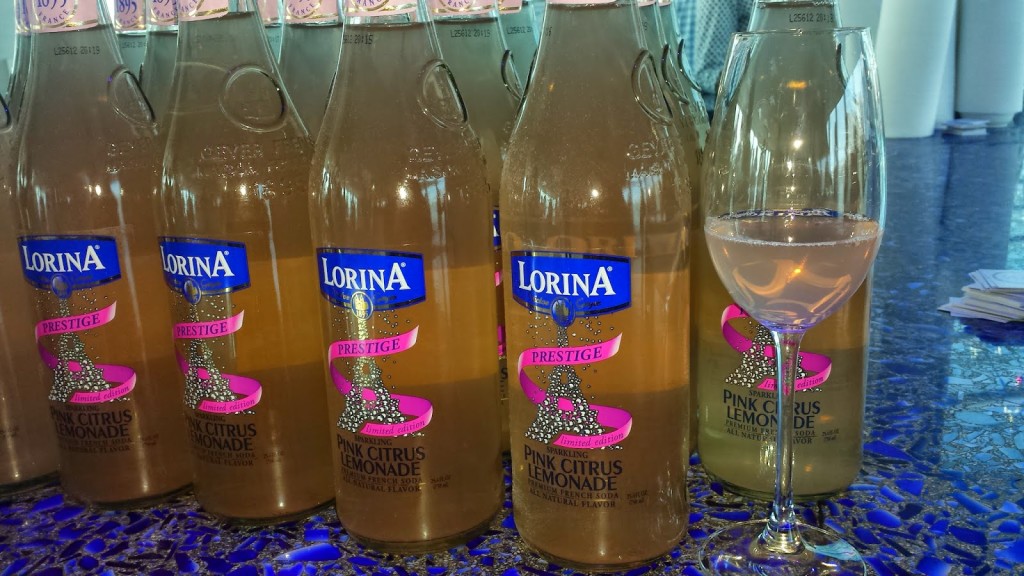 We advise anyone who is a fan of the pink-hued wine or for those who just want to learn more about it, to absolutely attend their next event, the experience is wonderful.