There's nothing better than hanging out with friends, having a great time sharing laughs and celebrating having fun, whether you're having game night at home, having a girls night out, hanging out at the beach, or at a party. Good times like these call for delicious cocktails, but no one wants to or should drag around full bottles of alcohol. When you want to celebrate and a bartender is not readily available, why not travel with your own bar with delicious portable cocktails from
LIQS Cocktails
? Say hello to the LIQS Ready-to-Drink Shot, a collection of low calorie, low sugar, kosher 50ml shots that are made in the USA with premium vodka and tequila.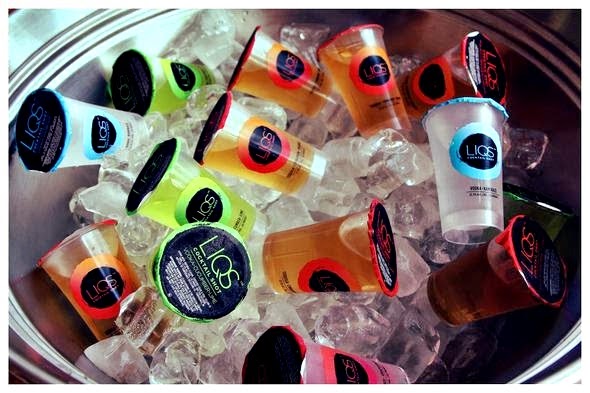 These on-the-go, natural flavor cocktails are the brainchild of Michael Glickman and Harley Bauer and are available in Tequila Cinnamon Orange, Vodka Cucumber Lime, Vodka Lychee Grapefruit, and Vodka Kamikaze. These portable shots of cocktail convenience come in ready-to-drink shot glasses that gives you the ability to take the party anywhere. LIQS combines top-shelf spirits with natural flavors for instant deliciousness any time, anywhere.

The Tequila Cinnamon Orange boasts 120 calories, 7 grams of carbs, 6 grams of sugar, and combines the subtle spice of cinnamon with fresh orange to create an irresistible balance of spicy and sweet; the Vodka Cucumber Lime boasts only 90 calories, 3 grams of carbs, 2 grams of sugar, and combines the cool, refreshing cucumber with the burst of citrus of lime, and a super premium vodka for a light and refreshing cocktail; the Vodka Kamikaze boasts 100 calories, 5 grams of carbs, 4 grams of sugar, and vodka, triple sec and lime juice, infused with the finest citrus and a hint of natural vanilla that will surprise and energize your taste buds; and last but certainly not least, the Vodka Lychee Grapefruit also boasts only 90 calories, 3 grams of carbs, and 2 grams of sugar, while the citrus of grapefruit balances effortlessly with the subtle sweetness of the lychee fruit. Expect two more exciting flavors of LIQS to launch later this year.
The LIQS Cocktail Shots comes in a 3-pack and retails for $7.99. Next time you have a get-together with friends or family, grab a LIQS Ready-to-Drink Shot, and toast to the good times.