The Ese Azenabor's F/W 2015 collection was held at the Affinia hotel in New York. The collection was all about dresses, figure hugging and A-line to long gowns. A few chic jumpsuits were peppered in, with beautiful drapery and deep-v bodices; shoulder-baring pieces, such as off-the-shoulder, and one-shoulder looks, offered a more sweet and sexy effect. The collection boasted pieces detailed with beautiful beading or embroideries. Almost each piece had amazing details, either on the sleeves, neckline, or torso of the garment; it was all deliciously lavish to look at. The models' hair were all slicked back and long, which greatly highlighted their sultry eyes, and glowing cheeks.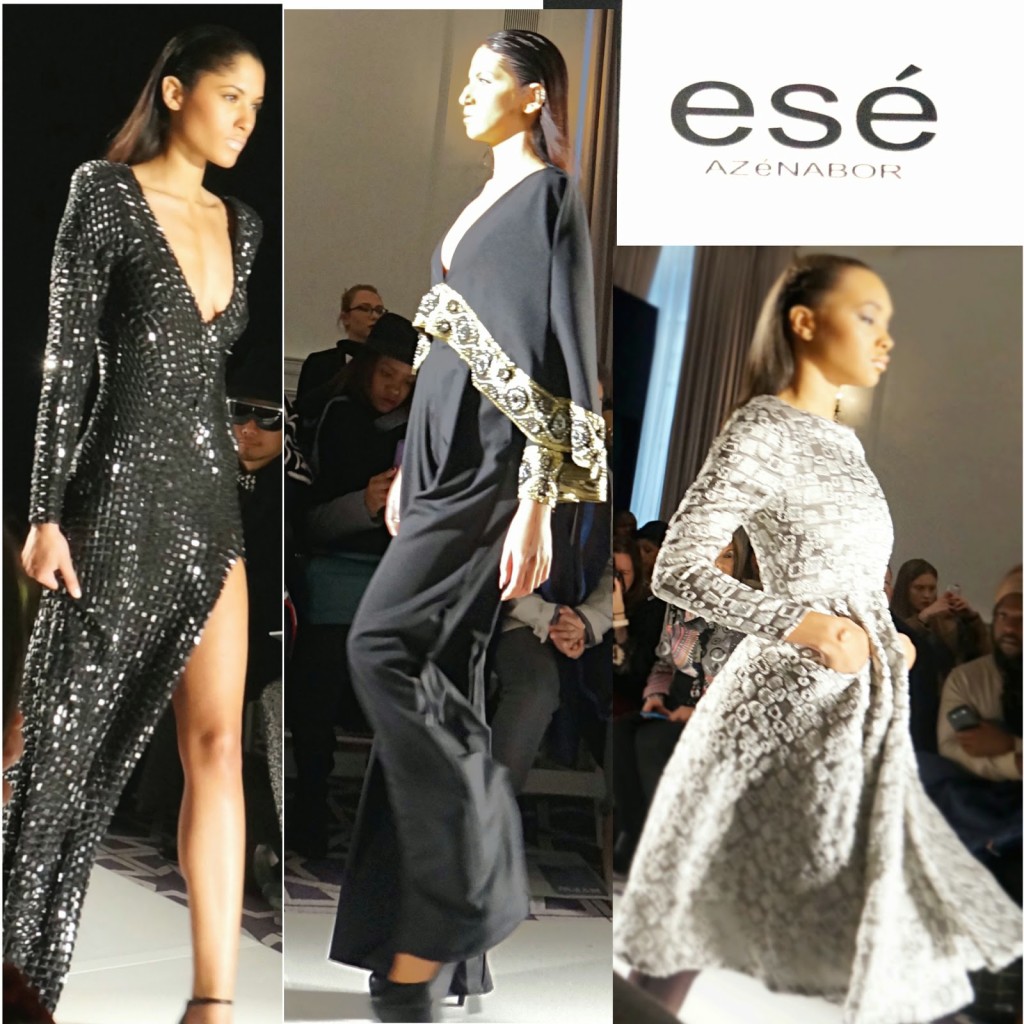 The collection was inspired by the era of Henry the VIII. The designer has a lot of passion and respect for art, and likes to incorporate it into her pieces, which you can really see from all the details. Her signature style is her beading works, which is hand sewn onto the garments. The pieces in the collection are all luxurious, extravagant and very detailed, it was all beautiful to see these ornamental pieces float down the runway. The Ese Azenabor Fall/Winter 2015 Collection featured a palette of rich dark tones, white and cream hues, and deep, bright reds; special details, besides her beading included extravagant brocades, and embroidered jacquards.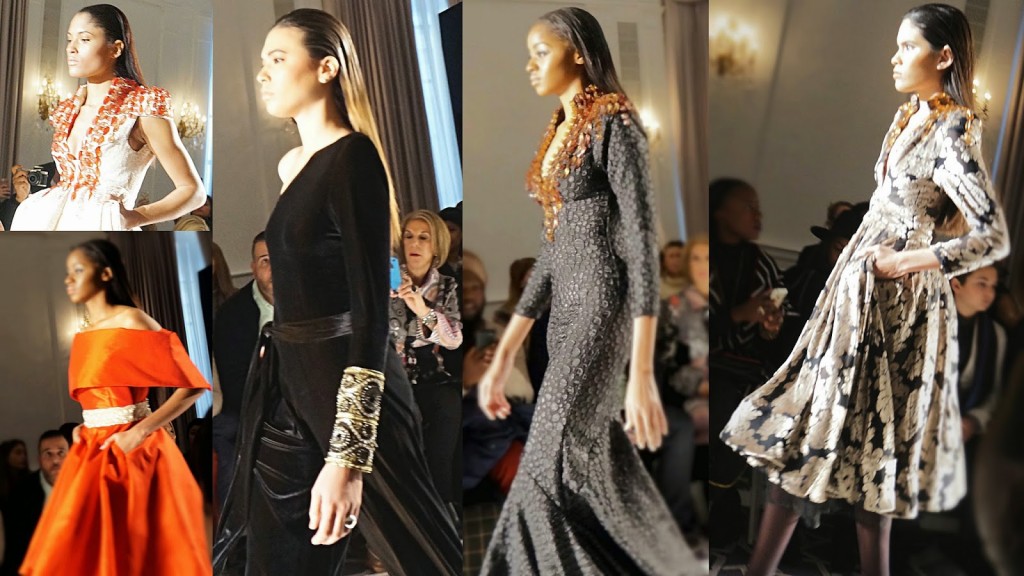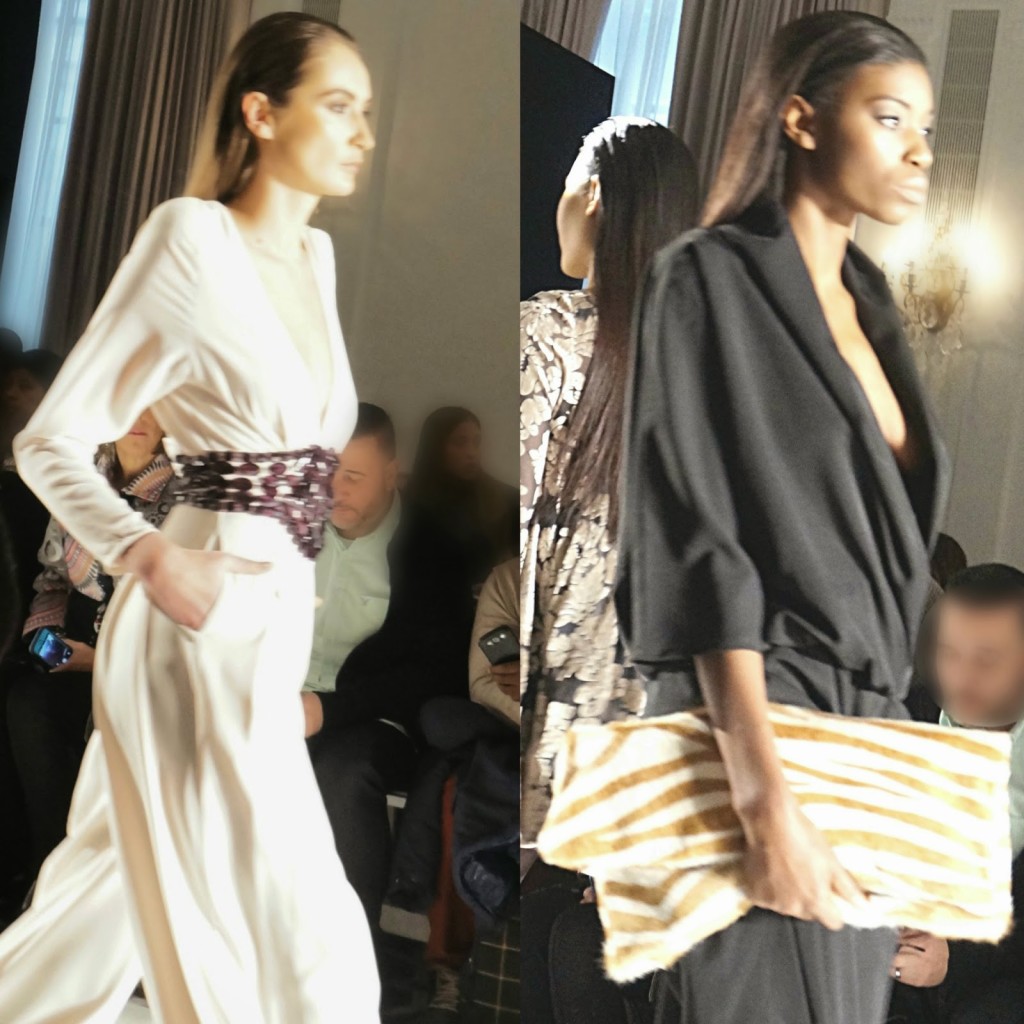 Two of my favorite pieces were the above jumpsuits, because they were super chic and sexy. I was especially enamored with the addition of the beaded belt to the cream jumpsuit, it added more luxury to the already sensual-chic look. The drapery on the black jumpsuit looks so effortlessly sophisticated and cool to wear. The over-sized animal print clutch was a wonderful addition of color and texture for this look. Want to know more, check out more of Ese Azenabor collection's on her website.
Thank you for reading!
PHOTOS & POST BY RHEA JOANNA SANTOS OF SEW STYLISH RHEA
EDITED BY GLASGOW SKINNER
***Thanks to Contributing Fashion Blogger, Rhea Santos of Sew Stylish Rhea for attending and covering the Ese Azenabor Fall/Winter 2015 Collection for My Life on and off the Guest List. Make sure to check out her blog.