Sometimes it's really hard to be a Lifestyle Blogger, you get to try out so many amazing products, sometimes several at once. if you haven't noticed, that first sentence was of course dripping in some sarcasm. We love trying and discovering new products, especially if they help us combat our beauty issues. The experience gives us a bit of a rush, especially when we try something we absolutely love. We've recently been indulging in some wonderful hair and dental health rescue products from the
Topganic Baobab Oil Collection
and
Whitening Lightening Teeth Whitening
products, that we were introduced to last month…..we can tell you we're having lots of fun turning back the clock.
TOPGANIC HAIR PRODUCTS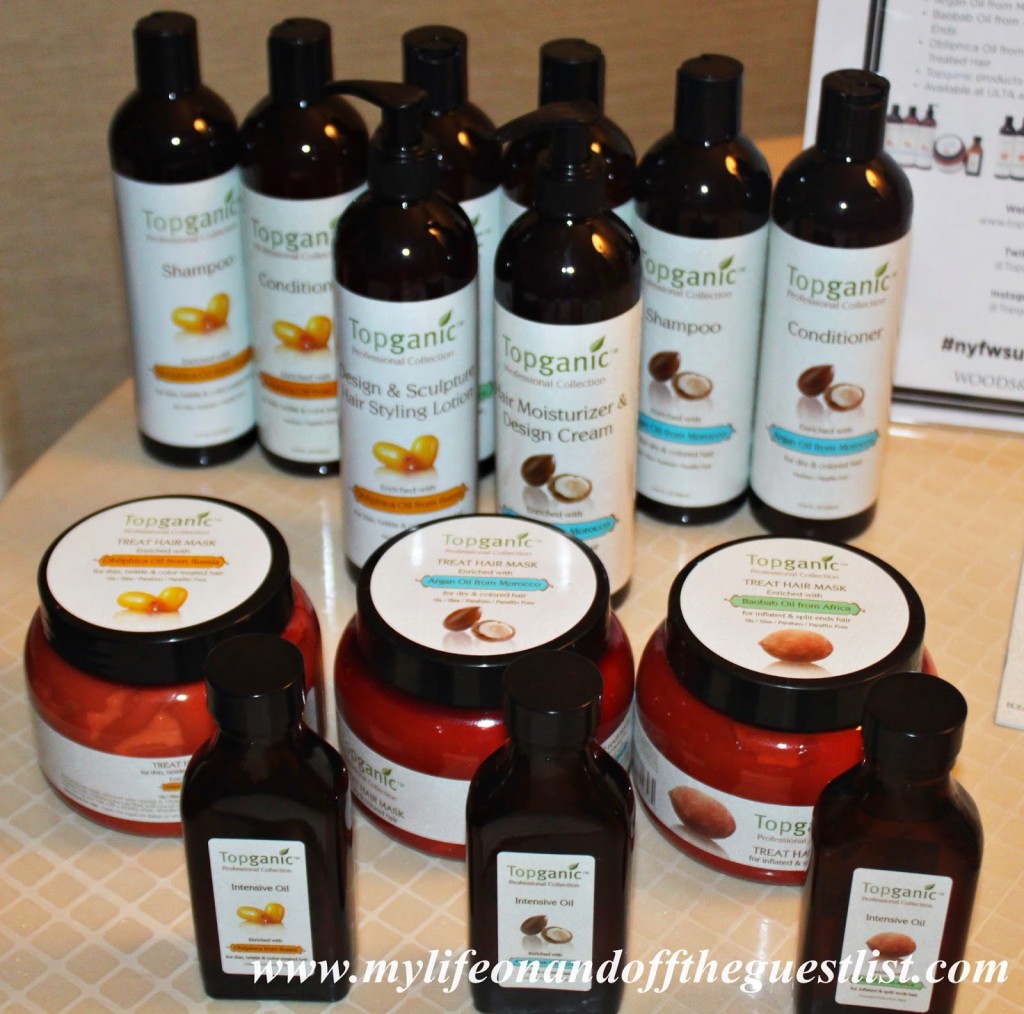 So who is Topganic? It is the first hair care line to effectively combine natural oils, extracts and minerals from the Dead Sea. Topganic takes a natural approach to protect and nourish your hair with their luxe range of shampoos, conditioners, hair masks (we love, love, love) and more to prevent further damage from chemicals, heat styling, and pollution. We indulged our hair in products from the Topganic Baobab Oil Collection because winter has not been kind to our hair. You should be well familiar with the benefits of Baobab Oil, but just in case you need a refresher, it contains vitamins A and F, which greatly helps rejuvenate and renew hair, vitamin E, a superior antioxidant to help fight the aging process of the hair fiber, helps soften and improve hair's elasticity and essential fatty acids that contribute to maintaining healthy hair. Topganic products are available at ULTA and Harmon and online at www.topganic.com.
Shampoo with Baobab Oil from Africa ($9.00) – Enriched with baobab oil, vitamin A, vitamin E, natural essences and Dead Sea minerals, this luxurious shampoo gently cleanses hair, while nourishing roots and maintaining hair's natural moisture level. The Shampoo with Baobab Oil from Africa leaves hair soft, healthy and shiny.
Conditioner with Baobab Oil from Africa ($9.00) – For use with the Topganic Shampoo with Baobab Oil from Africa, this luxurious conditioner helps maintain a healthy moisture balance for beauty, silky strands. Enriched with baobab oil, vitamin C, vitamin E, natural essences and Dead Sea minerals, the Conditioner with Baobab Oil from Africa provides hair with a soft touch, healthy look and beautiful shine.
Treat Hair Mask with Baobab Oil from Africa ($11.00) – Enriched with pro vitamin b5, jojoba oil and baobab oil, this nurturing mask replenishes hair's moisture level, while nourishing the hair fiber with crucial vitamins. The Treat Hair Mask provides flexibility, shine and softness for hair.
Intensive Oil with Baobab Oil from Africa ($13.00) – Infused with authentic natural oils and pure extracts, the Intensive Oil nourishes and maintains healthy, shiny hair. Rich is vitamins A, D, E and F, baobab oil provides superb moisturizing benefits, while helping to improve the elasticity of hair, which reduces breakage and splitting hair.
WHITENING LIGHTENING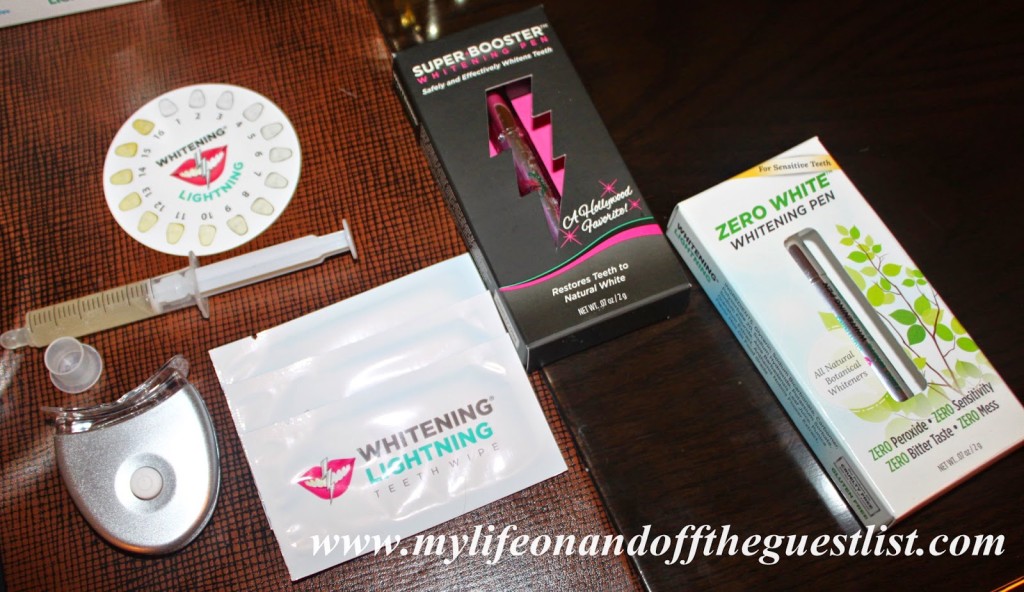 We love tea, we can't help it. It's extremely rare to go a day without enjoying a cup or two of our favorite tea but one major consequence of enjoying so much tea, is the staining of our teeth. The act of teeth whitening can sometimes get messy, be painful (tooth sensitivity is not fun at all), and taste awful. It can be hard to choose the best whitening mouth wash with the vast amount of options available. Thanks to the products from Whitening Lightning, we don't have to give up our beloved tea, and we don't have to endure the messiness or harmful chemicals. With its pens and professional home kits that deliver fast, noticeable results without the harmful chemicals, messy trays, unpleasant taste or sensitivity, Whitening Lightning has become a go-to. We're getting our teeth whiter with the Dial a Smile Professional Whitening Kit (see product info below) but Whitening Lightning has a host of other products and we're sure you'll find one to fit your needs. Get more info on the brand and where to purchase these products at www.whiteninglightning.com.
Dial a Smile Professional Whitening Kit ($99.00) / ($115.00 with pen) – Dial A Smile whitens teeth at home in only 20 minutes. It's painless, fast, and can be done in the comfort of your own home while offering similar results to a professional in-office dentist treatment. Teeth appear four to seven shades whiter per treatment. Perfect for smokers, wine, and coffee lovers or teens who have recently had their braces removed.
ZERO White Teeth Whitening System ($115.00) – The newest addition to the Whitening Lightning collection contains all-natural botanical whiteners specially formulated in the brand's lab. ZERO White contains no peroxide and will not cause sensitivity. The completely painless system restores teeth, crowns, veneers and caps to a natural white using all natural botanical whiteners. See results of seven to ten shades lighter in 14 days.
ZERO White Whitening Pen ($29.00) – Like the ZERO White System, the pen is formulated using natural botanical whiteners that do not irritate or harm teeth. The pen works on teeth, crowns, veneers, and caps in just 60 seconds. The formula does not have a bad taste and works while you sleep. So if you have just had porcelain veneers in NYC put into place, fear not, their bright color will last a long time with this pen.
Super Booster Pen ($29.00) – Freshens breath, kills bacteria and restores teeth to their natural white shade. Simply paint the gel formula on teeth and let dry for one minute and the treatment is done. No unpleasant taste, no wait time, no sensitivity and no mess. The formula whitens and fight stains while you sleep by up to seven to ten shades in 14 days.
Color Your Smile Lighted Lip Gloss ($22.00-$24.00) – The lighted lip-gloss contains collagen peptides to increase lip volume and reduce lip wrinkles, while doubling as an amazing moisturizer. Collagen peptides rapidly speed up cell renewal to increase lip size safely and painlessly. Available in fashion forward shades of peach, pink and bronze that never feather or bleed.