Nothing brings on good spring cheer than celebrating Cinco de Mayo. For us, celebrating the Mexican army's victory over Napoleon III on May 5th, 1862, reminds us of celebrating freedom, success, and indicates that the time of warm weather enjoyment has arrived. Naturally when we think of Cinco de Mayo and drinks that remind us of Mexico, we think Tequila! In honor of this famed Mexican holiday, we look to,
Sauza Tequila, el Jimador
, and
Herradura Tequilas
for our Cinco de Mayo cocktail recipes. Whether you're out at a bar, or partying it up at home, these delicious will have you cheering Arriba over and over.
Sauza Tequila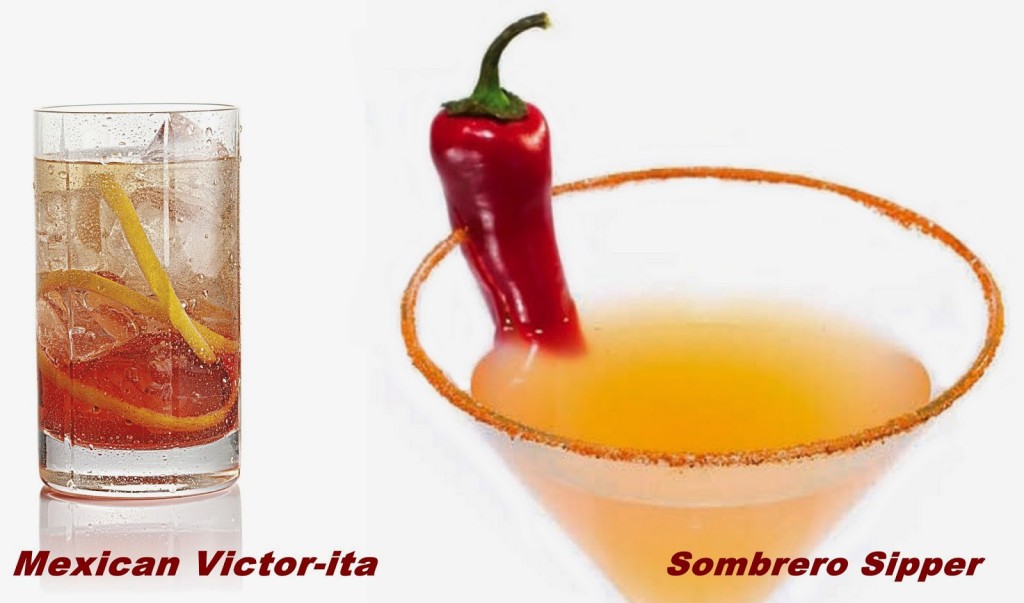 Sombrero Sipper
1 part Sauza® Blue Silver 100% Agave Tequila
½ part DeKuyper® Strawberry Liqueur
½ part (chilled) rose champagne
½ part limeade
3 strawberries
1 tbsp. sugar
1 lime wedge
Wash, stem, quarter and freeze strawberries for at least 1 hour (can be done the day ahead). Run a wedge of lime around the rim of your champagne flute and dip in a plate of sugar to coat rim. Place 3 frozen strawberries in the bottom of the prepared flute. Pour champagne into the glass. In a shaker filled with ice, combine tequila, limeade, and strawberry liqueur. Shake and pour into glass. Add a squeeze of fresh lime if desired and serve immediately.
Mexican Victor-ita
1 ½ parts Sauza® Blue Silver 100% Agave Tequila
½ part DeKuyper® Triple Sec
4 parts cranberry juice
2 parts orange juice
2 oranges
½ cup cranberries, frozen (optional)
2 tbsp. sugar
First make your garnishes. Freeze ½ cup of cranberries. Using a channel knife cut a long spiral from on orange (see if you can make it all the way in one try!) and cut into 6 inch pieces. Twist the peels around your bar spoon and reserve for garnish. Zest the other orange with a spice grater to remove just the peel and none of the pith and combine with sugar. Cut the zested orange into wedges. Rub a wedge of orange around half the rim of your glasses. Roll the glasses through the sugared orange zest. In a shaker, combine the rest of the sugar and orange zest mixture with the cranberry juice, orange juice, Sauza® Blue Silver, orange liqueur, and the juice from the orange. Twist the orange peel over the drink and place on the prepared glass. Top with frozen cranberries and serve your cocktail!
el Jimador and Herradura Tequilas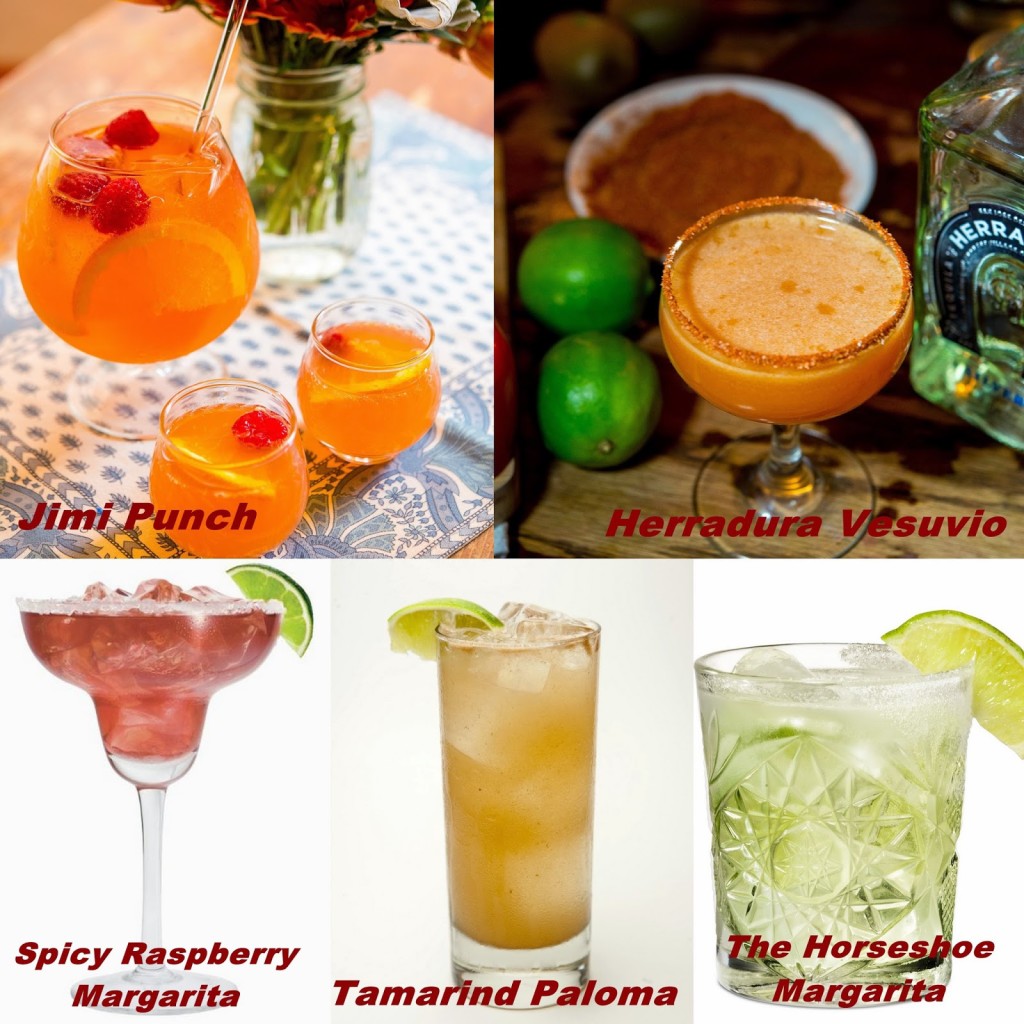 Jimi Punch
1 Bottle Herradura Silver
1 bottle Korbel Champagne
6 oz Campari
6 oz Agave Syrup
1 liter Orange juice
¼ liter lemon juice
1 orange cut into slices
1 tray of Raspberries
Add all ingredient to a large punch bowl, add lots of ice stir, cover and leave to sit 20 mins before serving. Stir occasionally during service
Herradura Vesuvio
2oz Herradura Silver
¾oz Red pepper juice
½oz Lime Juice
¼ oz Cholula hot sauce
¼ oz Agave nectar
Rim a coupe glass with cayenne pepper and salt mix Shake all ingredients in a cocktail shaker, shake hard and pour into the chilled coupe glass.
Spicy Raspberry Margarita
1 ½ oz. el Jimador Reposado
½ oz. Chambord
1 oz. Sprite
2 oz. Sour mix
3 dashes of Tabasco
In a shaker filled with ice, add ingredients and shake to mix. Pour into margarita glass rimmed with spicy salt. Garnish with a lime wedge.
Tamarind Paloma
1.5 oz of el Jimador blanco
1.5 oz Bohemia
5 oz of fresh lemon juice
5 oz of tamarind syrup
2 Dashes of orange bitters
Shake all ingredients except the Bohemia beer with ice and pour over ice. Fill rest of glass with Bohemia beer. Serve in a Collins glass.
The Horseshoe Margarita
2 parts Tequila Herradura Silver
1 parts Fresh Squeezed Lime Juice
1/2-3/4 part Agave Nectar (to taste)
Combine all the ingredients in a shaker with ice, shake hard so that some of the ice melts, then strain over fresh ice. Garnish with a lime wedge.