The restaurant girls are back once again to bring you our tales of foodie adventures. You all know how we love to make reviews and give advice for people who eat out often – just like us! Just the other day, we had a good conversation about the AMEX Gold Card and how we should look into the possibility of getting it to help us foodies financially. Anyway, in this restaurant review, Christine Ongsueng, and I are traveled all the way to Astoria, Queens (okay the trip out there wasn't that bad), to bring you our review of Ornella Trattoria Italiana, a fine dining regional Italian restaurant which offers innovative dishes, organic ingredients, recipes passed down from generations, and pasta dishes which boasts pasta made fresh on site.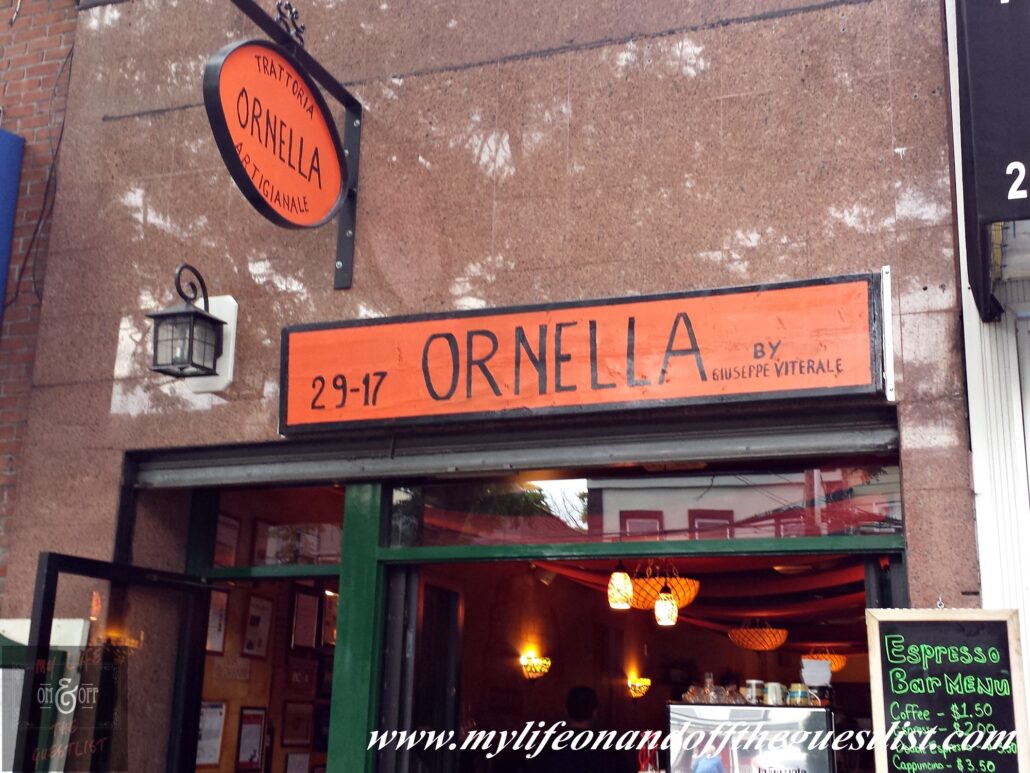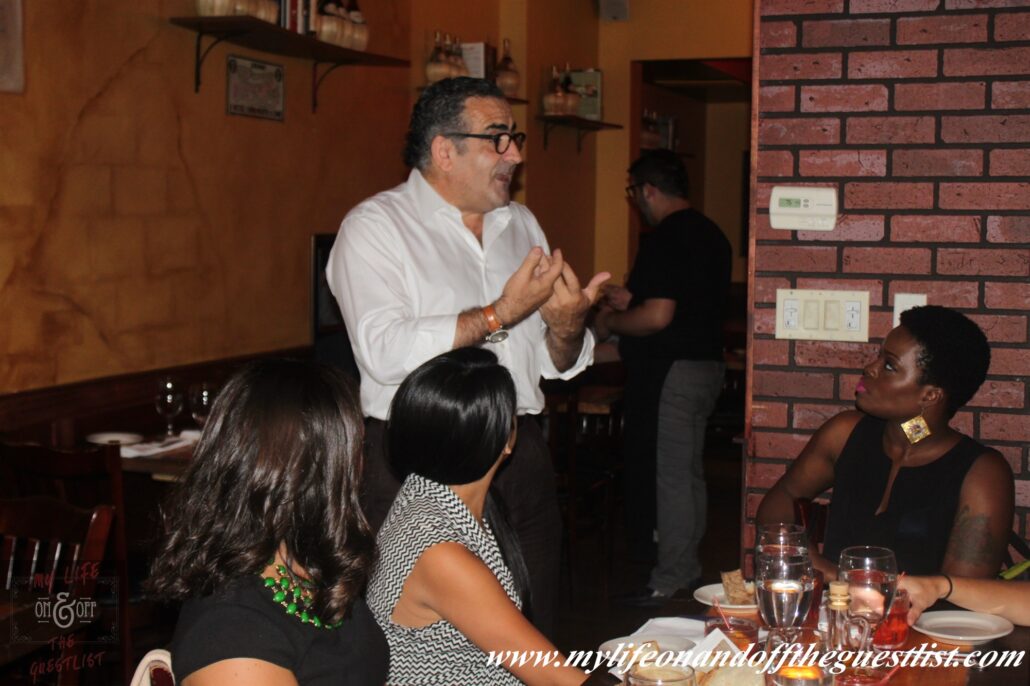 Our host for the evening was none other than Ornella Trattoria Italiana's owner Giuseppe Viterale, a man who truly loves and appreciates food, and loves sharing stories about the history of food, tips and tricks, and his favorite dish (Pasta Fagioli), and of course, regaling his customers on what they're eating. We learned more about Italian cooking in one evening than I've ever known in my entire life.
Aperitif – Negroni Cocktail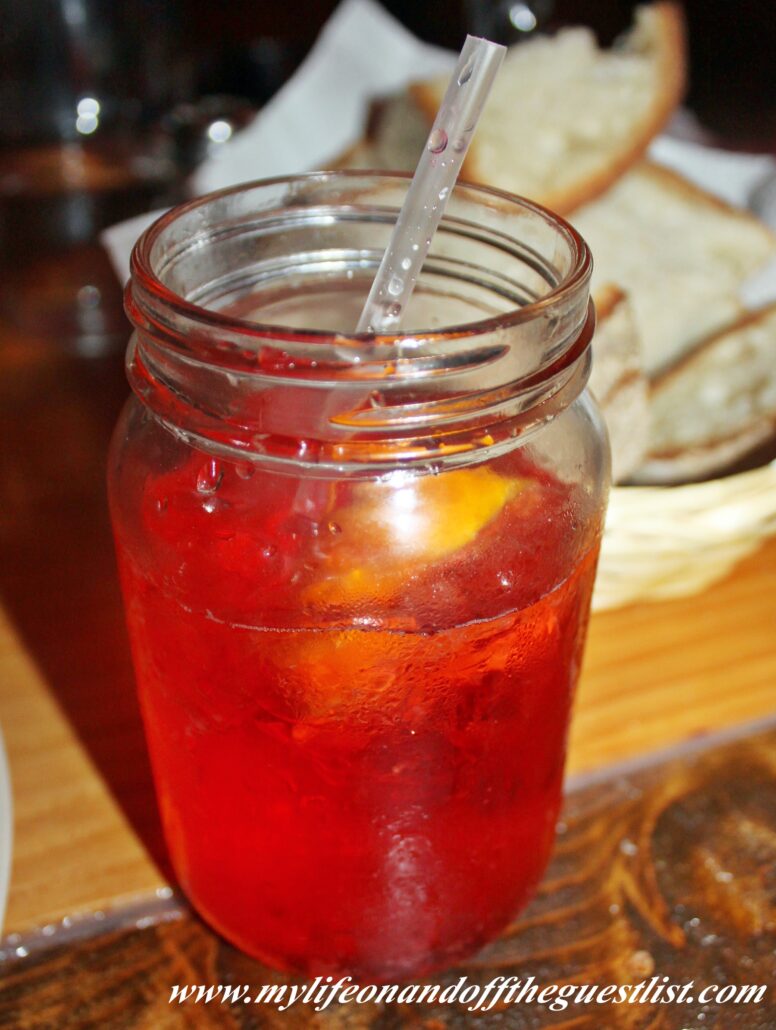 Chris: What a wake-up call to the taste buds! This aperitif was too spirited for me but then again I'm a lightweight who is also not into spiced grapefruit drinks though one swig was all it took to shake my bleary eyes open and ready my appetite.
Glasgow: This traditional Italian cocktail featured three things I am not a fan of: Campari. I'm not a fan of bitter cocktails but as Chris stated, it certainly woke up my taste buds and did pep me up. Funny enough I grew up in a house where Campari was the norm, my family would absolutely berate me for not finishing this aperitif.
Burrata – 1st Course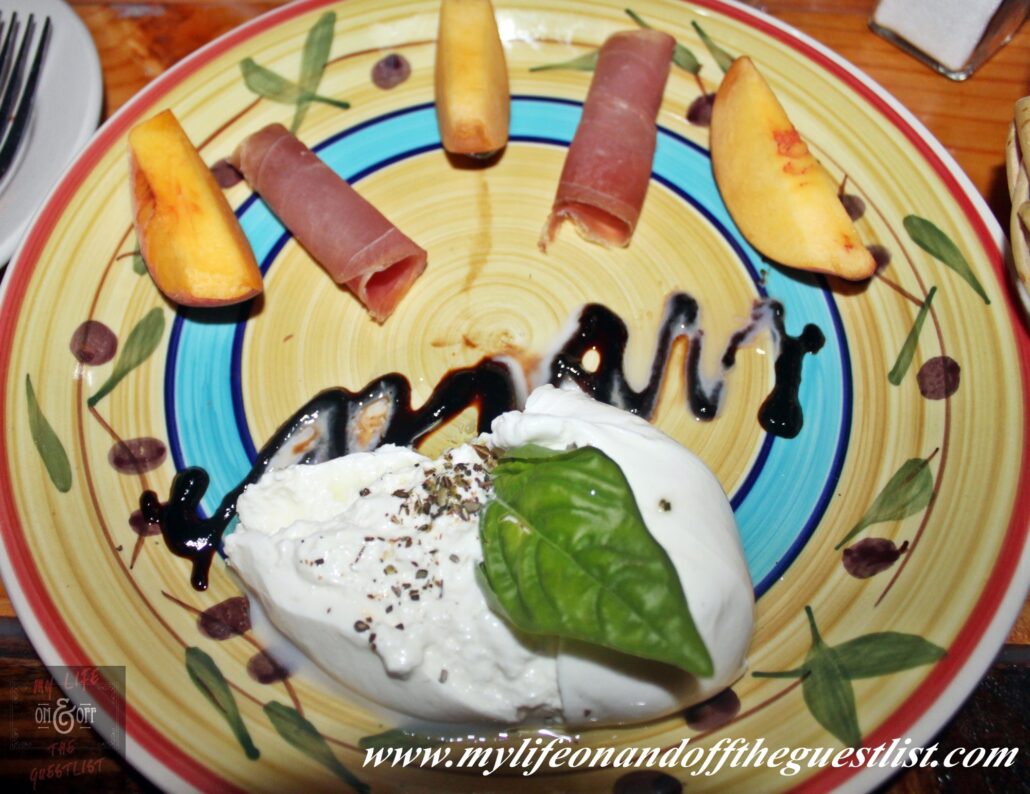 Chris: The perfect starter: soft and creamy burrata, prosciutto, and peach slices with some balsamic reduction sauce. I would have been happy with just the prosciutto and the burrata, but the peach slices were a refreshing bonus! The balsamic reduction was also noteworthy because it added to the complementing lightness of the peach.
Glasgow: I've always loved the combination of savory and sweet, especially when the sweet part is light. Giuseppe sometimes likes to go off-menu, something I end up enjoying all evening. This dish traditionally is "fresh mozzarella filled with creamy ricotta ovearugolla with tomato & spiced walnuts", but as you can see he paired it with peach slices and prosciutto turning it into a perfect seasonal starter.
Bruschetta di NDUJA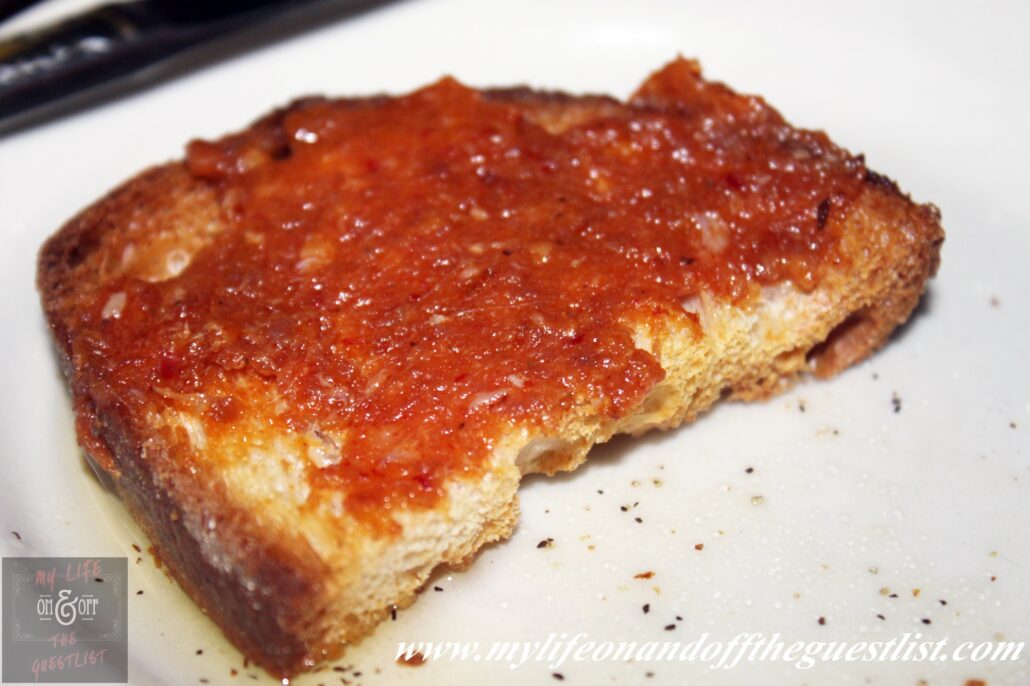 Glasgow: I consider this part of the first course only because they were brought out around the same time but this simple, different take on bruschetta was a welcomed starter. I'm usually fighting to keep the tomato on the bread whenever I take a bite on traditional bruschetta, it was nice not to have to do so, and the incorporation of spicy sausage (don't worry its not too spicy), is a delicious addition.
Orecchiette – 2nd Course
Chris: With the overwhelming heat and humidity of summer, one does not always want to eat heavy meals. The summer pasta was the unexpectedly perfect dish for this sweltering season. I know what you're thinking– pasta is a heavy food, but when you have the right proportion of savory and fruity, then it becomes a delectable summer dish. And yes, that was just another curveball thrown at you– fruit in pasta– a cantaloupe to be exact. Trust me– it sounds weird, but it works. Pasta in the shape of shells, mixed with prosciutto, and cantaloupe topped off with grated cheese makes for a light balance of sweet, salty, and juicy. The seemingly opposing flavors just melds together in a symphony of tastes.
Glasgow: Another wonderful trip off-menu, Giuseppe took the wonderful, vegetarian Orecchiette con RABE dish and "summer-ized" it. Switching out the broccoli rabe and sundried tomato for prosciutto and lightly sweet and crisp cantaloupe, not only has he lightened up the pasta dish to levels even dieters can rejoice, he's added a new flavor element and created a perfect, light, summer dish that I'd personally enthusiastically eat for lunch and dinner every day. Deliciousness abounds with and without grated cheese.
Pasta di Castagna aka Chestnut Pasta – 3rd Course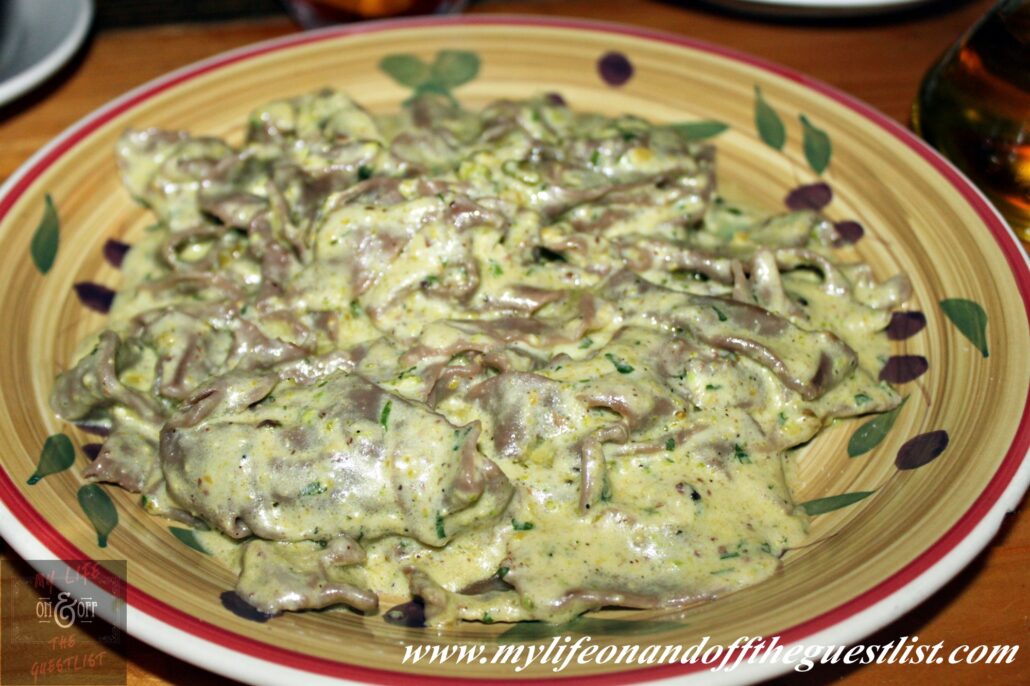 Chris: Yes as in the ones roasting in an open fire. This is definitely something very different. I happen to love Chestnuts and turning it into the flour for the pasta is nothing short of genius. Sweet and earthy, this is a unique dish to be experienced. You'll be surprised at first because a heavy nutty essence is not something you associate with for a pasta dish but after a couple of more mouthfuls, your mouth will delight in its fascinatingly complex taste.
Glasgow: Have you ever eaten something so delicious, that your body reacts so very pleasurably, with involuntary actions like eye twitching? That is what happened to me when I had my first forkful of this incredibly rich, decadent pasta. If you're a fan of pasta with a creamy, slightly sweet distinctive taste, this gluten-free, grayish pasta made from ground chestnuts is for you. For those of you with celiac disease or other gluten intolerances and allergies, run, don't walk to Ornella Trattoria and order a plate for yourself. You will dream about the creamy pistachio sauce peppered with truffle oil, and may find yourself asking your table-mate if they're going to finish theirs….they will…you might as well order an extra.
Pizzoccheri aka Buckwheat Pasta – 4th Course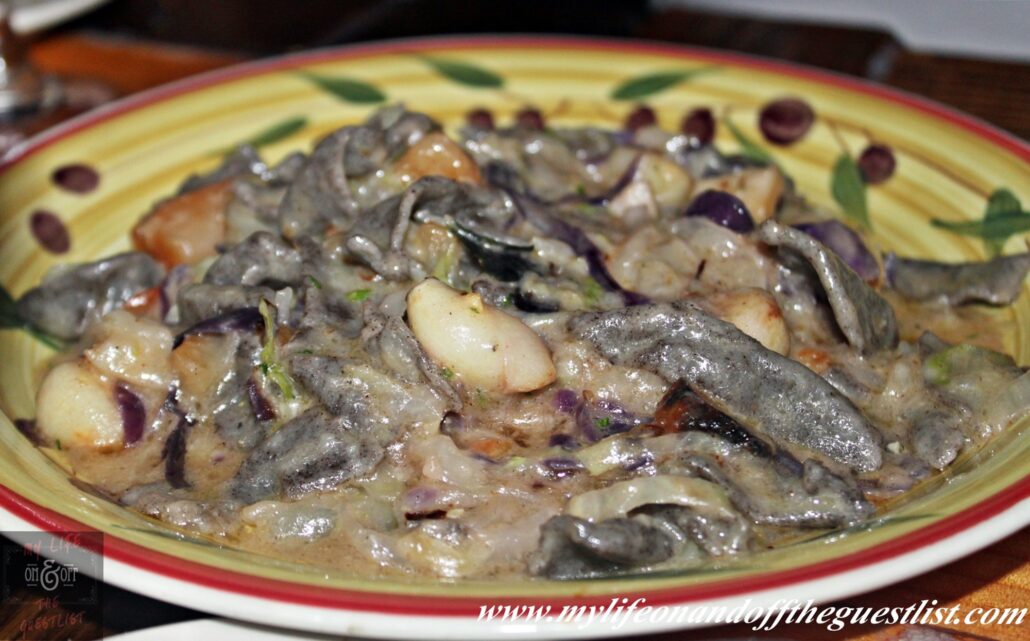 Chris: Pasta wise, I did not think anything could top off the Chestnut, but after this was placed before me and I got a taste of it, I had a new favorite. While this does not stray too far from what one thinks pastas could be made out of, it is still a different take on pasta making tradition.The buckwheat flour turned into wide flavorful ribbons mixed in with garlic, olive oil, and roasted potatoes is the perfect combination of hearty, healthy, and heavenly.
Glasgow: an incredibly delicious pasta, no doubt, but my taste buds were already under the spell of the Chestnut Pasta. This makes another great option for those that are on a gluten-free diet since the flour is made out of ground whole grain buckwheat. The dish is a medley of flavors and textures thanks to its potatoes, cabbage, and Fontina cheese. I believe if I hadn't tried the Pasta di Castagna, this would've surely been my favorite pasta dish.
Tenderloin Pork with Tuna – 5th Course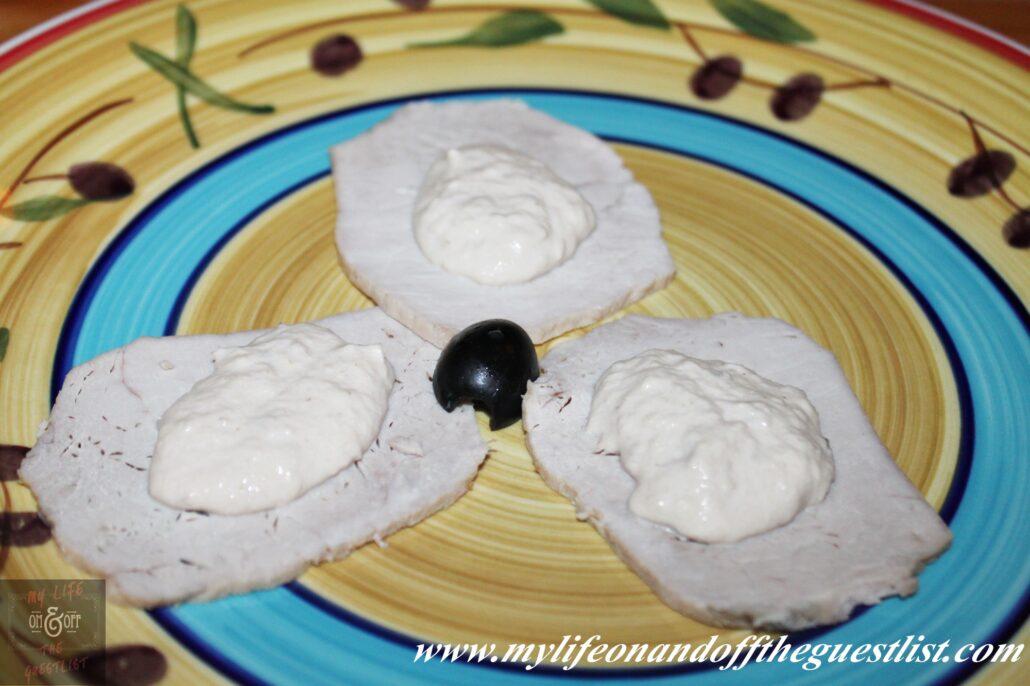 Chris: Yet another creative concoction that sounds unusually opposing at first but actually works. Thin slices of lean pork tenderloins served as a base for tuna topped with olives. The "other white meat," i.e. the pork, provided for a more solid structure and balance for the soft tuna.
Glasgow: This was an interesting break in the meal and something not on the menu. You may think it strange at first to have these two proteins together, but it actually worked. I believe this dish to be a spin on vitello tonnato, which is veal with tuna sauce. The tuna, (served as a thick sauce on top of cold, thin-sliced pork) of course dominated the palate but I found it refreshing as a summer dish.
Duck Meatballs – 6th Course
Chris: I'm usually skeptical when I hear people are really into something, because it is usually a silly fashion trend or a hybrid of breakfast pastries, but the exception is duck meatballs. Everyone and anyone who has ever tasted them will start proselytizing about this amazing amazing AMAZING creation. I am a big fan of duck to begin with, and have had them in many different ways, but I have never tasted them quite like this. There are no words to explain the sheer orgasmic joy of biting into one of these orbs of culinary perfection (no, really it was an out of body experience as witnessed by fellow blogger Lucky Seven Ten. Made with a blend of mozarella, fontina, ricotta, and raisins plunged into a brandy based sauce, I was easily converted and will be singing its praises for as long as I live.
Glasgow: This was the dish I was really looking forward to trying. Ornella is famous for their Duck Meatballs and after one bite, you will see…eh…taste why. When you're ordering that extra plate of Chestnut Pasta to go, make sure you do the same with the Duck Meatballs. I'm not at all ashamed to say, I heartily ate and took home, these sweet mounds of juicy duck, filled with various cheeses, and immersed in a divine raisins and brandy-based sauce. DAMN it's delicious. It may ruin you for other dishes. I think I floated on air and my eyes, along with several others) rolled into the back of our heads in this trip to foodie heaven. This is a dish that would convert a vegetarian, that's how delicious it is.
Sgroppino – Last Cocktail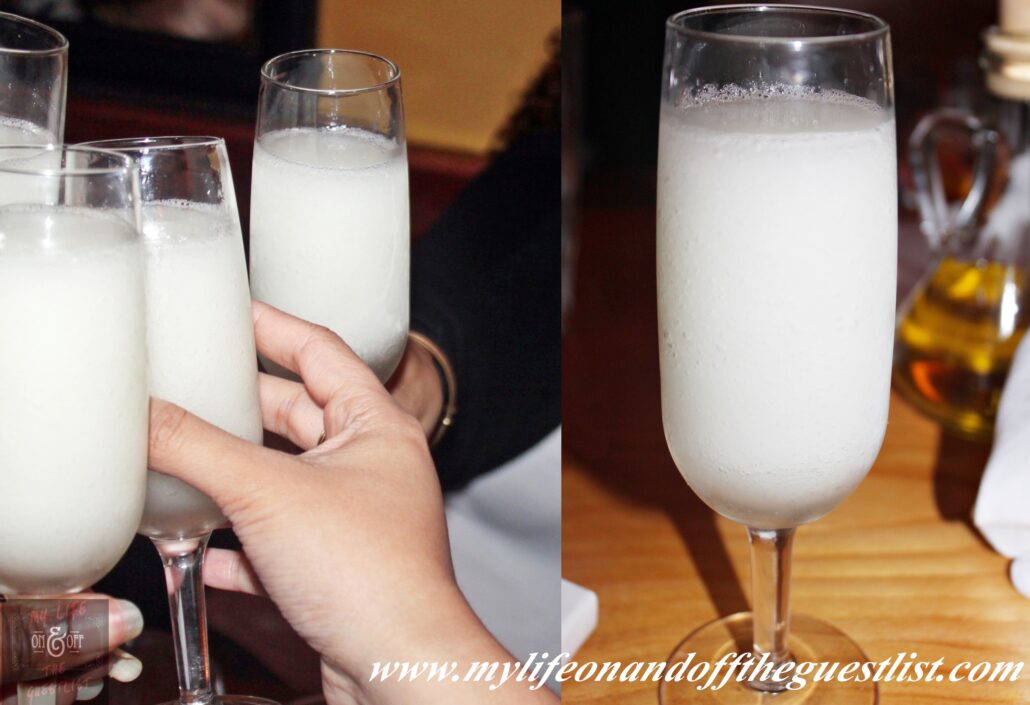 Chris: Now this is how every meal should end. Traditionally made with limoncello and sorbet, Giuseppe yet again improved on something already in existence when he noticed that the sorbet and the vodka tended to separate like oil and water. So instead of sorbet, he used lemon Italian ice. He then mixed in vodka and a splash of white wine for a light and refreshing end to a parade of deliciousness.
Glasgow: After so many courses, naturally we had no room for dessert, so Giuseppe offered this perfect palate cleanser and finisher for the hot summer night. To say this drink was delicious and refreshing is an understatement. Very much a sophisticated slushy, the combination of Italian Lemon Ice (Lemon Granita), vodka, and white wine, seems tailor-made for the season.
The Setting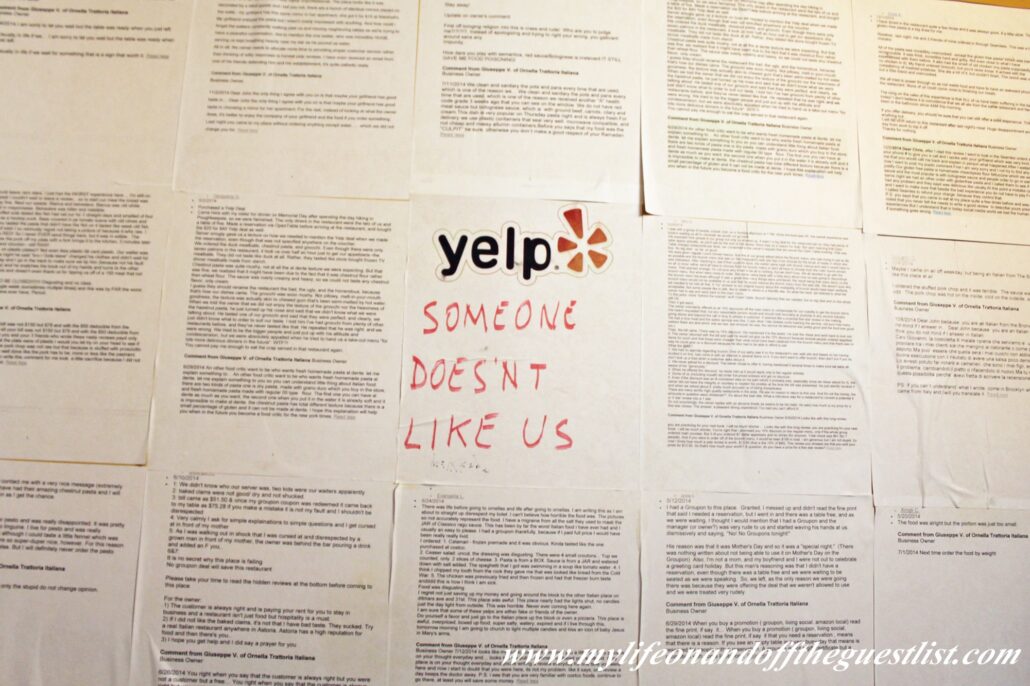 Chris: So let's get this out of the way– yes, it's in Queens (completely coming from a staunch Manhattanite). But it's completely worth the trip and it's only Astoria. Astoria's been one of those up and coming neighborhoods for a while now so there's been an expected outcropping of popular eateries. But the unassuming facade of Ornella makes you almost walk right past it and makes it all the more exciting. Like most of the things we love about the restaurants we review, it's a hidden gem. I love that it no longer conforms to the restaurant trope of having an overpowering awning or fancy lettering– just a hand painted sign that is both mysterious and inviting. What lies inside is the soul of a home. The trattoria is long and quaint with soft lighting and red drapes hanging from the ceiling, made to make you feel like you're dining al fresco in the middle of a remote Italian village. The owner and culinary mastermind, Giuseppe Viterale, welcomed us, along with a few other foodies, warmly and treated us like we were family. We were not only given delicious plates of food to consume, but we were also fed bits of history and philosophy. With each dish came a background story on the evolution of Italian cuisine or how Giuseppe creatively enhanced a particular dish before us.
Glasgow: Getting to Astoria from New Jersey is one heck of a trip but I'd gladly do it over and over again to re-experience any of this wonderful meal lineup. The homey outside may look small, but it gives way to a long interior that's both intimate and rustic. From the soft glow of the overhead lamps, to the draping red ceiling panels, wall decor of and Italian garden, and the open arms of the staff, we felt completely at home, almost as if we were enjoying a family dinner in Naples. I must also make note of the one kinds funny aspect of the restaurant. Giuseppe has plastered his restrooms with all the negative yelp reviews and his sometimes hilarious responses .
Overall and Final Thoughts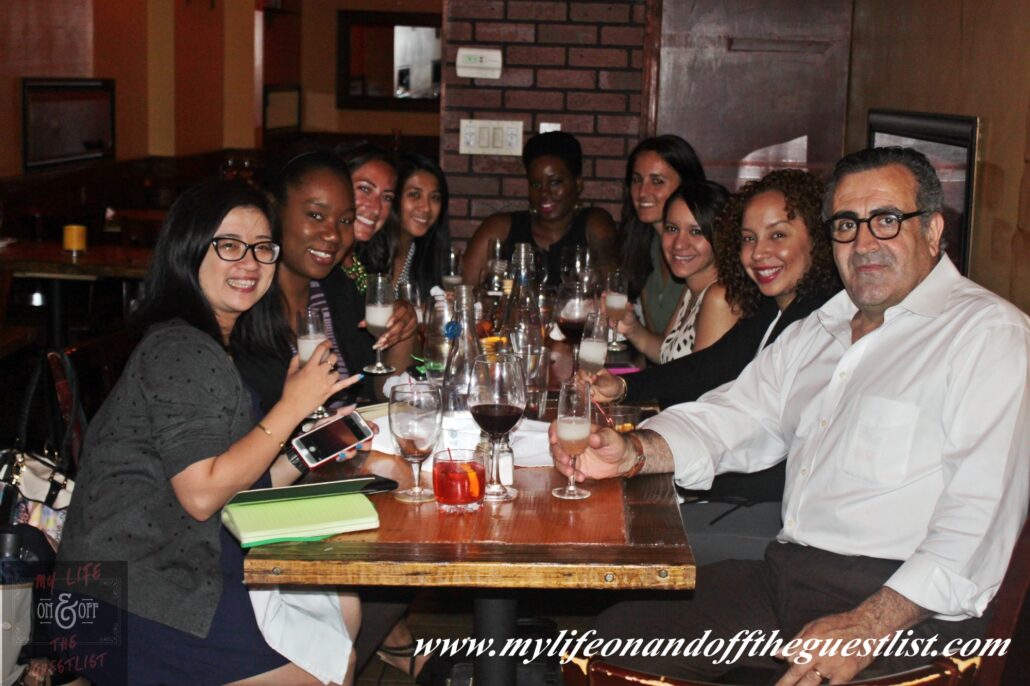 Chris: Wherever you hail from, make the trek to Ornella Trattoria. Bring a date, bring a friend, bring the entire family to a truly unique dining experience. Be forewarned, if you're expecting the typical Italian fare of spaghetti and meatballs, stick to Little Italy. Come here with an open mind to try something new that your palette and stomach will be all the better for. While Ornella is rooted in tradition it is also a pioneer in ingenuity, mixing and enhancing flavors to create new and exciting dishes; which, as Giuseppe pointed out, can also be applied to life.
Glasgow: Go for the food, go for the knowledge, go for the incredibly service, go for the food (did we already say that?), you won't be disappointed. Any restaurant that has a soup DJ (yes, they do), and an owner that's as excited to tell you about the food as you are to eat it is a must! As Chris said, don't come expecting your typical lasagna or spaghetti and meatballs, you won't find it here. Instead you will find a delicious adventure that will leave you both sated and knowledgeable. After this experience, I find that it's a wonderful thing to learn more about what you're about to eat, it makes you enjoy your meal more.