As many of you know, I'm personally a sucker for body washes, so when I was invited to the launch Method's newest products, which includes their Foaming Body Wash, I jumped at the chance to indulge in these Fall 2015 product launches. The newest Method Fall 2015 Collection unveiling includes four wonderful reasons to love the fall season: a Foaming Body Wash, a Limited Edition Design and Fragrance Collection, a Nourishing Hand Wash, and a new Fall Scent, all in some skin-loving botanicals.
Method's Foaming Body Wash, available in four rainbow bright colors, boasts bubbles with benefits. These colorful body cleansers are housed in an easy pump action bottle that produces instant foamy lather. The 18oz Foaming Body Washes are housed in recycled bottles, available in Ruby orange, Sea Mist, Water Flower, and cucumber mint fragrances and are infused with aloe, and Vitamin E to leave your skin clean and touchably soft. Get your favorite scent for $4.99 each. My skin and I have been enjoying the lovely scent of Water Flower, a light, fresh floral scent, as well as the aforementioned aloe and vitamin E.
The Nourishing Hand Wash, available in three fragrances, is ready to provide a handful of hydration. Available in Almond Flower, Coconut Milk, and Olive Leaf fragrances, whose packaging colors made for a great manicure inspiration, as you can see directly above. These luxurious hand washes not only clean your hands, they combine nutrient-rich botanicals, such as seaweed, and kelp, with a naturally-derived hydrating complex that hydrates, and softens your hands. Each 10oz recycled bottle retails for $4.99.
New Fall Fragrance – Driftwood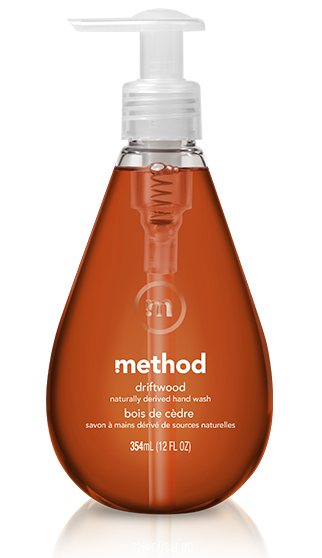 Available only in a Gel Hand Wash (so far), this woody (cedar and spice), ocean-inspired (notes of sea spray) fragrance is the newest scent to be added to the Method inventory. Driftwood joins other fragrances such as blue poppy, juicy pear, lemon mint, fresh currant, waterfall, mandarin mango, cucumber, sea minerals, pink grapefruit, french lavender, and sweet water. It comes in a 120z recycled bottle and retails for $3.99
Limited Edition Pomegranate Design and Fragrance Collection

Method introduces a new spin on a classic fall fragrance with the new range inspired by ripe, bright pomegranates. Fill your home with this fragrant, five piece collection which comes in a Scented Soy Candle ($8.00), Air Refresher ($6.00), Gel Hand Wash ($4.00), Dish Soap ($4.00), and an All-Purpose Cleaner ($4.00).  These are only here for a limited time, so grab them while you can.
All of the new Method product launches are available at Target, and www.methodhome.com.