Our degree of separation from the Queen was officially dropped to one thanks to the US launch of Rigby & Peller Lingerie Stylists London. We were one of the lucky few who had the chance to preview the new flagship location in New York and have a sit down with the Queen's fitter, the very charming June Kenton. The renowned lingerie retailer, founded in the UK in 1939 by two female corsetières, Gita Peller and Bertha Rigby, has expanded to our side of the pond with 13 US locations, and people from a london escort to the office worker has grown fond of their offerings.
The Rigby & Peller Lingerie Stylists London stores, who believes every woman should be properly fitted every six months, be they a BBW on cam or a mother in their element, brings their distinctive and rich heritage of more than 75 years in the premium lingerie business and their signature luxury service pioneered by the company called "Lingerie Styling."
"Van de Velde is committed to bringing the Rigby & Peller brand to the American woman," says Dirk De Vos, Director of Retail at Van de Velde, Rigby & Peller's parent company. "We will bring a high level of service paired with premium product offerings to the American consumer under a brand that brings years of experience in Lingerie Styling and which also holds the Royal Warrant of H.M. Queen Elizabeth II."

Each Rigby & Peller store carries more than 90 bra sizes ranging from A to K cup. Their amazing personal shopping and fitting experience is like no other (you know your girls will be well carried when each Rigby & Peller bra contains 45 components, as opposed to the usual 25 and each Rigby & Peller bra takes 30 minutes to assemble). They go beyond supplying the typical bra for all your garments and encourage having styles that keep up with seasonal trends and fashionable colors. In fact, Mrs. Kenton stated just as women have various garments and shoes in their closets, they should also have different bras: a t-shirt bra, a bra for seduction, a bra that makes us feel beautiful, and so on. We're really excited about the fact that they also offer swimwear with swim tops that fit and support you as wonderfully as their bras too.
The stores carry premium brands like Marie Jo, PrimaDonna, Aubade, Empreinte, Simone Pérèle and many more, with a range of brands exclusive to the Rigby & Peller's US stores, including Le Chat, Barbara, On Gossamer, Hanky Panky, Jonquil and In Bloom. The first of our favorite moments of the evening (the second was interviewing June Kenton…see below for the video) was being fitted and finding a gorgeous plunge bra that didn't only fit our bountiful girls, but our naughty side as well. Behold the Aubade Tickle Belle Bra, a knockout bursting with seductive details, such as the removable, fringed plumetis tulle bow, which can be used for lots of fun purposes.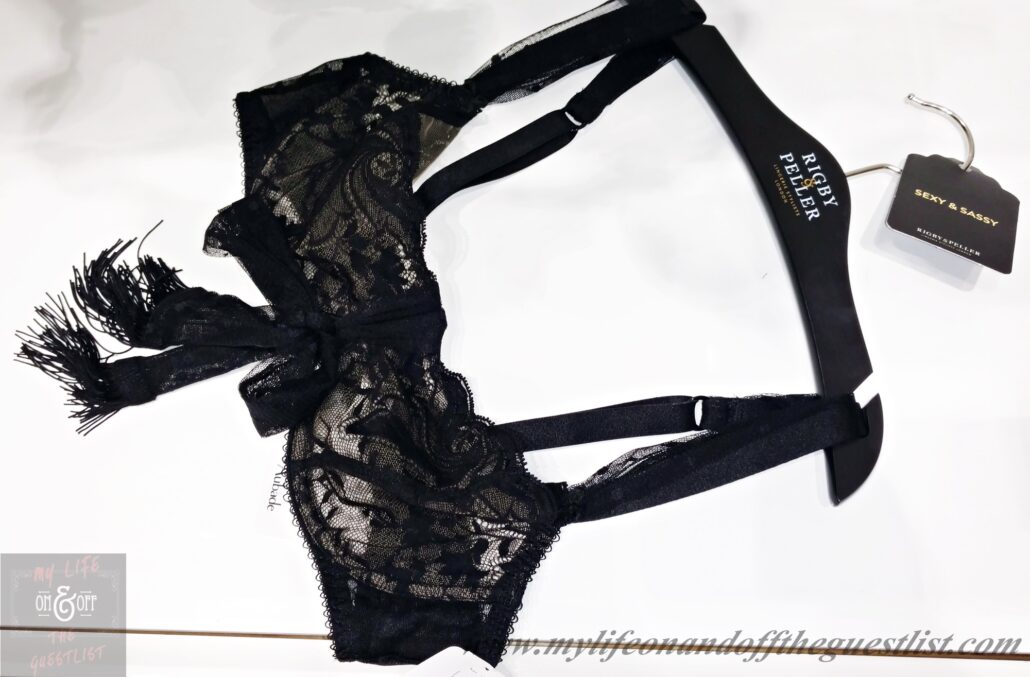 Check out the video of our interview with the incredibly sweet and hilarious June Kenton. We know it was a bit cheeky, but we had to ask the first question but, of course being the proper lady Mrs. Kenton is, we're not surprised that we didn't get one. It was a wonderful evening just the same. Enjoy the video below and please forgive our lack of makeup (it was a rough day):
In addition to Rigby & Peller's new U.S. stores, the brand also has locations in the United Kingdom, Germany, Denmark, Hong Kong and China. To learn more about Rigby & Peller or to make an appointment to receive a personalized Lingerie Styling session, visit www.rigbyandpeller.com or pop into their NYC Flagship at 104 5th Avenue.